Arctic National Wildlife Refuge Backpack
---
Destination: Arctic National Wildlife Refuge, Alaska
Date: June 7 to June 14, 2003
Starting Point: Joe Creek Landing Strip (c.2800')
High Point: Pass in the headwaters of Joe Creek, this is on the continental divide (+4200'). This doesn't include side trips, the highest point I reached was the summit of 7240 Foot Mount Greenough.
Distance: best estimate: 35-40 miles not including side trips, another 25+ miles in side trips.
Political Disclaimer: This page is in no way meant to provide first hand information about the Arctic Wildlife Refuge which has been a political topic in recent years. It has been described as a desolate wasteland by some, the last of the true American wilderness areas by others. You can decide for yourself.
Trip Summary
I was invited on this trip by Tom Thompson who had been to the Brooks Range several times before. It was a hard offer to resist. I wasn't entirely enthused by the fact that the trip was guided but after getting more information, I was sold. After doing the math I found that the guide wasn't really the biggest part of the cost. The flights included in the price were a major portion. Add 7 days of food, miscellaneous group gear and the time to plan and prepare everything, and the price was looking better. Personal exploration was encouraged by the guide service. The guide, Ron Yarnell, was referred to as a Brooks Range Legend and has possibly led more trips into the Brooks than anyone. He also leads trips in Central and South American as well as the Himalayas, and he was the guide that had used in the past.
I was essentially splitting the cost of a backpack/float trip with Diane Thompson, who had knee surgery recently and wasn't ready to do the backpack portion of the trip. I would start the trip with Tom and Henry Thompson on the 7th of June to backpack from the Joe Creek landing strip to the Whale Mountain strip. On the 14th, Diane would arrive with the river gear and I would depart by way of bush plane.
Tom, Henry and Diane, with the assistance of Ron Yarnell would float the Kongakut River to reach the Arctic Ocean. Floating these rivers early in the year can be dangerous. While I was backpacking, a pair of boaters were swept under overflow ice, losing most of their equipment. Barely surviving this ordeal, they were spotted by a bush pilot and rescued 5 days later.
June 5, Day -1- The Arial Approach Part I: Alaska Airlines Flight 117, departing Seattle Tacoma Airport at 12:45pm 1:15pm then check in at the Cloudberry Lookout B n' B in Fairbanks Alaska.
June 6, Day 0- Final Preparations: In the morning we met with Ron Yarnell of Arctic Wild, our guide, to distribute group gear and have an equipment check. Later we stopped at the Map Office at the University of Alaska, Fairbanks (UAF), the UAF Museum to get postcards, the Alaska Pipeline and finally the Chena Pump House Restaurant for a final tasty meal.
June 7, Day 1- The Arial Approach Part II: We flew on a Wright Air flight (Cessna Caravan) from Fairbanks Municipal to Arctic Village. After a long layover at the gravel strip, Ron and myself got into the Cessna 185 piloted by Kirk Sweetsir (Yukon Air Service) for an hour long flight to a landing strip on Joe Creek, less than ten miles from the Canadian Border at an elevation of c.2800 feet and more than 150 miles north of the Arctic Circle. The Arctic Circle is defined as having at least one day of the year when the sun never rises and at least one day when the sun never sets.
The strip was only suitable for relatively small aircraft. Tom and Henry arrived in the second wave. Somewhere around 7:00PM we were all on the scene. After dinner we headed up the Joe Creek drainage for 2-3 token miles, just enough to get us away from the landing strip even though we would see no one else arrive. Along the way we spotted several Caribou.
On Final Descent to the Joe Creek Strip
"If you can use it more than once, it's a runway" -Kirk Sweetsir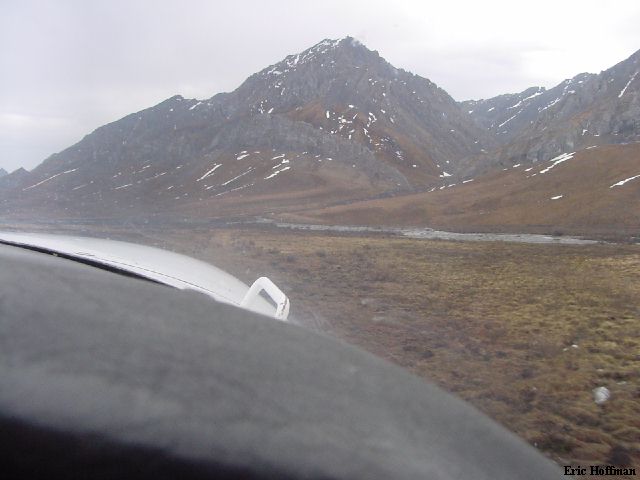 June 8, Day 2- Crossing the Continental Divide: I was the first one up, this would become a trend. I found it difficult to sleep when it was light, which happened to be always. More Caribou were sighted before I returned to camp. It wasn't long before I just expect to see one or more caribou regardless of where I was..
Side Trip1
(1.5 miles round trip, 300 vertical feet above camp) There was a minor ridge north of camp that looked like a good early morning hike offering a look back toward the Joe Creek landing strip.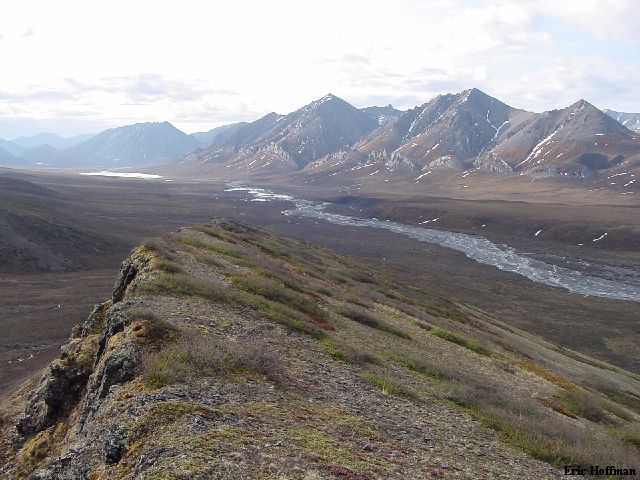 We left camp around 10:00AM and continued up the Joe Creek drainage. Eventually we reached the Continental Divide at a pass in the Joe Creek headwaters (+4200 feet). The Continental divide runs east-west rather than north-south in the Brooks Range. The north slopes drain to the Arctic Ocean and the south slopes drain to the Pacific.
Tom Thompson in the Joe Creek Drainage
Still recovering from 4 broken ribs suffered in a skiing accident, he is 60+ y.o. inspiration.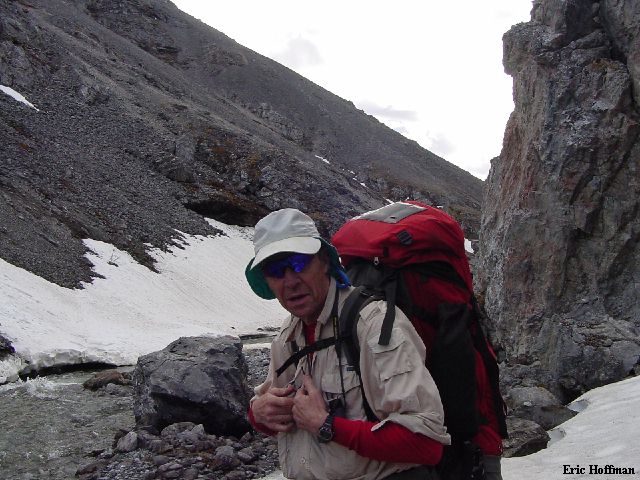 Looking North From the Divide
Peak 6018' is straight ahead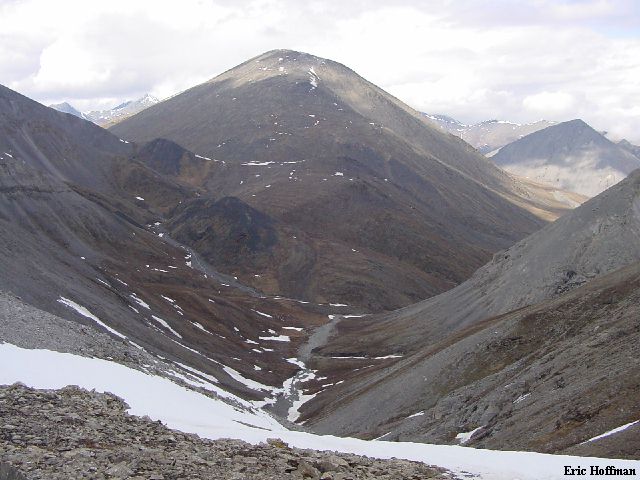 Side Trip 2: Peak 6018'
5 miles round trip, 2800 vertical feet above our second camp, class 1, light rain at 10:00pm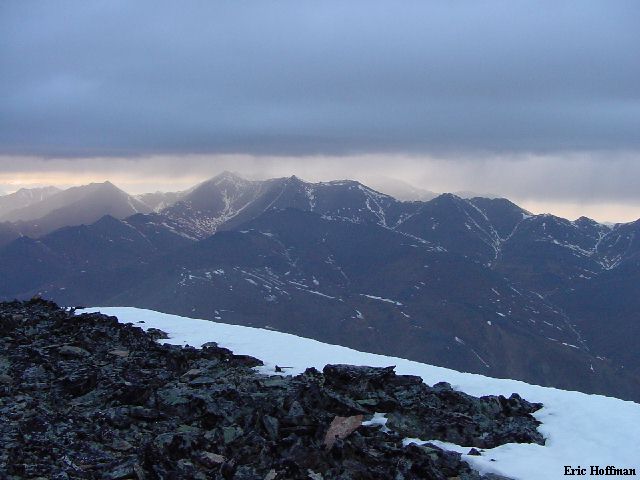 June 9- The North Slope: Today we would continue down the unnamed creek on the north slope. It wasn't a long day, the terrain was fairly easy. Tusiks, a grass that grows upon itself to form toppling clumps, were the worst part of the day. Numerous caribou were spotted. Even though this area receives only 10 inches of rain a year, the ground is very wet. The permafrost prevents the water from draining. It rained hard at lunch. We set up the cook tent and put on raingear. After lunch we headed out. The rain let up shortly after. We reached camp at yet another unnamed drainage from the west. We would follow this drainage west the next 3 days.
Side trip 3: Henry and I headed toward an unnamed +5200 foot high peak about 2 miles from camp. We called it off at 4500 feet when it became obvious that the only view to be had from the summit was a close-up of the clouds.
Looking South, Our Third Camp is Visible in the Lower Left Corner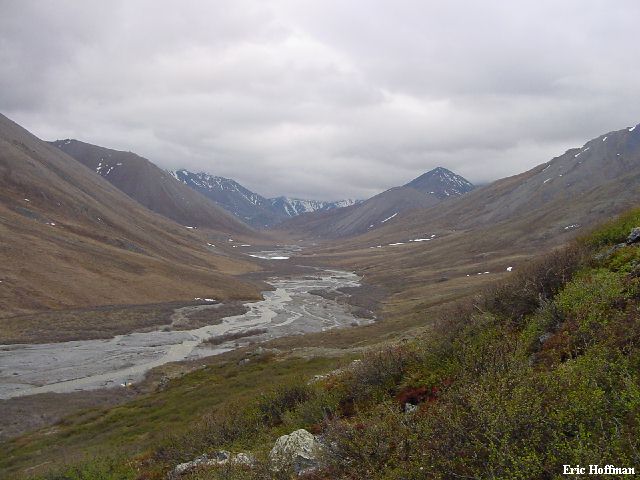 June 10- East To Greenough Camp: Our first grizzly sighting turned out to be uneventful. We crossed another pass and continued NE. I had been able to influence the route enough to get a laundry day on the 11th.
Caribou Antlers and Skull Cap... it isn't all vacation in ANWR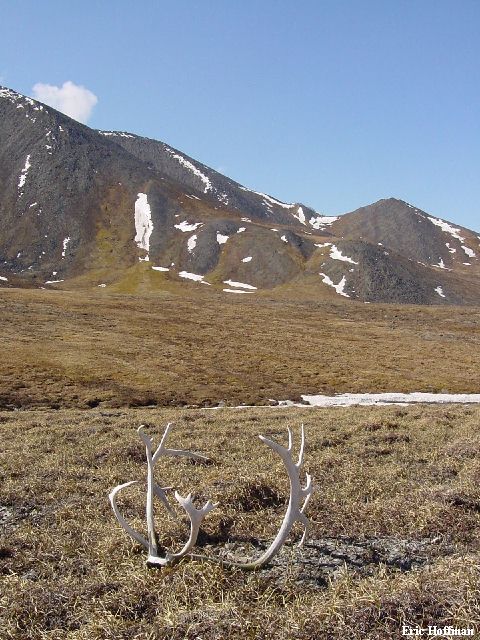 June 11- Laundry Day at Greenough Camp: This was a day to explore whatever it was that you wanted to explore and clean-up as much as possible. I opted to do more exploring than laundry and headed toward the highest summit in the area, Mount Greenough. The route I took from the NE is largely talus. A somewhat more solid rib reached the summit. There was actually a summit register consisting of a film canister. It had two entries: A US Fish and Wildlife "expedition" in 1988 and two reporters from Anchorage in 1992.
Side Trip 4: Looking North from the summit of Mount Greenough (7240')
10 Miles Round Trip, 5000 vertical feet above camp, class 2. The dark blue on the horizon is a lead, an area of open water between the shore-fast ice and the circum-polar ice.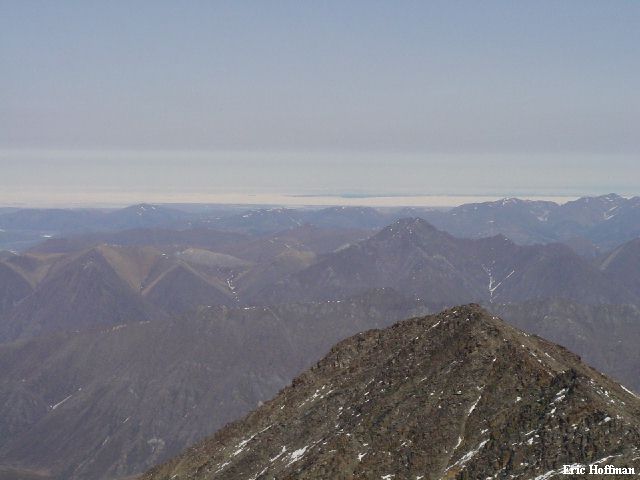 June 12- To The Kongakut: A travel day that would take us to within about a half mile of the Kongukut River. Mostly easy with some deeper stream crossings.
A typical Lunch Break: Ron Counting Crackers While Tom and Henry Anxiously Await...Ok, me too.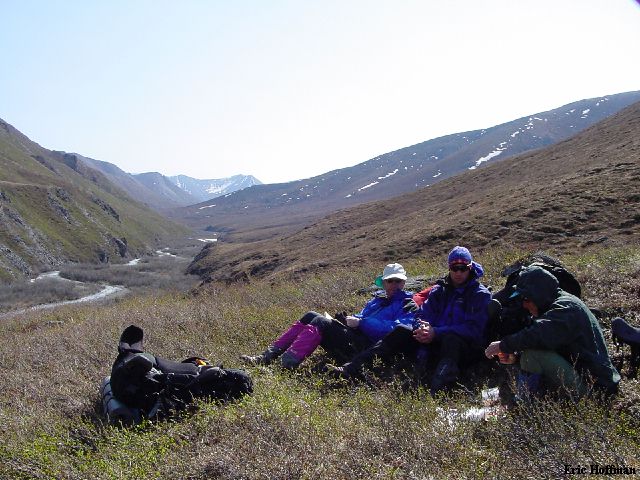 A Six Inch Tall Arctic Rhododendron Bush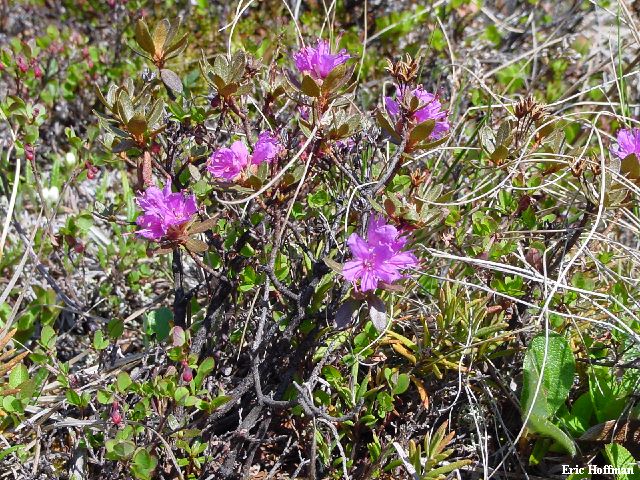 We set up camp about 1/2 mile from the Kongakut River where we found some shelter from the cold north wind. I headed out for another side trip, returning to camp around 11:30pm.
Side Trip 5: Dall Sheep Near Peak 3957'
5 Miles round trip, 2700 vertical feet above camp, class 2.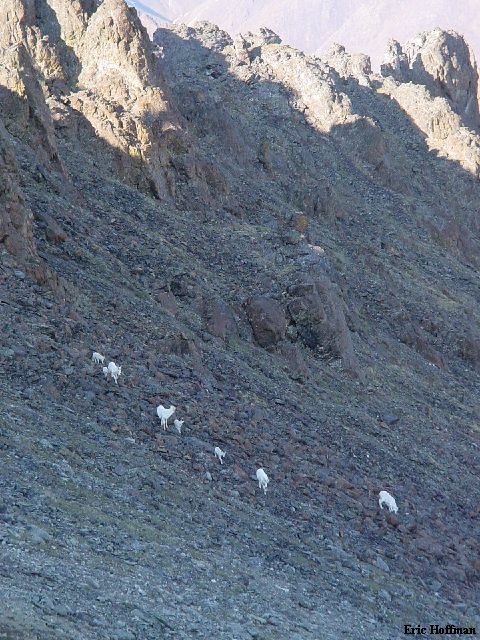 Side Trip 5: The unnamed drainage we had followed the 3 previous days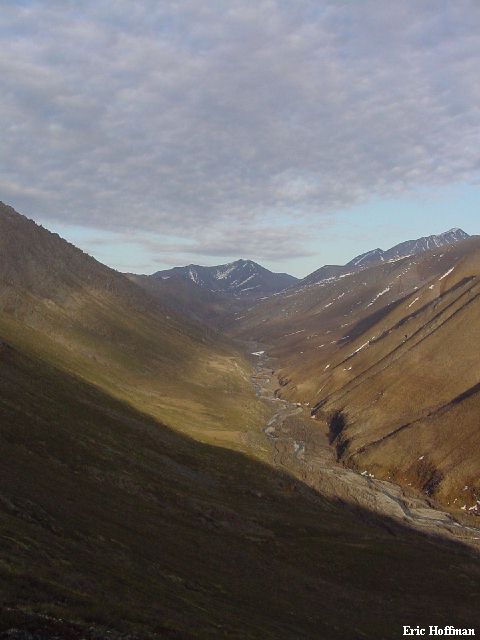 Side Trip 5: A closer look at Caribou or a person...depends on your perspective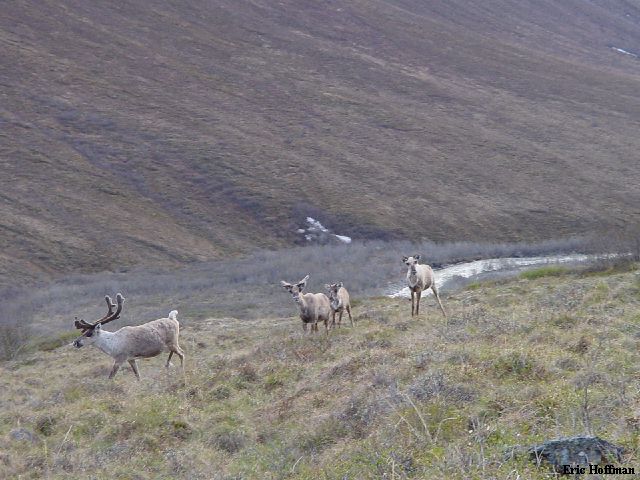 June 13- The Pilgrimage: We hiked north along the Kongakut River, eventually being forced to cross to its west bank to arrive at the Whale Mountain landing strip. There was at least one thing left for me to do and it wasn't sleep.
Crossing a Channel of the Kongakut River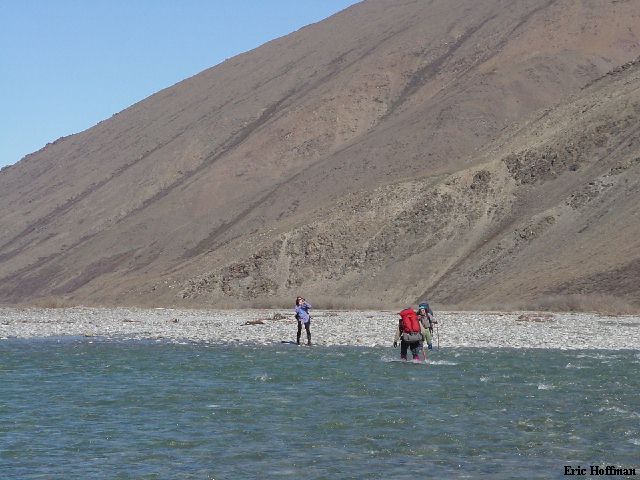 After reaching camp and organizing most of my gear for the flight out the next day, I headed west to an unnamed peak. I was looking for the midnight sun which wasn't hard to find.
Side Trip 6: The Midnight Sun
(10 miles round trip, 3400 vertical feet above camp, class 1) I arrived at peak +4400 and waited until my compass showed the sun to be at 360 degrees. The clock in my camera is 5 to 10 minutes slow...true midnight was at about 12:40AM.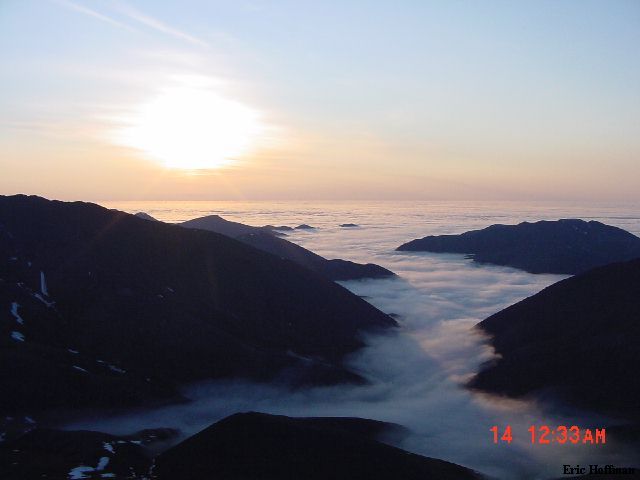 June 14- Bush Pilot Kirk Gets Me Out Alive. This would be the end of the journey for me. Tom, Henry and Ron would be accompanied by Diane for the float to Demarcation Bay.
Diane With a lot of River Gear and FOOD!
Ron Checks to Make Sure Everything has Arrived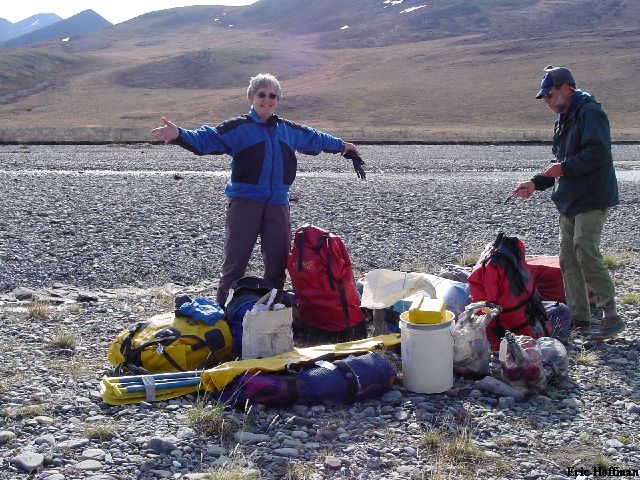 Lifting Off from a 600 Foot Runway on the Kongukut River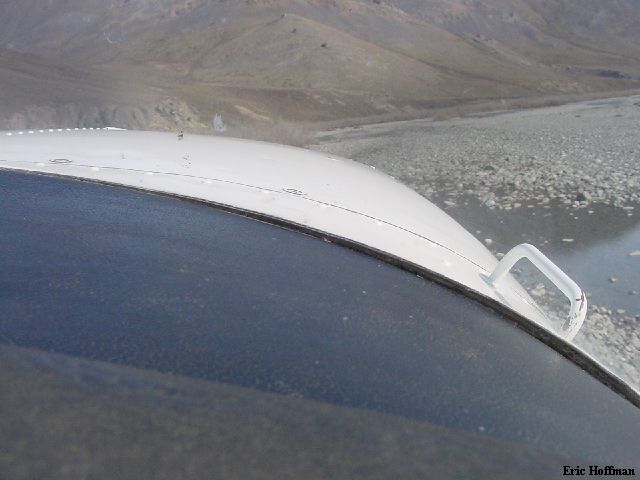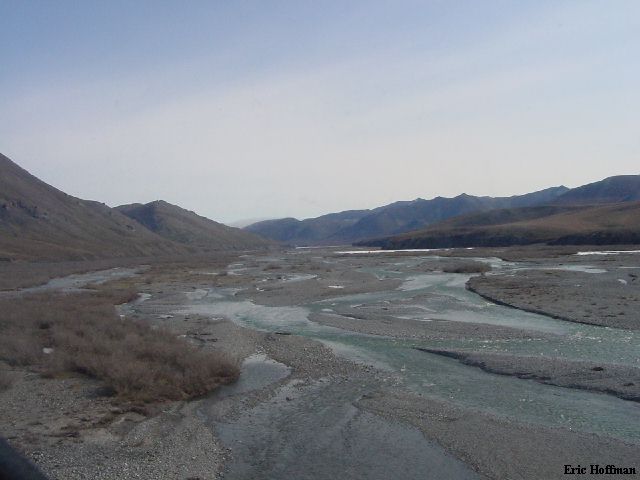 June 15- Fairbanks On A Bike: Jennifer van den Berg, co owner of Arctic Wild, had loaned me a bike to tour Fairbanks on. After my best nights sleep since arriving in Alaska on the 5th, I headed into town to purchase souvenirs, check out the UAF Museum, the UAF large mammal research center and the town of Ester, a gold rush town 5 miles from Fairbanks. There was an all you can eat buffet in Ester where I ate all I could eat before returning to the Cloudberry Lookout.
June 16- Return to Seattle: I took Alaska Flight 108 from Fairbanks to Seattle which was supposed to depart at 6:15am but actually left early. I was home by noon.
References:
USGS 3 Degree Quads-Table Mountain, Alaska; 1955/ limited revision 1987 and Demarcation Point, Alaska; 1956/limited revision 1984
USGS 15 Minute Quads: Table Mountain D1 and D2; Demarcation Point A1, A2 and B2
USFWS ANWR Site