Abernathy Peak, Scatter Creek Route
---
Destinations: Abernathy Peak (8321')
Date: June 2, 2007
Starting Point: Scatter Creek Trailhead (c.3200')
High Point: Abernathy Peak Summit (8321')
Round Trip Distance: c.10 miles
Equipment: The ten essentials (ice axe in early season)
Difficulties Snow to 35 degrees
Another relatively easy top 100 peak, an ascent of Abernathy is 4 parts hike and 1 part moderate scree or snow. This journey into the Lake Chelan Sawtooth Wilderness is a good early season outing when temperatures are moderate and there is enough snow to cover most of the tedious off trail terrain. Cascade Alpine Guide also describes two routes from North Creek and the Wolf Creek Trail offers a long but viable option, but my guess is that most parties reach the summit from Scatter Lake. The 4.2 mile Scatter Creek Trail (FST427) ends at Scatter Lake located southeast of the summit at 7047'.
Abernathy Peak from North Gardner Mountain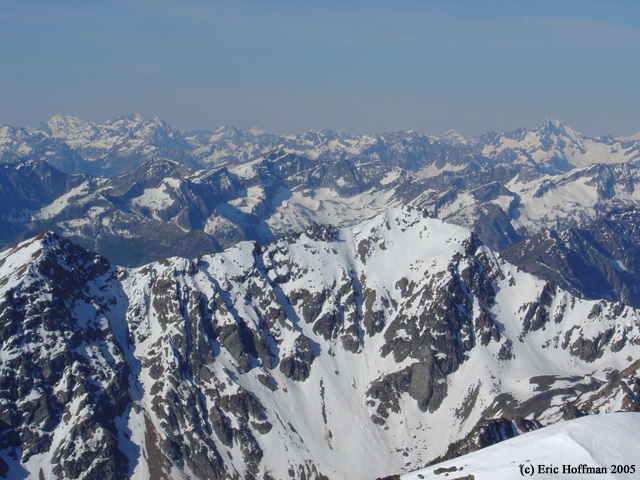 I arrived at the Scatter Creek Trailhead (c.3200') just off Twisp River Road the night before and got a leisurely start around 8:30 AM. The trail has some windfall but was easy to follow until I reached heavy snow at C.6500' in a small basin where the trail turns north and crosses a bench before reaching Scatter Lake. Scatter Lake was still frozen but is, no doubt, an attractive lake, particularly in the fall when the larches that surround it are the color of gold.
Abernathy Peak from Scatter Lake
After circling around the right side of the lake I ascended directly toward the summit keeping right of a minor spur. This was a straight forward ascent mostly on moderate snow (to 35 degrees). The summit is an excellent vantage point with views of Mt Baker, the Cascade Pass area and Glacier Peak to the west; Bonanza, Maude, Fernow, Copper, Reynolds and, of course, Oval to the south. It took me just under 4 hours to reach the summit and about 7.5 hours round trip.
Bonanza to Dome from the summit of Abernathy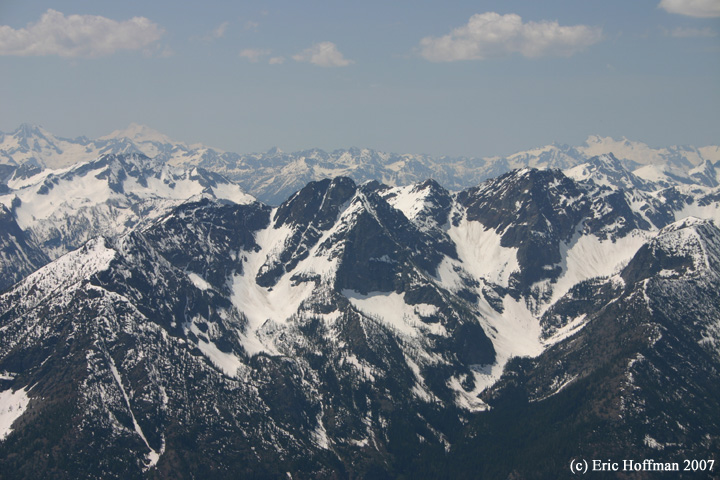 References:
Cascade Alpine Guide, Volume 3, 2nd Edition; Fred Beckey; Page 283