Not as big of a pain in the Aix as I thought it would be
---
Destination: Mount Aix (7766')
Date: June 3, 2006
Starting Point: Mount Aix Trailhead (c.3700')
High Point: Mount Aix Summit (7766')
Round Trip Distance: c.9 miles
Equipment: The ten essentials, ice axe in early season
Difficulties Route finding in early season
Although the lookout is long gone the 7766 Ft. summit of Mount Aix is still an excellent vantage point that can be readily reached via FST 982. Why else would they have built a lookout there? There is some disagreement about the distance with estimates ranging from 5.5 miles on the Green Trails map to 7.3 miles in the Beckey guide. Either way, expect this to be a hot dry hike in the summer.
I picked up Chris Mattson at 6:30AM and we headed for Chinook Pass. The weather was looking better than either of us had expected as was the snow pack and we started to question why we had not planned on skiing or doing something a little more adventurous. Alas, we arrive at the Mount Aix trailhead on FSR 1808 around 9:00.
The trail was snow free to c.5400 feet where it makes a long traverse. We tried to find it but finally decided it wasn't worth the trouble and headed into the basin to our right… the view was better from there anyhow. Consulting the map we determine that we can head directly to the +7080' saddle at the head of the basin then make a short traverse on the other side to pickup the trail on the west ridge of Mount Aix.
A view of Mt. Rainier from the basin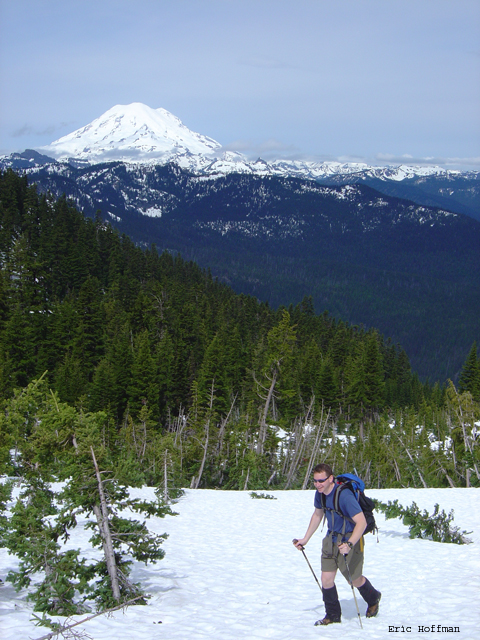 The basin was mostly snow filled which made travel easy until the final 200-300 feet below the saddle that had melted out. After the steep scree slog we crossed through the saddle and traverse left to reach the trail c.0.5 miles from the summit. The Green Trails map doesn't show the trail going to the summit proper so we hiked directly to it on talus. There is a trail that reaches the old lookout platform on the summit but don't ask me where it leaves the Nelson Ridge Trail. About 2.5 hours to the top.
The West Ridge of Mt. Aix from the saddle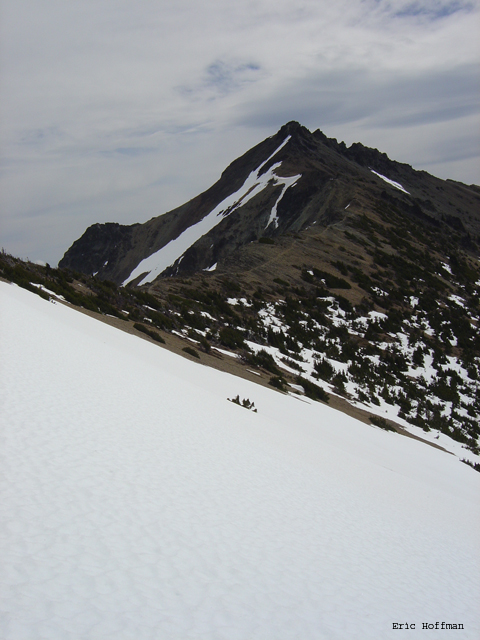 Bismark Peak with Adams and the Goat Rock in the background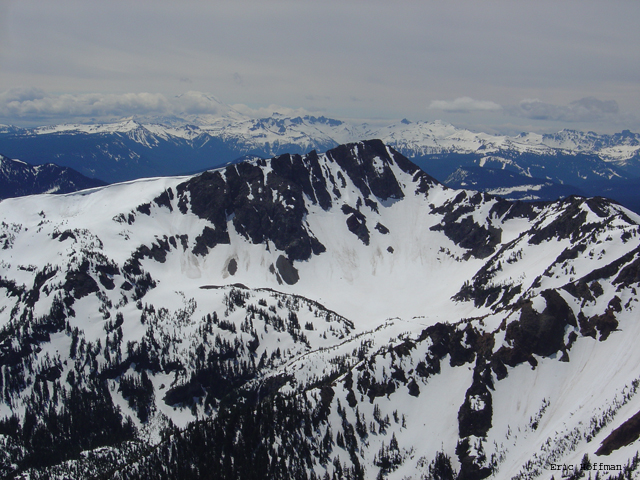 References:
Cascade Alpine Guide, Volume 1, Second Edition; Fred Beckey; Page 135
100 Hikes in Washington's South Cascades and Olympics; Ira Spring and Harvey Manning; Pages 68-69