Clearwater Wilderness Area-Bearhead Mountain
---
Destination: Bearhead Mountain (6089')
Date: November 12, 2002
Difficulty: 3
Payoff: 5
Starting Point: Bearhead Mountain Trailhead ( c.4400')
High Point: Bearhead Mountain Summit (6089')
Round Trip Distance: c. 6.4 miles
Equipment: The ten essentials
Mountain Skills: None
Bearhead Mountain is the highest peak in the small Clearwater Wilderness just north of Mount Rainier National Park. It isn't much of a climb at all. The summit is reached via maintained forest service trails. It was a reasonable destination give the new snow with more in the day's weather forecast. Part of the attraction to this area was the fact that access, which has been a bit of a problem for several years, has once again become reasonable. Basically, I didn't think the area was worthy of the long but easy hike in, but I was game for a 3.2 mile hike to the summit of Bearhead.
After travelling through Buckley, Carbonado and Wilkason, we arrived at FSR 7810 and the reconstructed bridge across the Carbon River (this is just before the Carbon River Entrance to Mount Rainier). The road parallels the Carbon River then turns to follow Cayada Creek to the Coplay Lake area where it narrows and veers west then northeast to reach the Bear Mountain Trailhead (c.4400', est. 6 miles from Carbon River Road).
There was less than 2 inches of snow at the trailhead. We started up the trail (FST 1177) reaching Twin Lake in a mile. There is only one small lake, not two as the name may suggest. From the lake we followed FST 1179 for 1.4 miles to reach the ridge crest south of Bearhead. The trail traverses steep forested slopes in getting to this point (bring an ice axe if there is frozen snow), but offers a good view of Rainier's north side...weather permitting.
Mount Rainier from the Bearhead Mountain Trail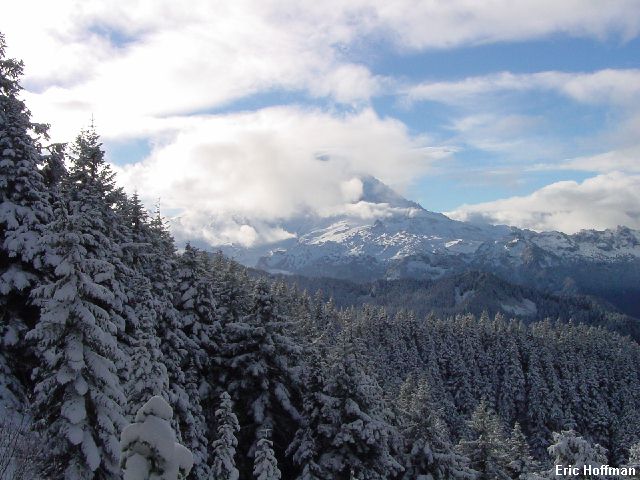 At the ridge crest we followed FST 1179A 0.8 miles to reach the summit of Bearhead. Not a spectacular summit, it does offer good views. An interesting side trip would be Summit Lake. This high lake (c.5200') can be reached via FST 1177 from Twin Lake (1.7 miles from Twin Lake to Summit Lake)
Chris on top of Bearhead Mountain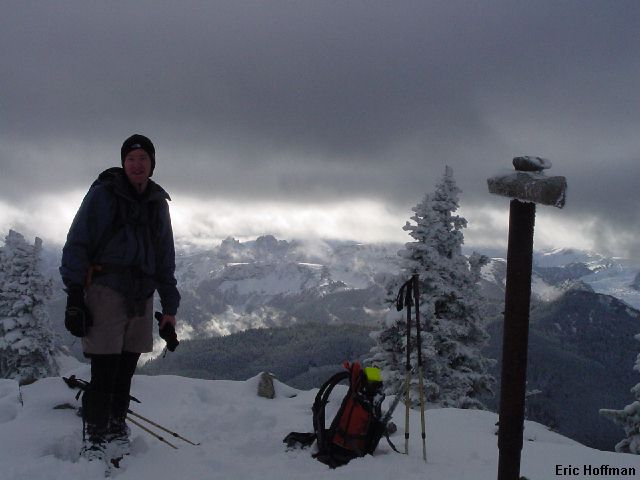 Sluiskin Mountain, Cresent Mountain and Tyee Peak from Bearhead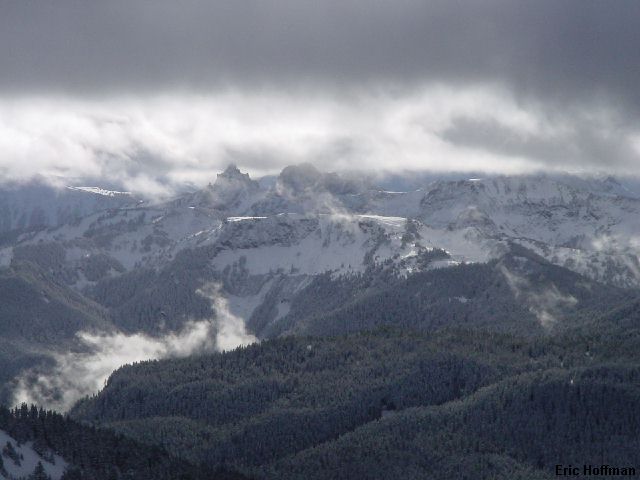 East Bearhead Mountain from Bearhead Mountain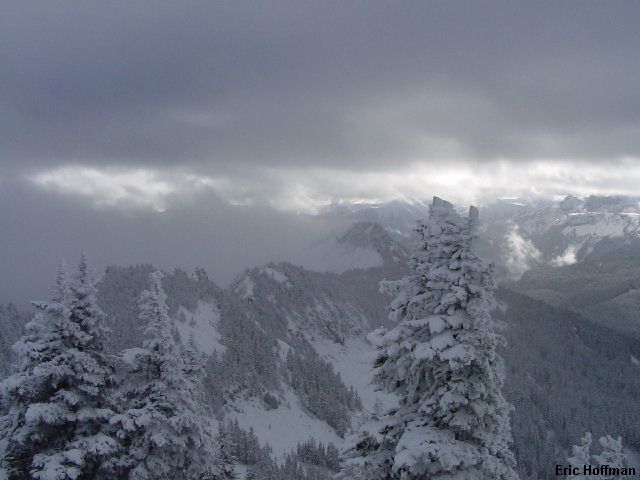 Mount Rainier from the summit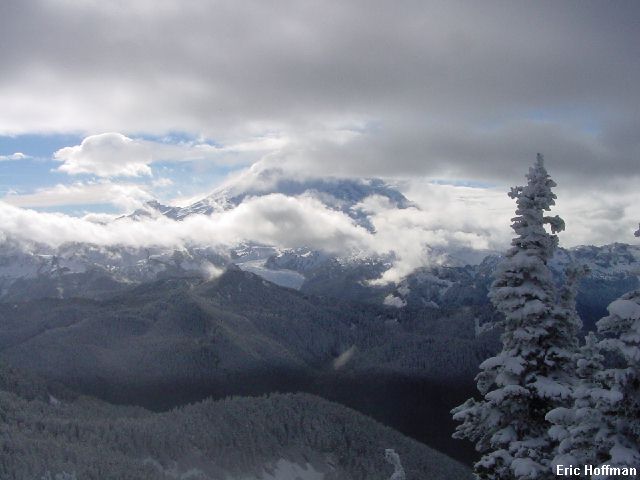 References:
Cascade Alpine Guide, Volume 1, 2nd Edition; Fred Beckey; Page 127