The Brothers (South Peak) - South Couloir Route
---
Destination: The Brothers South Peak
Date: Aug 12, 2001
Difficulty: 5
Payoff: 5
Starting Point: Lena Lake Trailhead (1000')
High Point: The Brothers South Peak (6866')
Round Trip Distance: c.17 miles
Equipment: The ten essentials
Mountain Skills: Route finding, Class 3 rock climbing
The Brothers is an interesting mountain in the Hamma Hamma River area of the Olympic Mountains. There is a north and south summit with the south summit being higher. The standard route is the South Couloir route. The route often holds snow through the summer but has completely melted out this year. It is more of a route finding challenge than climbing challenge but does have some class 3 rock with some class 4 variations.
The Brothers from Hood Canal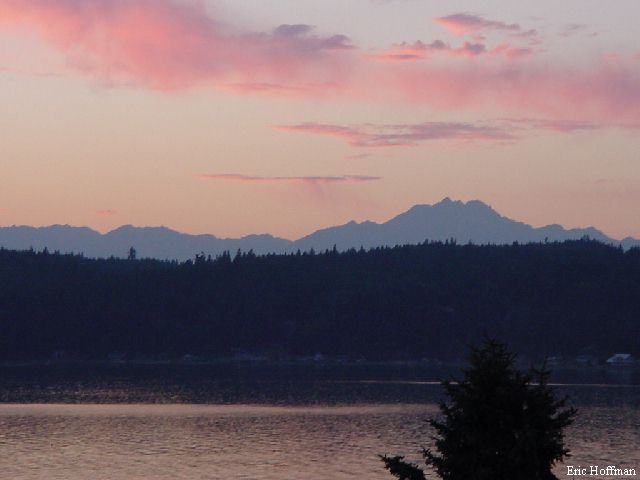 The trip begins at the Lena Lake Trailhead. To get there drive north on highway 101 13.6 miles from the ice cream parlor in Hoodsport to the Hamma Hamma Recreation Area Road (FSR 25). Follow FSR 25 for 8 miles to the Lena Lake Trailhead. Hike the Lena Lake Trail (FST 810) 3 miles to Lena Lake, then continue around the lake to the Brothers Trail (FST 821). From the lake hike 2.8 miles through the Valley of the Silent Men and cross Lena Creek to an area of camp sites. Continue on a path following the west fork of Lena Creek. In about a mile the trail reaches an avalanche run-out area. Continue on the trail through avalanche debris until across the run-out area then take an even smaller path leading into the forest on the left. The path continues to fade as it leads through downed trees before reaching the South Couloir. Ascend the couloir a couple hundred feet then exit on the west side and continue up on scree to 5000'. Here the route becomes less obvious. Make an ascending rightward traverse near cliffs at the top of the couloir and continue to or near the crest of a semi-open spur (cross the top of the couloir you came up and past a second). From this area obvious paths ascend on the right of a narrow couloir (the hourglass). The path up the spur eventually leads into the couloir. Ascend the couloir (some class 3) until it begins to broaden. I kept right in the broader upper section and eventually got on solid rock (class 4) on the far right until near the summit. There appears to be a number of ways to reach the summit from the upper couloir, but expect some unpleasant scree whichever way you go. This route is probably much more enjoyable when there is snow, but the views of Olympics, Baker, Glacier and Rainier plus Puget Sound and Hood Canal make it worth the trip.
Hood Canal from the South Peak of the Brothers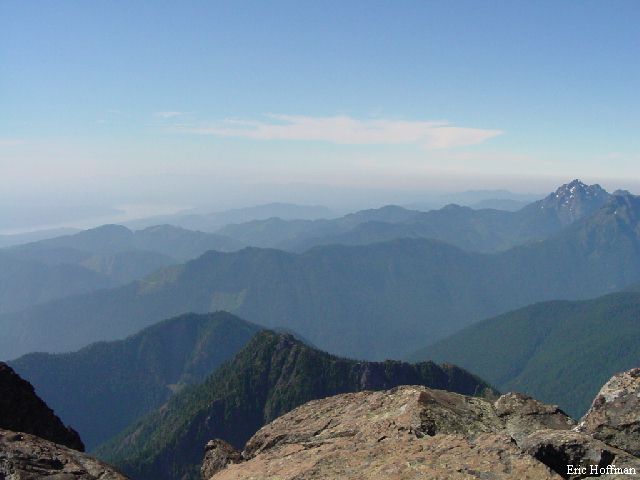 The North Peak with Mt. Constance in the Background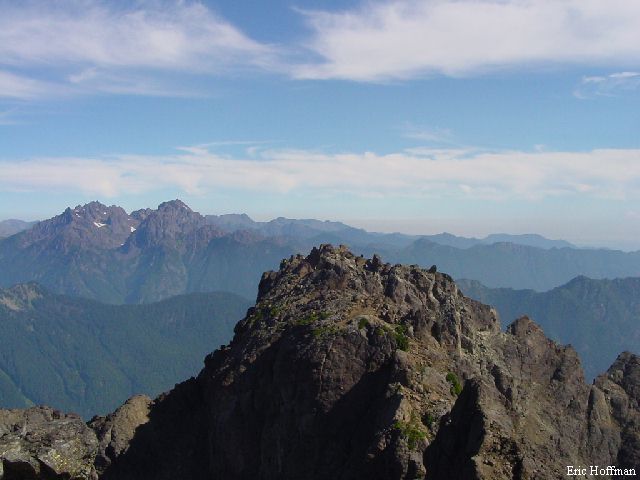 References:
Climber's Guide to the Olympic Mountains, third edition; Olympic Mountain Rescue; Pages 46-48
Olympic Mountains Trail Guide; Robert Wood; Pages 158-162