Mount Rainier-Carbon Glacier Ski Tour
---
Destination: Carbon Glacier
Date: April 2, 2002
Difficulty: 4
Payoff: 6
Starting Point: Carbon River Road-Green Lake Trailhead (c.2100')
High Point: East Carbon Glacier Moraine (c.7200')
Round Trip Distance: c.13 miles
Equipment: The ten essentials, skis
Mountain Skills: Route finding, avalanche assessment, glacier travel
This was a great tour to a spectacular destination. The only thing that did not go as planned was the Carbon River Road closure at the Green Lake Trailhead, approximately a mile and a half from Ipsut Creek Campground and the trailhead that I was expecting to start at. The glacier itself was in great condition allowing a direct ascent on frozen snow and a even better descent once the sun melted the top inch or two.
The approach was not as well packed as it normally is at this time of year, but I had been there enough times to find the way with minimal difficulty and maximum pre-ski postholing. It is best to follow the trail for the first 2 miles, then drop to the river bed and continue under the suspension bridge to the snout of the Carbon Glacier (c.3600'). The river is easily crossed on avalanche debris from the gully a short distance past the northern loop trail junction, at least for now.
The lower Carbon Glacier from the Carbon River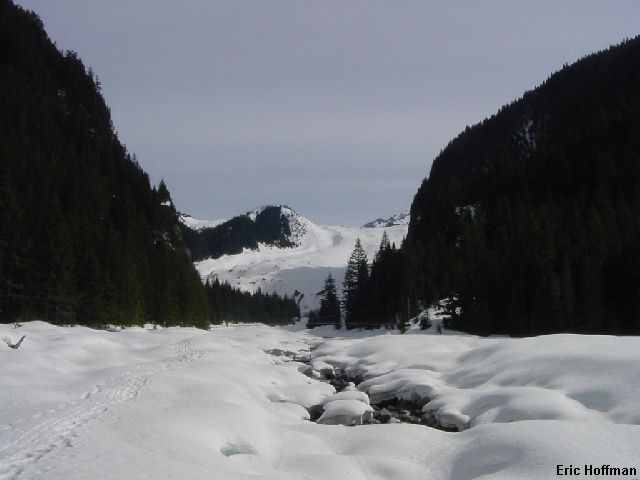 Probably the most difficult section of the route is getting onto and off of the Carbon Glacier (needless to say, use caution when descending this area). Even this was not too difficult. I gained the glacier on the east side of the snout and started up on solid snow with patches of what was once Willis Wall melting out here and there. The ascent was not very steep, rarely more than 15 degrees. The steepest section was near 6000', just east of the first small seracs on the route. Eventually I reached the area where in a month or so hoards of climbers will be traversing lower Curtis Ridge to reach the Carbon Glacier on their way to Liberty Ridge. There where some obvious holes near the route and I decided this was as far as I needed to go today. A lunch break and some gear adjustments and I was gone.
The Russell Glacier, Observation Rock and Echo Rock from the Carbon Glacier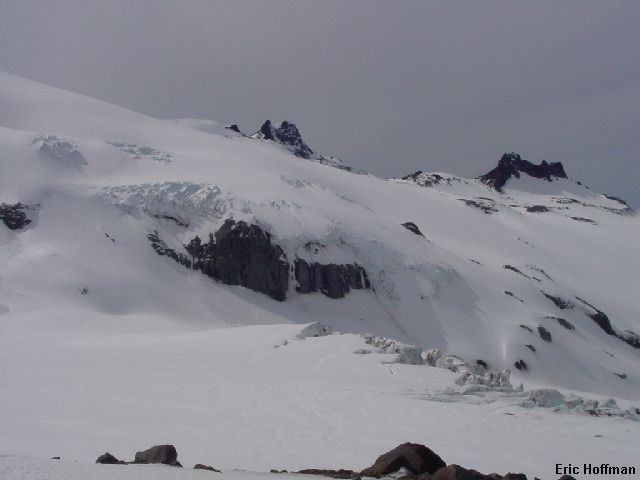 Mt. Rainer from 7000' on the Carbon Glacier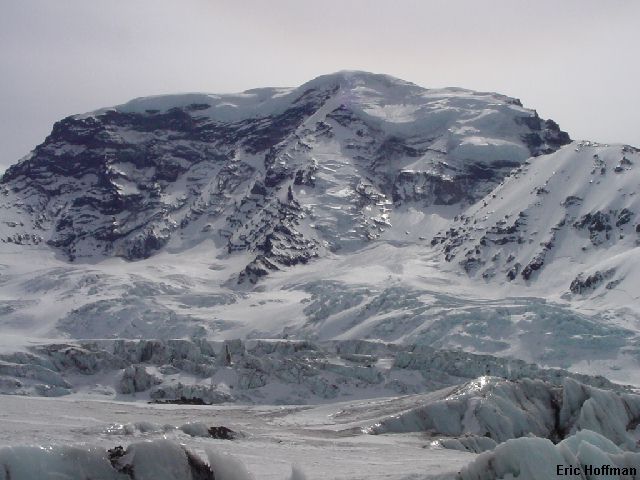 Self portrait-Time to descend!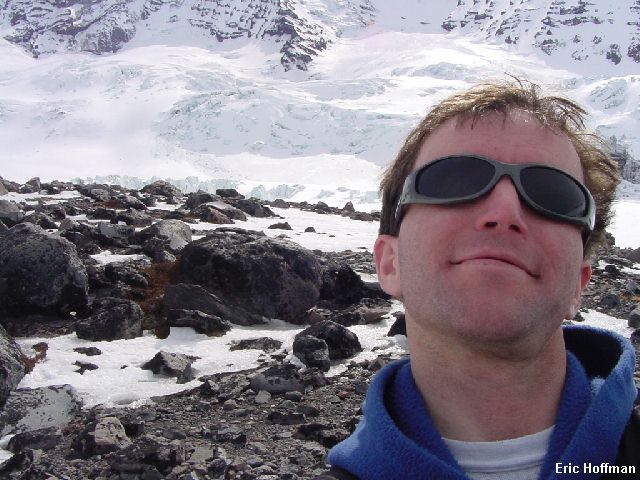 References
100 Classic Backcountry Ski and Snowboard Routes in Washington; Rainer Burgdorfer; Pages 194-196