Chair Peak-Northeast Buttress
---
Destination: Chair Peak (6238')
Date: June 29, 2006
Starting Point: Alpental Parking Lot (c.3100')
High Point: Chair Peak Summit (6238')
Round Trip Distance: c.8 miles
Equipment: The ten essentials, 60m rope, medium rack
Difficulties Route finding, class 4 rock climbing
The weather had been nice and Chris Mattson and I were tired of being stuck in our cubicles and I decided to leave work a couple hours early for a quick evening outing. We decided that Chair Peak was the thing to do and Andy Johnson decided he should join us even though he was leaving for Mexico early the next morning. We met in Tacoma at 2:00PM and were hiking the Snow Lake Trail by 4:00PM.
We made good time reaching Snow Lake Basin (c.5100') where we decided it would be the most interesting to get onto the Snow Lake Divide immediately so we could get some views of something other than the east face of Chair Peak. We reached the divide a couple hundred yards from the start of the base of the NE Buttress (c.5600'). Hiking and some scrambling brought us to the base where we roped up.
Chris hiking on the Snow Lake Divide on the approach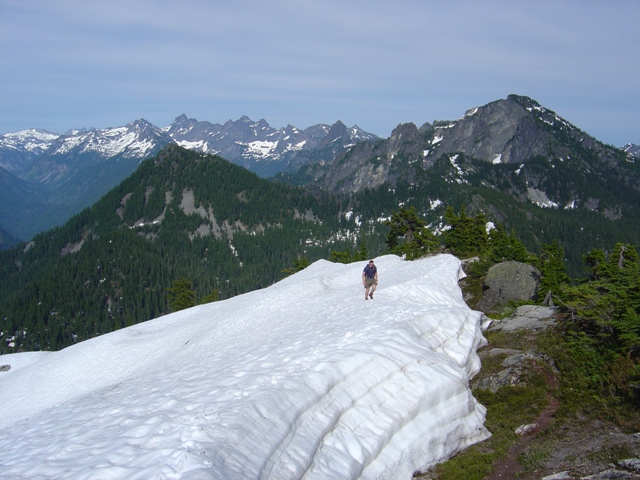 We had brought a 60m rope and a medium sized rack. I had more gear than was necessary to climb the route but in the interest of time we wanted to use a running belay on the entire route. I had 14 runners, 8 cams and a few small nuts and used a few smaller cams and almost all of the slings by the time we got above the class 4 step about 2/3 of the way to the summit.
The right curving chimney at the base of the route had some fun moves and was mostly solid (class 4). The chimney is less than one full pitch and ends in a group of trees. A dirt ledge on the left allows easy access to the broad gully on the upper east face. The gully starts and ends with class 2 with a short with class 3rd and a couple class 4th moves to get over the short step about half way up. The route goes up the left side of the step which had some loose rock. We reached the summit just after 700PM and didn't stay long.
Chris and Andy mid way up the route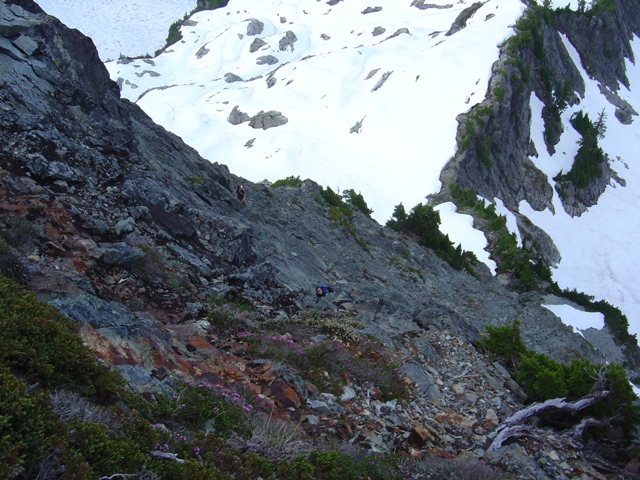 On the descent we made two rappels down the standard route then downclimbed to snow which we glissaded to the bottom of the basin. We reached the trailhead a little after 9:00 and home by 11:00… except Andy who had to drive to West Seattle to catch a ferry to Vashon.
References:
Cascade Alpine Guide, Volume 1; Fred Beckey; Pages 150-152
Climbing Washington's Mountains; Jeff Smoot; Pages 243, 246-250