Chiwawa Mountain-Southwest Route
Destination: Chiwawa Mountain
Date: June 2, 2001
Difficulty: 4+
Payoff: 4+
Starting Point: Trinity-Buck Creek Trailhead (c.2800')
High Point: The Summit of Chiwawa Mountain (8,459')
Round Trip Distance: 16 miles
Equipment: The ten essentials, ice axe
Mountain Skills: Route finding, ice axe, class 2 rock climbing

---

Chiwawa Mountain is best known for its association with Lyman Lake and Glacier lying on its north side. While the SW route doesn't have the aesthetic appeal of the Lyman Glacier route, it is a shorter route and was an enjoyable climb. The journey begins at the village of Trinity at the end of FSR 62 in the Wenatchee National Forest (see The Entait Excursion for driving directions to this area).

Follow the Buck Creek Trail (FST 1513) for about a mile and a half to the junction with the Red Mountain Trail (FST 1550). Take the Red Mountain Trail for 3.7 miles, then locate the Chiwawa Basin Trail (FST 1550A). The Chiwawa Basin Trail is currently obscured by a few fallen trees and is not easily spotted. Look for the junction 50 to 100 feet before the sign. The Chiwawa Basin Trail traverses NW in trees for under a mile before it reaches the first grassy meadow. The trail continued through open meadows for another quarter of a mile before it was lost to snow. Just were the trail goes from here is questionable. According to the Beckey Guide, it continues into the upper basin and towards the Fortress-Chiwawa Col, but maps show it ending in the lower basins at an elevation of 4900'. Either way the area can be navigated easily.

The general idea of the climb is to work up the south slopes of the mountain from the 5600' level of Chiwawa Basin to the area of the Chiwawa-Fortress Col. From the 7200' col, or just below, ascend snow and loose rock directly to the summit. At present most of the ascent is on snow with some short, steeper sections. While I cannot confirm this, I am assuming that the view from Chiwawa is spectacular.
Before- Chiwawa Mtn. from Lower Chiwawa Basin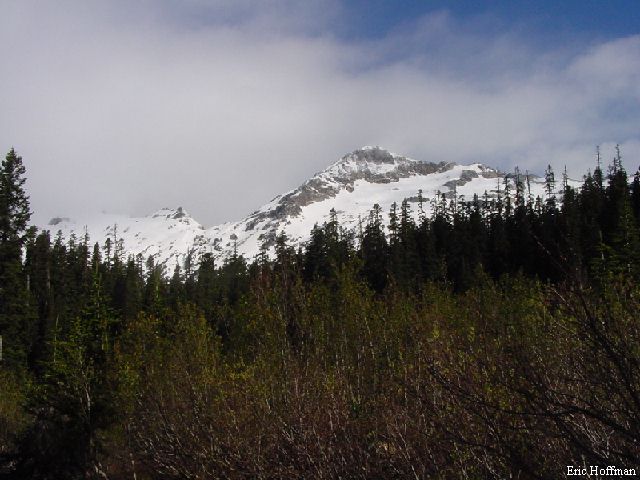 During-Chiwawa Mtn. from the col (top) and Lyman Lake from the summit (Bottom)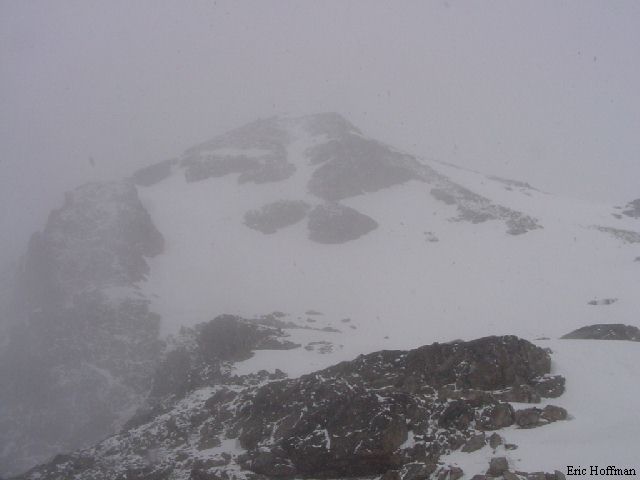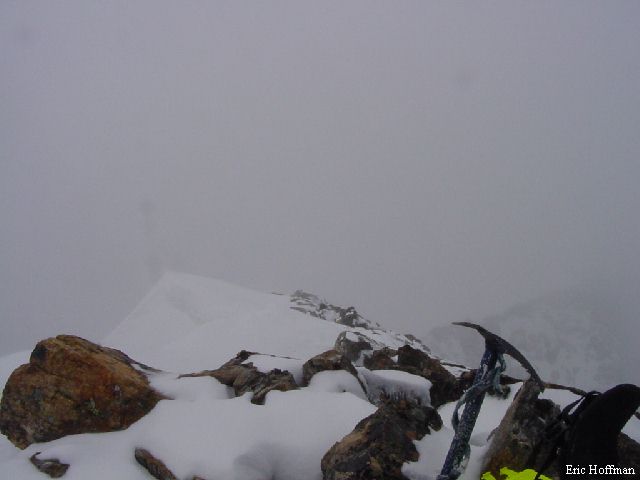 After-Chiwawa Mtn. From Upper Chiwawa Basin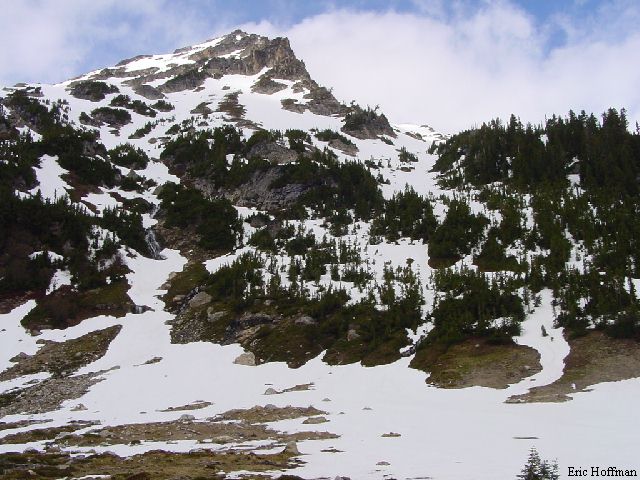 References: Cascade Alpine Guide, Volume 2, Second Edition; Fred Beckey; Pages 162, 164-166