Dewey Peak-NW Route
---
Destination: Dewey Peak (6710')
Date: September 3, 2006
Starting Point: Chinook Pass (c.5400')
High Point: Dewey Peak Summit (6710')
Round Trip Distance: c.9 miles
Equipment: The ten essentials, (50m rope for rappel?)
Difficulties Route finding, class 3/4 rock
Looking for a morning out in the Chinook Pass area I decided to head to Dewey Peak, the unofficial name for the 6710 Ft. tall summit just south of Dewey Lakes. You can leave from either Chinook Pass or Tipsoo Lake. It is slightly shorter to start at Tipsoo Lake but a lower start. I decided to start at Chinook Pass then return via Tipsoo Lake to complete the ever popular Naches Loop.
Dewey Peak and Seymour Peak (Right) from the PCT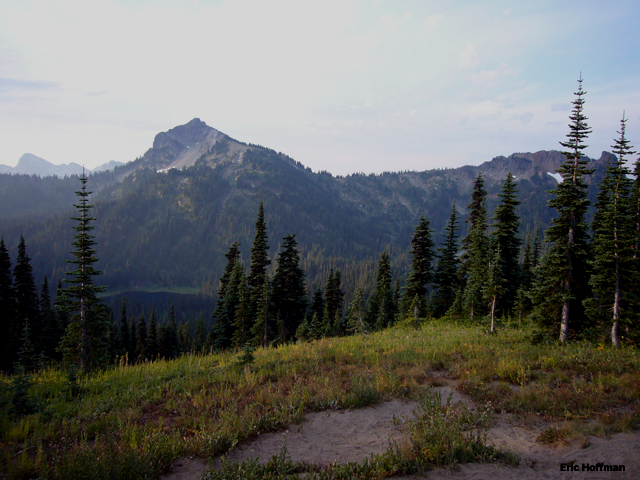 From Chinook Pass it is 1.5 miles south on the PCT (FST2000) to the junction with the Naches Trail at c.5800 Ft. where the PCT descends 600 Ft. in 1.2 miles to reach Dewey Lakes. I followed a path to the right of the smaller lake then headed west through forest and meadows until in the drainage between Dewey and Seymour Peaks before turning south and hiking to the saddle between the two. There is an extensive network of game trails that make travel easy.
From the saddle I hiked east mostly through meadows to gain the west ridge of Dewey. The ridge is easily followed until a ridge tower is encountered. This feature is bypassed on the south via a loose but easy ledge that leads to a gully. From the top of this gully a short class 3/4 scramble up a loose and expose pile of object hazards reaches the summit.
The summit of Dewey from the West Ridge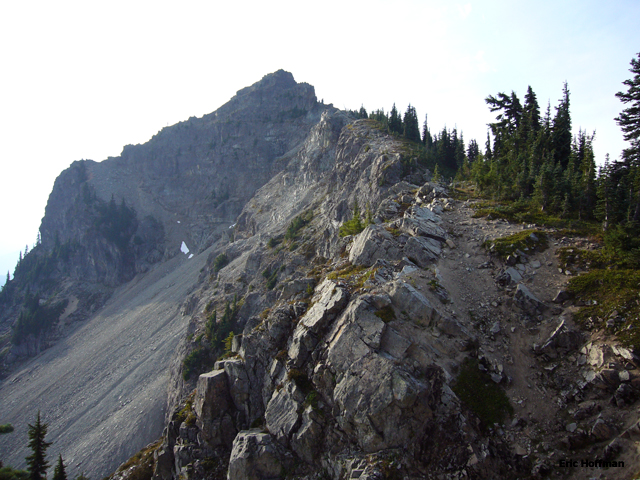 The summit offers good views of the east side of Mount Rainier although the skies were quite hazy, partially due to the fire on the east side of the park. There is a rappel station on the summit that reaches ledges on the south side. It appeared that a 50 M rope would be long enough to reach the ledges… if you brought one. Otherwise, the descent is a rather unsavory down climb to the notch at the top of the gully. The trip took 4.5 hours including the return.
Mount Rainier from the route up Dewey Peak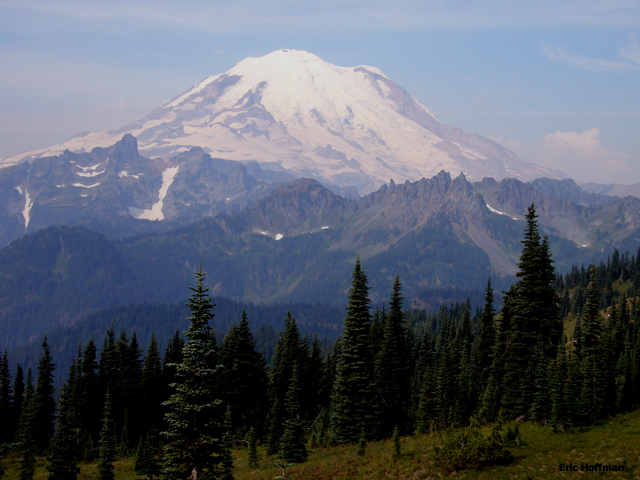 References:
Cascade Alpine Guide, Volume 1, 2nd Edition; Fred Beckey; Page 133