Fortress Mtn. Traverse/Chiwawa Mtn. Revisited
---
Destination: Fortress Mountain Summit
Date: June 23, 2001
Difficulty: 5
Payoff: 5+
Starting Point: Trinity (c.2800')
High Point: Fortress Mountain Summit (+8760')
Round Trip Distance: c.18 miles
Equipment: The ten essentials, ice axe
Mountain Skills: Route finding, ice axe, class 3 rock climbing
Questionable Snow conditions and a truck load of rocks plummeting from the clouds prompted me to retreat from Fortress Mtn. on my last trip to this area. This time things were different. The snow was good, I could see where I was heading and I was approaching the mountain on a different route. The route of ascent Southwest Route. This is an easy route guarded by a long approach. From Trinity take the Buck Creek Trail (FST 1513) until it begins to traverse the SE slopes of Helmet Butte (c.9 miles, the Beckey guide seems to be incorrect in describing this portion of the approach). Locate a path leading through meadows and trees and follow it toward Pass No Pass. In a short distance the path leads to open terrain below Pass No Pass. Ascend to the pass (or close to) then climb east on somewhat steep slopes toward Fortress Mountain. This is a nice area with grand views and easy traveling. The route can be completed in any number of ways with the basic strategy of gaining the South Ridge of Fortress. A class 2 traverse just below the ridge can then be taken to the summit or for more fun traverse the crest of the ridge (class 3-4).
Buck Mountain from Pass No Pass
Helmet Butte and Glacier Peak from the SW Slopes of Fortress Mountain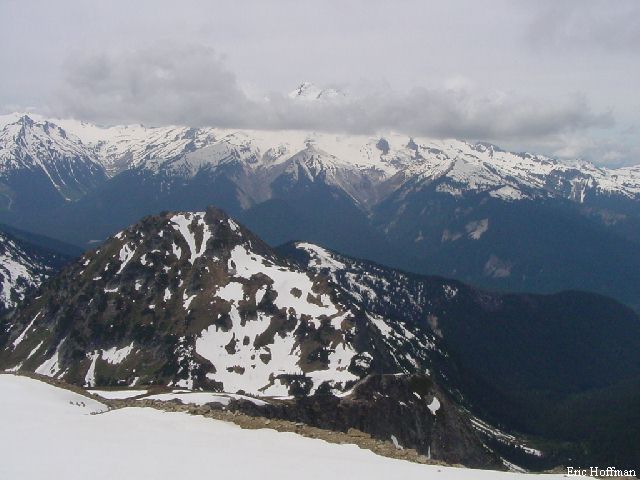 Bonanza Peak from the South Ridge of Fortress Mountain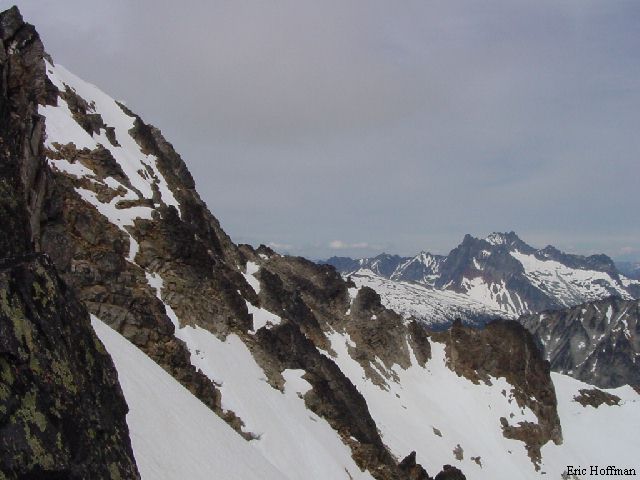 Eastern View from Fortress Mountain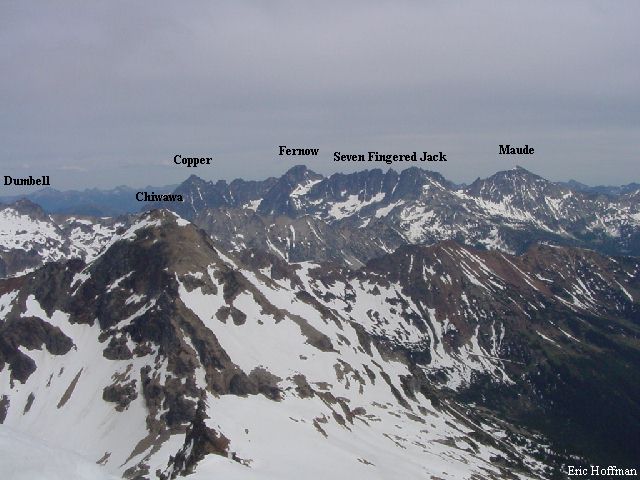 The summit of Fortress offers great views in all directions. The plan for the descent was to take the SE route, the route I had turned back on during the last trip. This involves a few hundred feet of class 3 on the NNE ridge with some exposed sections to a notch. More than one entry in the summit register suggested that the route may be more difficult than class 3. I found that by keeping to the west side of the ridge, the route is class 3 but with a fair amount of loose rock. From the notch the descent was on 40+ degree snow for a couple hundred feet before moderating and an easy traverse leads toward a 7200' col between Fortress and Chiwawa Mountain. See the previous report for Chiwawa Mountain for the remainder of the descent. Hmmm, so close to Chiwawa and no view on my last trip. Why not climb it again?
Fortress Mountain from Chiwawa Mountain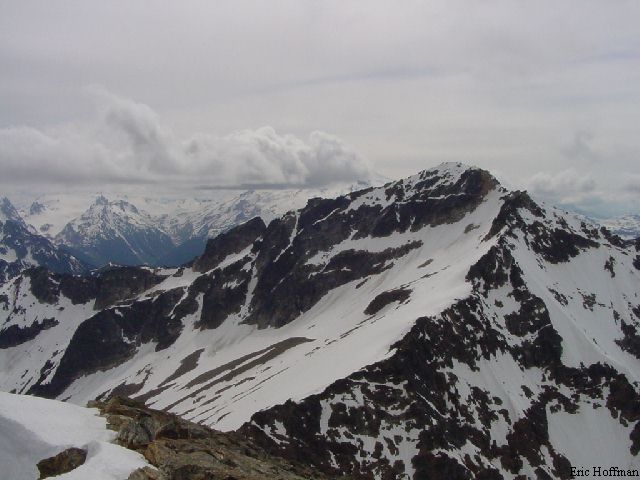 Bonanza Peak, Lyman Lake and the Lyman Glacier from Chiwawa Mtn.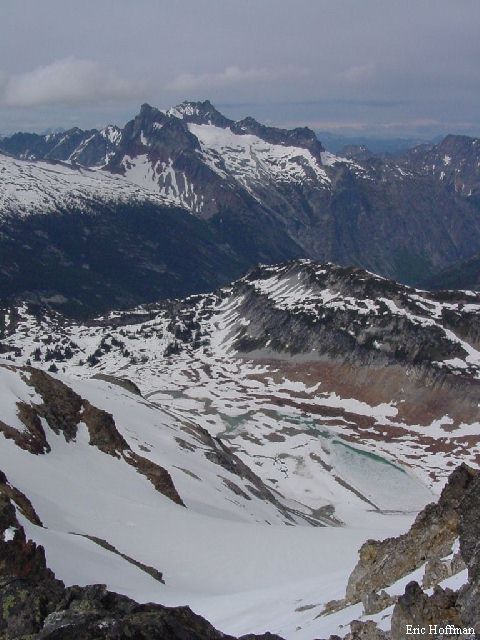 References:
Cascade Alpine Guide, Volume 2, Second Edition; Fred Beckey; Pages 162, 164-166