Mount Garibaldi-Northeast Face
---
Destination: Mount Garibaldi (BC)
Date: June 12-13, 2001
Difficulty: 6+
Payoff: 7
Starting Point: Brohm Ridge Jeep Road (c.3200')
High Point: The Summit of Mount Garibaldi (8,787')
Round Trip Distance: 22 miles
Equipment: The ten essentials, glacier travel, helmet
Mountain Skills: Route finding, glacier travel, snow/ice climbing to 50 degrees
This marks my first attempt to climb anything outside of the the U.S. Okay, just barely outside. the Garibaldi Massif is a crumbly volcanic formation with three distinct peaks: Atwell Peak (8,569'), Dalton Dome (8,638') and the true summit (8,787'). Finding information on this mountain proved to be challenging. The best information we received was from the owner of Climb On, a small shop in Squamish BC. There are three possible approaches to Garibaldi, Brohm Ridge being the shortest to the NE side of the mountain. This approach involves a jeep road that we traveled as far a we could (8 km from highway 99, c.3200') before we began the long trudge to Brohm ridge. The road can be traveled with a high clearance vehicle to near the snowmobile club Chalet.
We were taking our chances with a short window of fair weather on this trip. By 2:00pm we were post-holing through deep snow while snowmobiles raced by us on Brohm Ridge and were wondering if we had been duped by the weather forecasters. Finally, the clouds began to break and after more than four hours of hiking we got our first look at Garibaldi.
Our First Real Look at the Garibaldi Massif: Dalton Dome (left) and Atwell Peak (Right)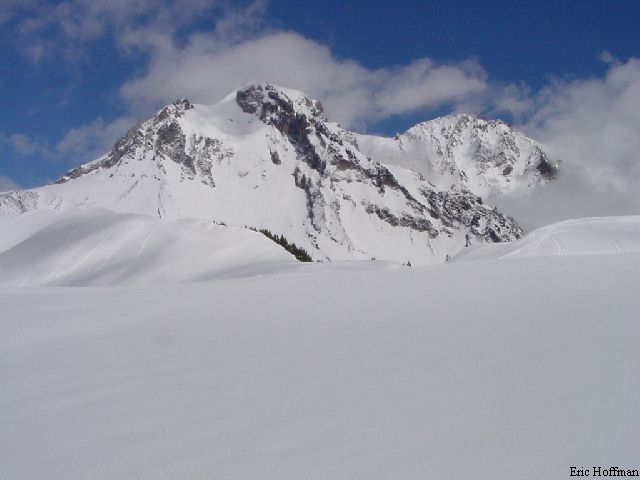 The approach follows Brohm Ridge for several miles to the Warren Glacier. The ridge is broad for the first couple of miles but then narrows. The crest can be followed for the most part, but...
Chris Traversing Around a Tower on Brohm Ridge
Once around the tower, the easiest traveling of the approach, a lateral moraine, lead to the Warren Glacier (c.6800') below the North Face of the Dalton Dome. This is the typical high camp for routes on the north side of Garibaldi.
Camp on the Warren Glacier with the North Face of the Dalton Dome Behind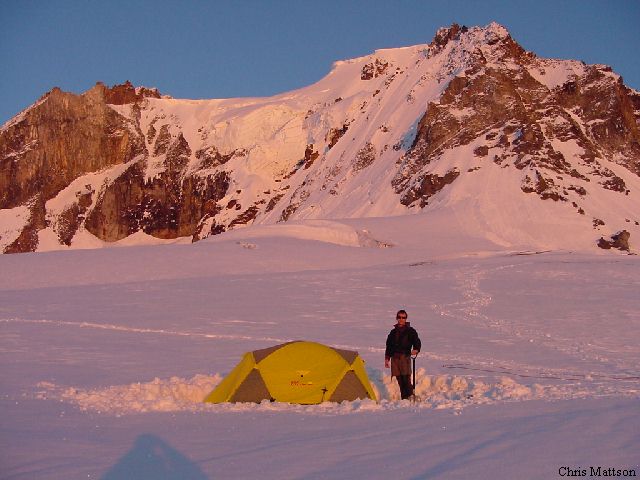 At 4:00AM we headed out across the Warren Glacier, negotiating only a few crevasses and made our way to a 40 degree slope leading to the North Pitt Glacier. By the time we reached top, the sun was rising and we got our first look at the NE Face.
Sunrise on the North Pitt Glacier (The Table and Black Tusk in Background)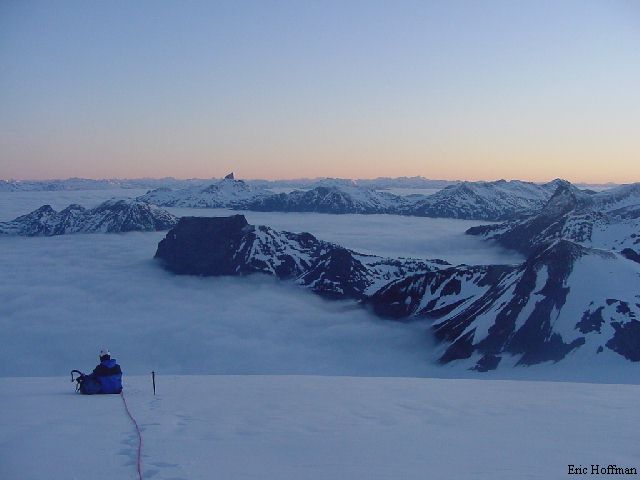 The Northeast Face of Mount Garibaldi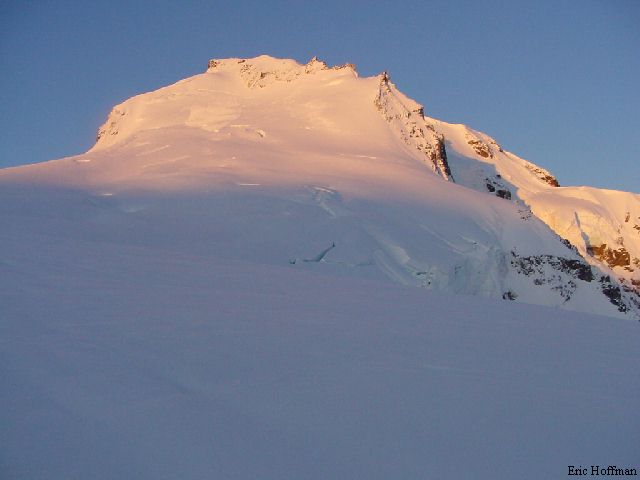 The NE Face gradually steepens to 40 degrees at the bergschrund. The bergschrund can be problematic by mid-season forcing climbers to bypass it on steep, loose volcanic rock. At this time it is still easily crossed or end-run to gain the 50 degree headwall above it. The snow on the headwall varied from perfect to icy but did not present any major problems. At the top of the headwall, a short traverse on the summit ridge leads to the summit.
A Sea of Floating Mountain Tops From the Summit of Mt. Garibaldi
Self Portrait on the Summit with Atwell Peak Behind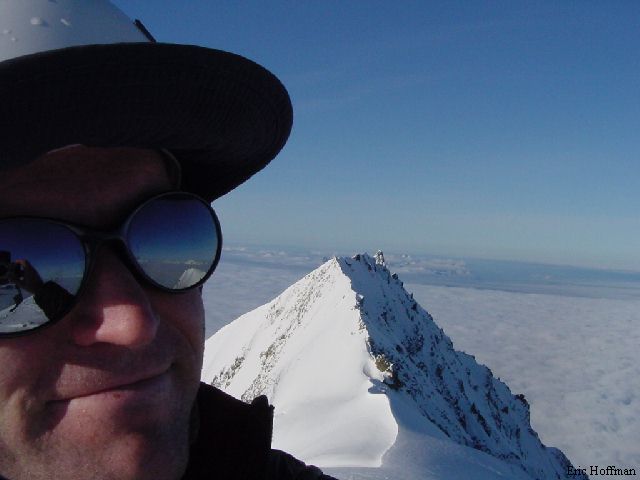 References:
Summit Guide to the Cascade Volcanoes, First Edition; Jeff Smoot; Pages 29-33, 36
A Guide to Climbing and Hiking in Southwestern British Columbia; Bruce Fairley; Pages 45, 50-52