May Misadventures and Goat Island Mountain
---
Destination: Goat Island Mountain (7288')
Date: May 31, 2004
Starting Point: Wonderland Trailhead, White River Road( c.3900')
High Point: Goat Island Mountain Summit(7288')
Round Trip Distance: c.9 miles
Equipment: The ten essentials
Mountain Skills: Route finding
May just didn't turn out to be what I had hoped. A bit of car trouble on the only nice weekend and then the not so nice weekends that followed including this one finally led to desperation. I was ready for something with little to no commitment...
Chris gets a central Cascade Shower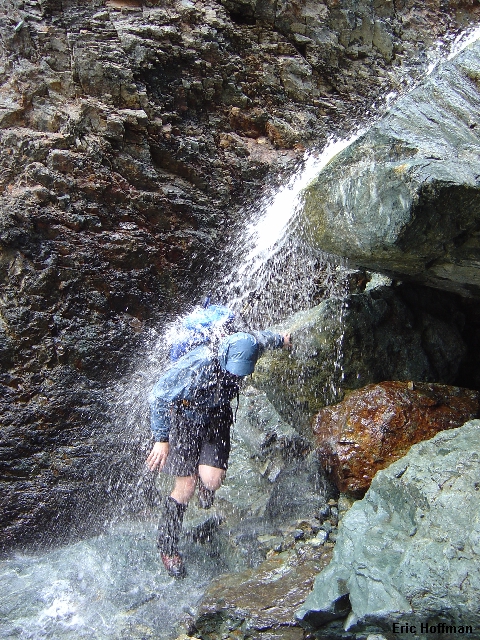 Sergio still optimistic about the east side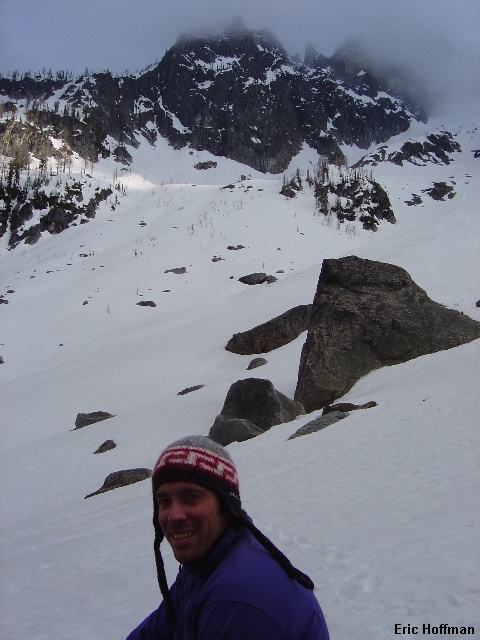 Chris Mattson and I decide to take a trip up to the Summerland area in hope of finding shelter in Rainier's rain shadow. Perhaps it was a bit better here than elsewhere in the Cascades, who knows?
The objective was Goat Island Mountain. Beckey describes a route up the steeper forested slopes on the SE slope but it didn't look all that appealing for an ascent route and we also wanted to see what was happening in Summerland.
We started up the Wonderland Trail from White River Road (c.3900') and arrived in Summerland in about an hour and a half. I have been to Summerland early in the season on too many years and always found an abundance of snow but his year I was disappointed. The bridge over Fryingpan Creek was washed out but we found an easy crossing just upstream and onto the meager snow bank on the opposite side.
We continued through the snow covered meadows of summerland to the obvious +6360' saddle at the SW end of the mountain. The ridge is easily hiked for about 2 miles to the highest point (7288'). I would have to assume that Goat Island is an excellent vantage point but the weather prevented us from taking it all in. However, we were fortunate enough to get a few views of Mount Rainier and Little Tahoma while on the ridge.
Chris on Goat Island Mountain
We decided to descend via the route described by Beckey as this would be much faster. Descending to the SE the first 1000 feet were alpine and low angled. Beyond that the terrain steepened and became forested with plenty of windfall and some brush. After about 2000 feet in the trees we reached the Wonderland Trail about 1.5 miles from the trailhead.
References:
Cascade Alpine Guide, Volume 1, Second Edition; Fred Beckey; Page 130