Hall Peak-The Continuing Story
---
Destination: Hall Peak 5484' (unsuccessful attempt)
Date: Feb 12, 2002
Difficulty: 4+
Payoff: 4
Starting Point: Silverton (c.1500')
High Point: c.4400'
Round Trip Distance: c.5 miles
Equipment: The ten essentials, ice axe, snowshoes
Mountain Skills: Route finding, ice axe, steep snow climbing, avalanche awareness
This impressive yet overlooked peak, reportedly with a third class route via its west ridge, continues to stump me. I have yet to hear anyone claim to have reached its summit (although I did hear someone say that they knew someone who had....yeah). On a winter 2000-01 Hall Peak trip, Chris Mattson and I found ourselves in a gully that turned out to be more than we had bargained for. After our retreat we checked out the ice caves below the NW Face, the 4000' Skubi Ridge Col, and a minor highpoint north of the col. That was last winter...this winter I will be found nowhere below the NW Face of Hall.
The description of the West Ridge route in the Cascade Alpine Guide is vague, not even including my favorite all inclusive phrase "a system of ledges and gullys" or equally "a system of ribs and gullys". An alternate approach to the Hall's west ridge is via Marble Pass. From the North, it is possible to gain the pass as long as you survive the avalanche. From the south...6 buildings at a miner's camp carried away by an avalanche in 1913. Silver Gulch hadn't panned out as a winter route, Marble Gulch looks just as bad, so why not go for the middle? After looking at the Silverton USGS map, it looked possible to gain the west ridge of Hall via the ridge between Marble and Silver Gulch. While not necessarily impossible, it proved to be more than I was willing to take on under the existing conditions.
My routes in the Hall Peak area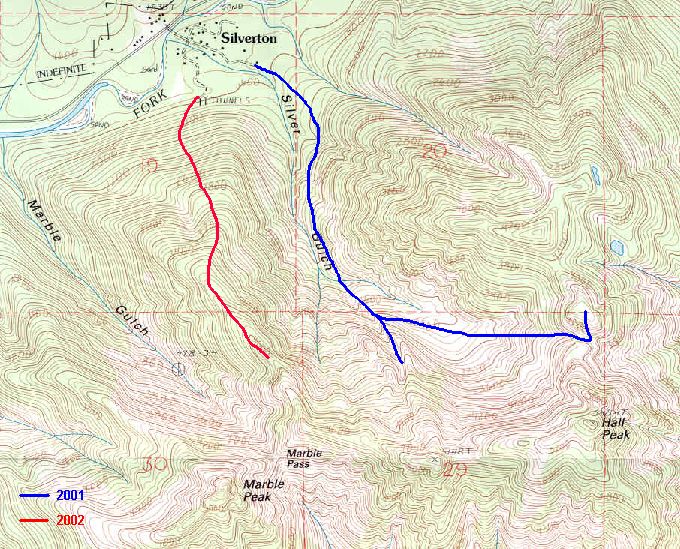 After parking on the Mountain Loop Highway, I crossed the river via the only bridge for miles and followed the road to the beginning of the Silver Gulch Trail. Rather than starting up the trail to Silver Gulch, I headed west to the old mines at the base of the ridge and started up the steep slope. Snow conditions varied from hard and icy to soft powder to deep and rotten. There was little choice but to use snowshoes ( conditions were ideal for face in, snowshoe down climbing on the descent). After the initial patches of devils club were beneath me, I climbed a "system of ribs and gullys" (aka snow covered fallen trees with trenches under them) eventually gave way to more open terrain and a well defined ridge. Things were looking good as I got my first view of Hall since leaving the highway.
The first look at Hall Peak from the ridge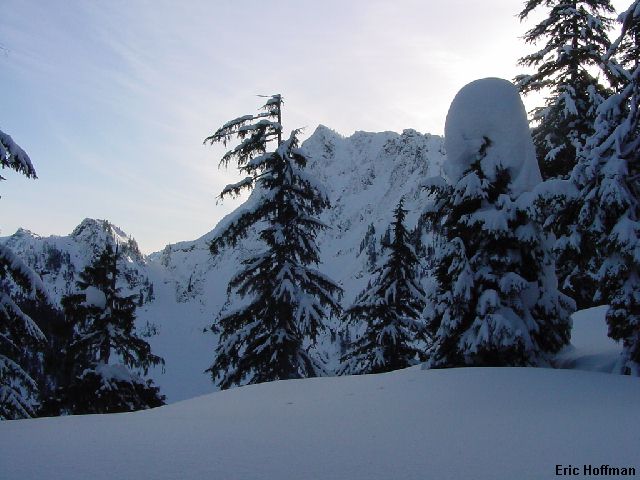 Somewhere around 4000' the ridge narrowed, a cornice on the east side appeared and the snow began to become more slab like, but I was making safe progress and was quickly nearing Marble Pass. Near 4300' a steep section, exposed on both sides, was the last thing that I wanted to see. No matter how long I looked at it, it was still there, and I was turning around.
Hall Peak from near my highpoint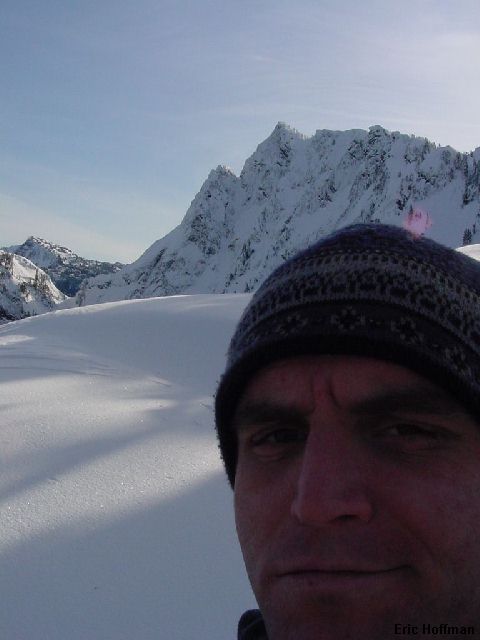 Marble Peak from near Marble Pass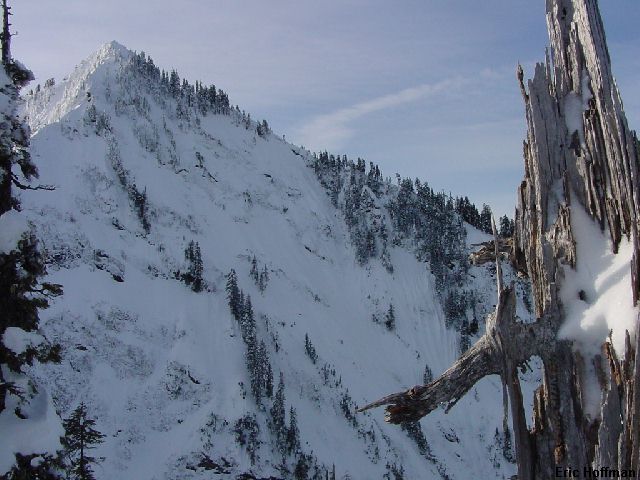 How marmots view the world (one of two mine shafts passed on the route)