Hall Peak-Closer, but...
---
Destination: Hall Peak 5484' (unsuccessful attempt)
Date: Feb 26, 2002
Difficulty: 5
Payoff: 4
Starting Point: Silverton (c.1500')
High Point: c.5100'
Round Trip Distance: c.6 miles
Equipment: The ten essentials, ice axe, crampons, snowshoes
Mountain Skills: Route finding, ice axe, steep snow/ice climbing, avalanche assessment
Somehow I have completely lost sight of what drew me to Hall Peak in the first place. As I recall, the Cascade Alpine Guide's description led me to believe that it was a relatively easy ascent, possibly suitable for a winter route. Maybe it is or maybe it isn't. I am leaning toward the later. This is my third trip to Hall. The first being last December when Chris and I climbed an obvious gully that is presumably the lower portion of the route described by Fred Beckey, but ran into difficulties near the top of the gully. We turned back near 3600' when we ran out of reasonable options. My second trip, earlier this month, was an attempt to gain the West Ridge of Hall near East of Marble Pass. I had hoped to climb the spur ridge between Silver Gulch and Marble but turned back when the corniced ridge became steep and exposed.
On the first trip, I had noticed a broad sloping shelf above the cliffs on the west side of Silver Gulch. It appeared that this shelf could be traversed to near the saddle mentioned in the route description. With a forecast of partly cloudy and avalanche danger low below 5000', I decided to give it a try. By 7:00am I was trying to find the overgrown Silver gulch trail under patches of snow, finally giving up and taking the path of least resistance. I ended up a bit higher than necessary, but it allowed me to get a look at the shelf that was hidden from the view once in the gulch. After a short descent into the gulch, I made my way up frozen avalanche debris to a short cliff. Unable to find an easy way up it, I traverse into the trees on the left, ascended a couple hundred feet then crossed a scary gully to the shelf.
The shelf was steeper than it had appeared and offered little (if any) run-out. I made a rising traverse on the 35 degree slopes for several hundred feet before things better. I was aiming for the ridge of trees that ended near the saddle on the west ridge. I arrived just below pt. 5148'. All that separated me from the saddle in the west ridge was an extremely steep face with a cornice hanging above it. Simple, it was time to go home but I was not quite ready to admit defeat just yet.
Hall Peak and the "Easy West Ridge" from near Pt. 5148'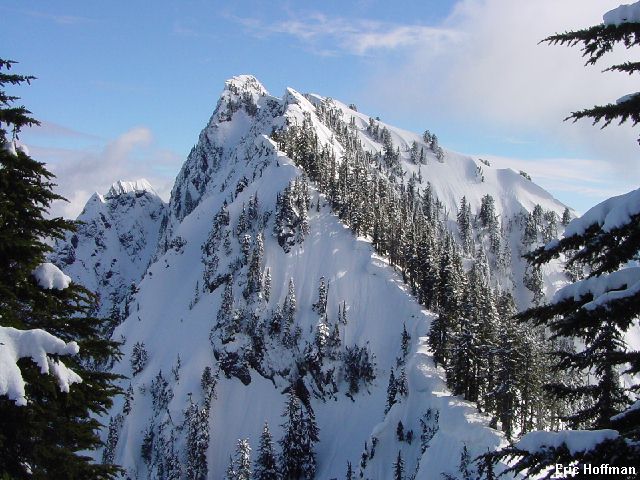 Big Four Mtn. from near Pt.5148'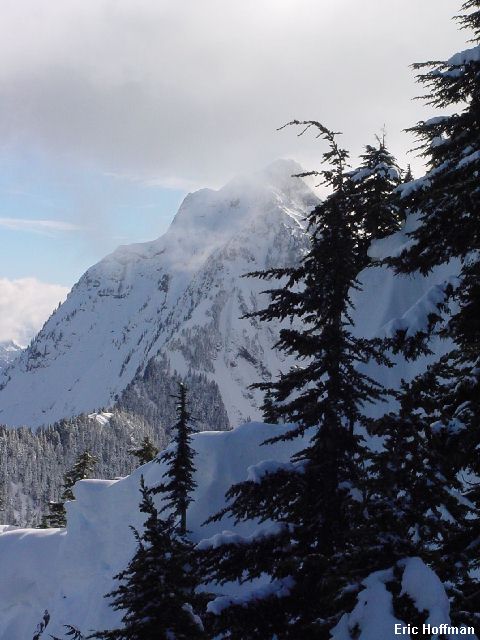 After trying to find a route to the top of pt. 5148' (snow/ice covered, probably class 4) I descended a short distance to a broad gully. Hmmm. It looked like the cornice ran completely across the top of the top of the gully. I decided to have a closer look, climbing under a rock outcropping then traversing left. Yep, the cornice was more than I was prepared to deal with. Down I went. Another narrower gully leading to a notch in the west ridge that appeared to offer an exit route. Up I went, the slope increasing to 55 to 60 degrees before a 4 foot nearly vertical section gave way to the notch (a well placed tree making the last 4 possible). It was way to late by this time to take what was going to be a time consuming traverse along the west ridge, but for the first time I had actually made it to the ridge.
Whitehorse Mtn. from the West Ridge of Hall Pk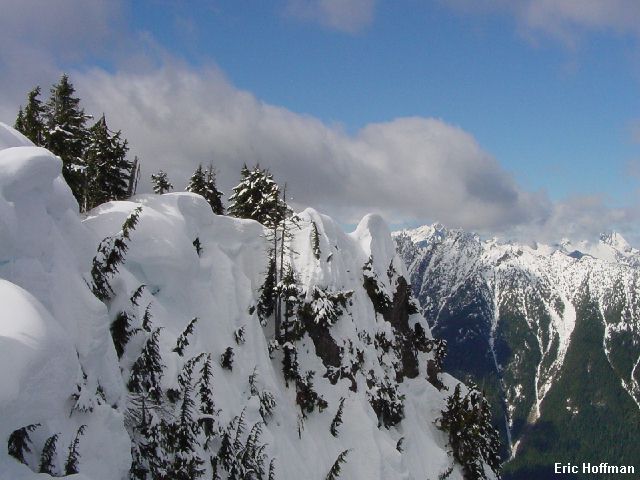 I didn't bother going to try Hall Peak last summer. Too many other objectives to get involved in a bushwhacking/route finding adventure on this obscure peak, but this winter ascent thing just isn't panning out.
Goodbye to Hall Pk...for now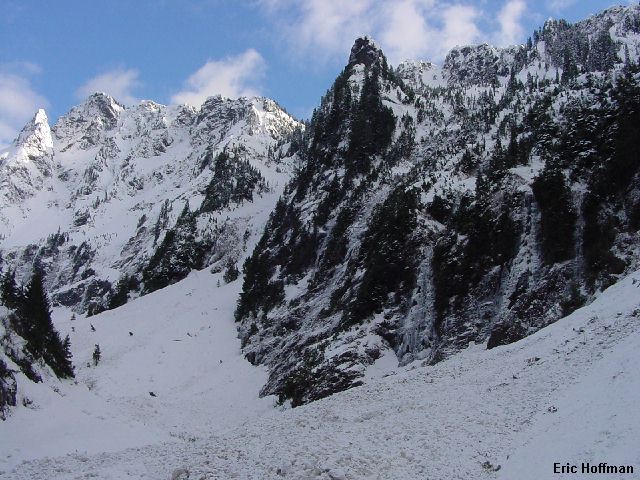 The latest unsuccessful route on Hall Peak's West Ridge.