He Devil, ID - Sheep Lake Climber's Route and NW Ridge
---
Destination: He Devil (9393')
Date: September 6, 2009
Starting Point: Seven Devils Lake Campground (ca.7500')
High Point: He Devil summit (9393')
Round Trip Distance: ca.8 Miles
Equipment: The ten essentails
Difficulties: Routefinding, Class 2 scrambling
He Devil is the highest summit in Idaho's Seven Devil's National Recreation area. The standard route is the NW Ridge which is gained near Sheep Lake. The maintained trail system to Sheep Lake is 9.4 miles each way from the Windy Saddle Trailhead and Campground via Seven Devils Trail (FST 124) and the Sheep Lake Trail (FST 123). However, there is a more direct route known as the Sheep Lake Climber's Route which is a mere 3.8 miles round trip from Seven Devils Lake Campground.
It is probably of no surprise that I didn't camp at the Windy Saddle Campground but opted to stay at Seven Devils Lake Campground, in the SW corner where the climber's route begins to be more specific. I arrive in early afternoon and spent the afternoon trying to photograph dragonflies at Seven Devils Lake before returning to camp where a very opinionated camper talked my ear off.
The following morning I departed camp following a path into the forest which reached the base of a steep open slope in about 1/4 mile. The path then ascends the slope to reach a saddle at just under a mile (ca.8400'). From here the path was a little difficult to locate but once you find it, it heads west on the south facing slope above Mirror Lake to reach Gate Pass at 1.3 miles. After a short steep descent from Goat pass the route traverses ledges for about 1/3rd of a mile then descends scree to Sheep Lake (7882') which I then circumnavigated clockwise on the path then boulders to the SW side the lake to and located the maintained Sheep Lake Trail.
The Tower of Babel and Mirror Lake from the Sheep Lake climber's Route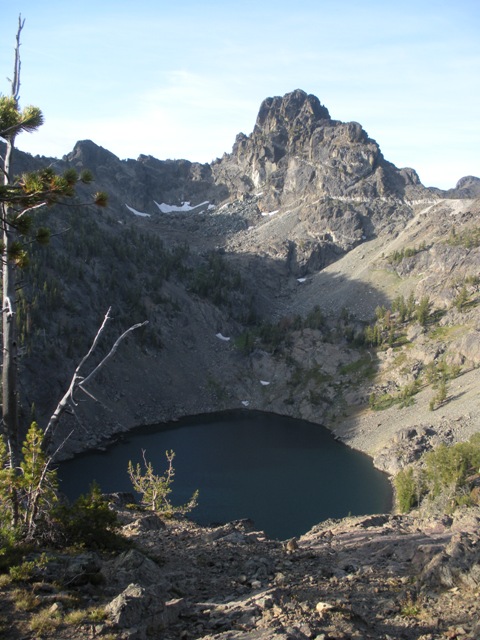 He Devil from Sheep Lake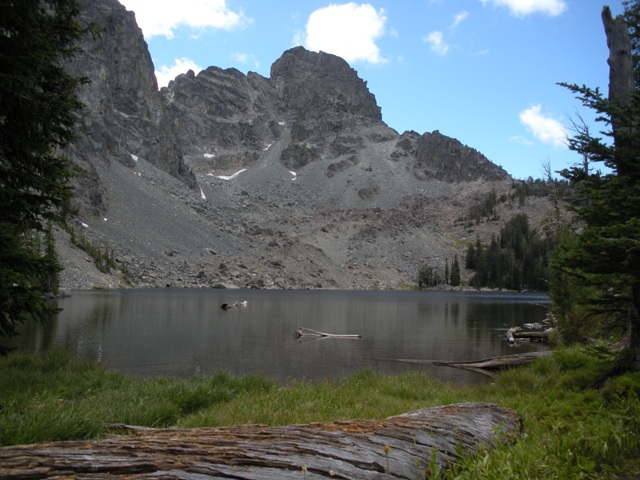 Per the climbing guide depart the Sheep Lake Trail at the 12th switchback from the lake… there were a couple of sharp bends that you might or might not consider to be switchbacks. Once off the trail the goal is to travel WSW over a minor ridge then descend into the cirque on the NNW side of He Devil before climbing to reach his NW Ridge. Once on the ridge there is a path that generally stays on the right side of the ridge. At ca.9200' I arrived at the summit area where a bit of class 2 scrambling on the SE side of the summit reached the large cairn that has been constructed there. I was a little disappointed by the lack of scrambling on the route but the summit views were reward enough.
He Devil from the NW Ridge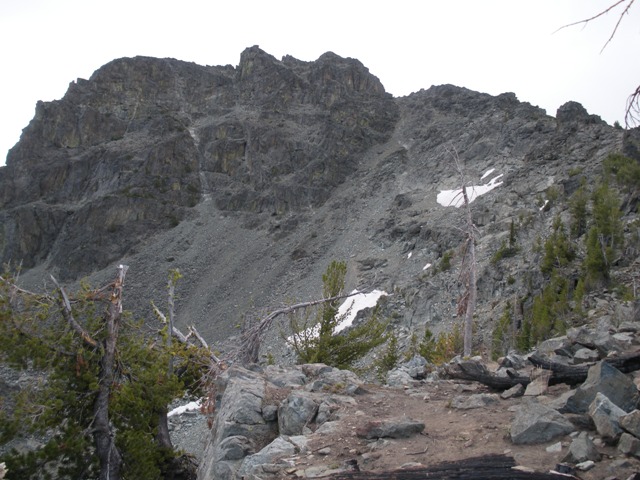 The He Devil summit pile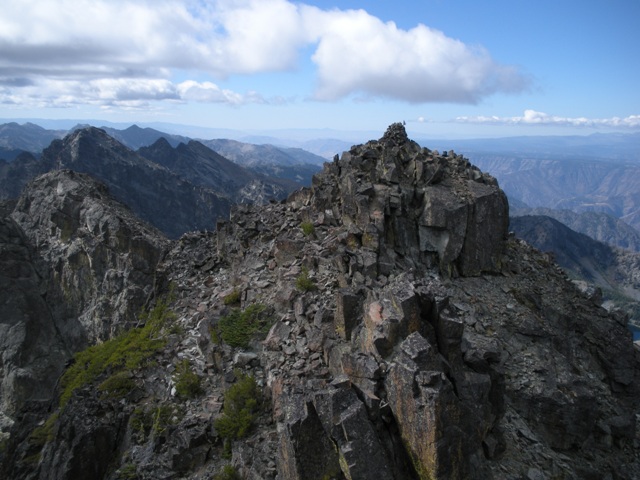 References:
Idaho - A climbing Guide; Tom Lopez; Pages 99-100
Hiking Hells Canyon and Idaho's Seven Devils Mountains; Fred Barstad; Pages 266-269, 312-315