Little Tahoma Peak-Fryingpan/Whitman Glacier Route (East Shoulder)
Destination: Little Tahoma Peak
Date: May 26, 2001
Difficulty: 6
Payoff: 7
Starting Point: White River Road at Fryingpan Creek (c.3900')
High Point: The Summit of Little Tahoma Peak (11,138')
Round Trip Distance: 18 miles
Equipment: The ten essentials, ice axe, crampons
Mountain Skills: Route finding, ice axe, crampon, class 3 rock climbing, avalanche awareness, glacier travel
---
This is the standard route up Little Tahoma Peak and is the route of choice for most. This route is normally done as an easy two day climb, but I think the fact that I was on the summit 5 hours and 40 minutes after leaving White River road is conclusive evidence that it is reasonable to complete in a single day if conditions are good. Even with a late start at noon, I was back at my car before 8:30 that evening. Camping is readily available at Summerland camp, but the prime to camp is on the 7573' highpoint of Meany Crest where a single protected bivy site offers great views and a higher start at the edge of the Fryingpan Glacier.
Little Tahoma and Mount Rainier From Meany Crest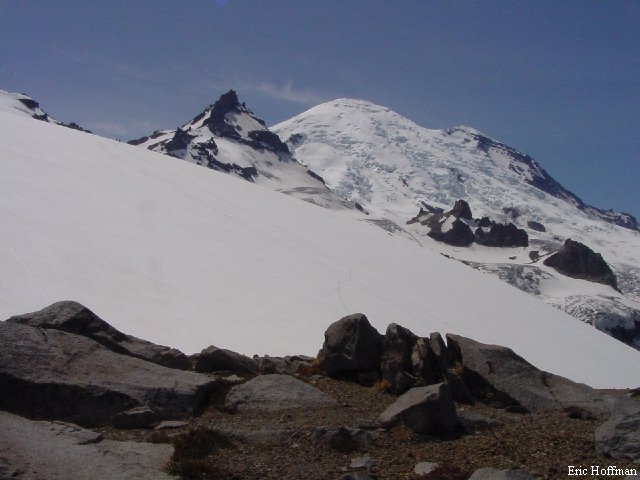 The route is currently in great condition with no crevasse problems on the Fryingpan Glacier. From the 9000' gap on the Whitman Crest the bergschrund on the Whitman Glacier can be avoided altogether by climbing up a snow finger to the prominent gendarmes east of the upper Whitman. From there an reasonable ascending traverse to the top of the Whitman leads to a class 3 gully that leads to the loose rock, snow and ice on the East shoulder. Route finding can present some minor problems as the top is approached, but it is generally easy.
Mount Adams from the Summit of Little T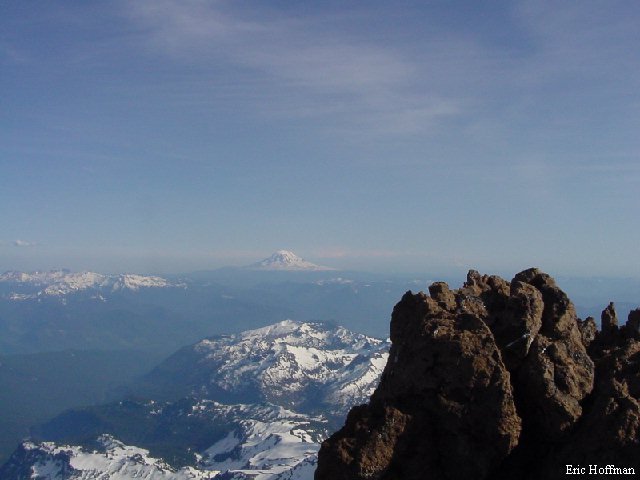 Mount Rainier from the Summit of Little T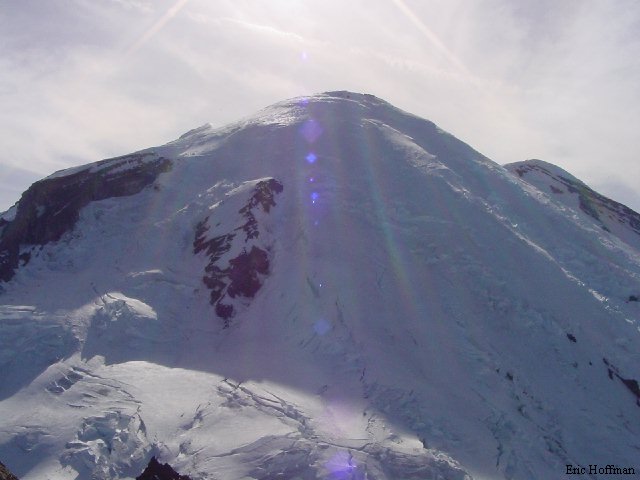 References: Cascade Alpine Guide, Volume 1, Second Edition; Fred Beckey; Pages 118-121