Cache Col and Magic Mountain
---
Destination: Magic Mountain (7610')
Date: September 12, 2000
Difficulty: 6
Payoff: 6
Starting Point: Cascade Pass Trailhead (3660')
High Point: Magic Mountain Summit Area (+7610')
Round Trip Distance: 19 miles
Equipment: The ten essentials, glacier travel equipment
Mountain Skills: route finding, glacier travel, class 3 rock climbing, avalanche awareness
On a day when the forecast is for partly cloudy skies, what better place to head than the Cascade Pass area. With so many options, the biggest problem is deciding where to go. Having a desire to check out the northern most section on the high route known as the Ptarmigan Traverse, we chose to climb the South Ridge of Magic Mountain.
To get to the Cascade Pass Trailhead, take highway 20 to Marblemount then take Cascade River Road (becomes FSR 15) to its very end (about 30 miles). The final few miles of the drive make the entire trip worth while...weather permitting. A trail parking pass is now required to park at trailheads in the North Cascades National Park Complex (a reliable source indicated that they are only issueing warnings this year).
The trip begins with a 3.7 mile hike on the Cascade Pass Trail that eventually leads to Cascade Pass (+5360'). At Cascade Pass a path leads to the south and the Ptarmigan traverse begins. The path traverses open slopes of heather and snow before reaching the crest of a rocky spur and the Cache Glacier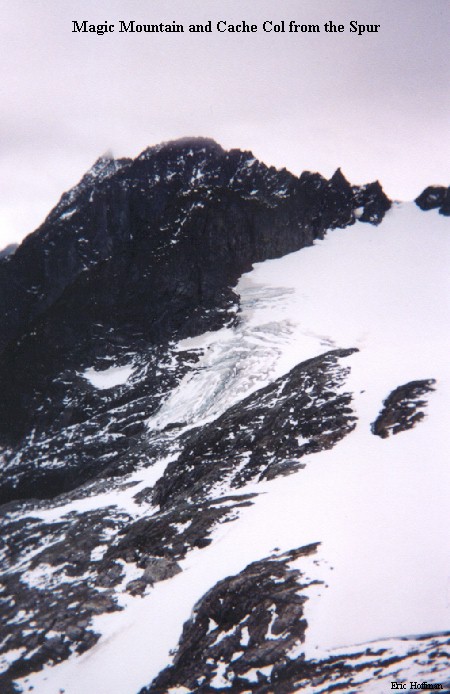 After a short descent to the glacier, ascend it to Cache Col (~6960') on slopes that reach a maximum of about 35 degrees (no crevasse problems). The view from Cache Col is excellent...weather permitting.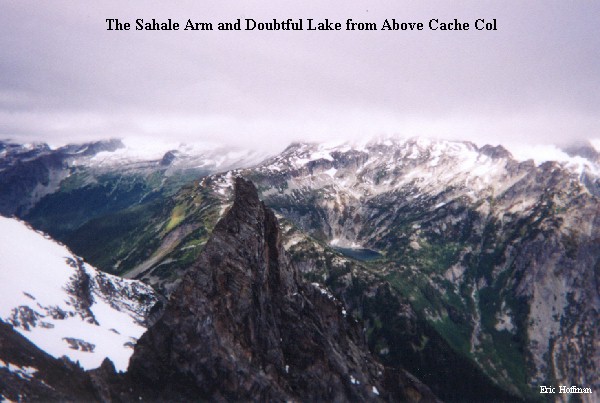 From Cache Col a path leads toward Kool Aid Lake. To reach the South Ridge of Magic mountain, descend 600' on the path and then traverse and ascend to a 7100' Col east of Kool Aid Lake. The view from here is so good that my climbing partner decided to stay and enjoy it while I attempted to reach the summit of Magic Mountain.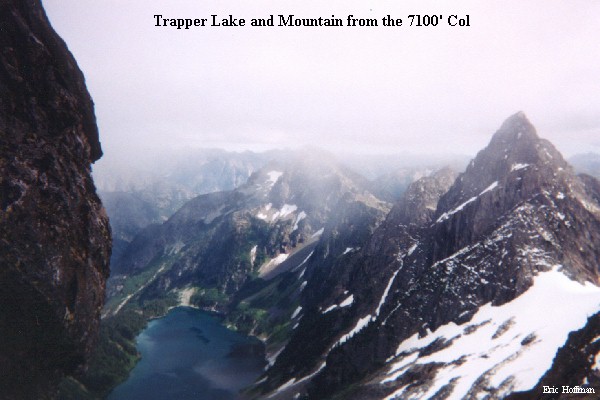 Form the 7100' Col, ascend the South Ridge of Magic Mountain on heather and rock (class 3). There was fresh snow on the ridge which made the 500' to the summit area interesting. There wasn't enough snow to provide good footing, but more than enough to force me from the obvious route in exposed areas. I was forced to get into the moat for a few hundred feet to avoid the worst section. Once out of the moat, an easy traverse on a snowfield lead to the summit area. Due to the conditions I passed on the climb of the summit tower (exposed traverse to the NE face then an unconfirmed but reported class 3 climb to the top).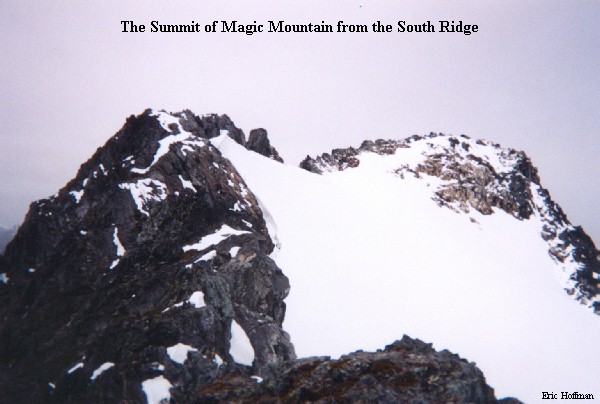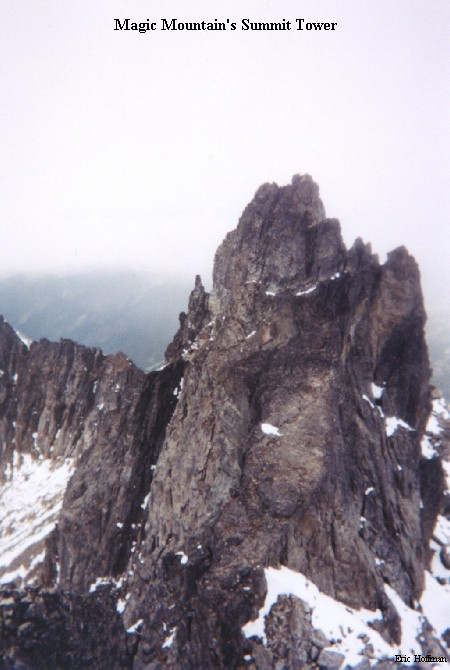 If anything was learned on this trip it was that "partly cloudy" means completely cloudy in the North Cascades.