Mailbox Peak
---
Destination: Mailbox Peak
Date: Jan 19, 2002
Difficulty: 4
Payoff: 4
Starting Point: Middle Fork Snoqualmie Road (c.700')
High Point: Mailbox Peak (4841')
Round Trip Distance: c.7 miles
Equipment: The ten essentials, ice axe recommended
Mountain Skills: Route finding, ice axe, avalanche awareness
Mailbox Peak in summer is a strenuous hike with a modest view but under winter conditions becomes a bit more fun. I've been here many times and figured it was about time I actually wrote a trip report on it. I would classify this a great outing for keeping in shape. It is best done on a weekend after a good dumping of snow has created high avalanche conditions and the ski lift lines are long.
To get to the trailhead, take exit 34 on I-90 and go north about a half mile to Lake Dorothy Road (Middle Fork Snoqualmie Road). Take a right and continue until the pavement ends and parking is available on both sides of the road. There is no sign at the trailhead and this trailhead seems to attract its fair share of car prowlers (speaking from personal experience). I recommend parking in a visible location. The real trick is finding the trail. A number of people I know have had difficulty locating it. Take the gated road on the south side of the road and continue past a recent deforestation project. The trail is located on the left side of the road just before a stream crossing. There is sometimes a sign here, but it seems to vanish a quickly as it can be put up.
If you find the trail, it will lead you on a gentle, but muddy stroll through the forest. Do not be deceived by the first few hundred yards. This route climbs 4100' in roughly 3.5 miles. The trail ascends through the forest in a generally steep fashion before opening up near 4000'. This is where the snow generally begins. There are currently flags marking the route from here, taking away the fun of finding your own way to a talus field a few hundred feet high. For several years I have heard rumors of a couple of members of the mountaineers being caught in a small avalanche here. The slope is capable of producing an avalanche and there is evidence that it has but I have always found a safe route either on wind swept snow or wind swept talus. Avoid the north side of the talus field that is frequently wind loaded as well as the above mentioned members of the mountaineers. Once at the top of the talus field, the ascent is best completed on or near the ridge crest avoiding the northwest slope and the cornice near the top. The original mailbox that was used to hold the summit register, a copy of Green Eggs and Ham and a Jim Morrison poetry book vanished a couple of years ago but a new mailbox was mounted after search and rescue efforts for the mailbox proved futile.
Chris Mattson in to his waist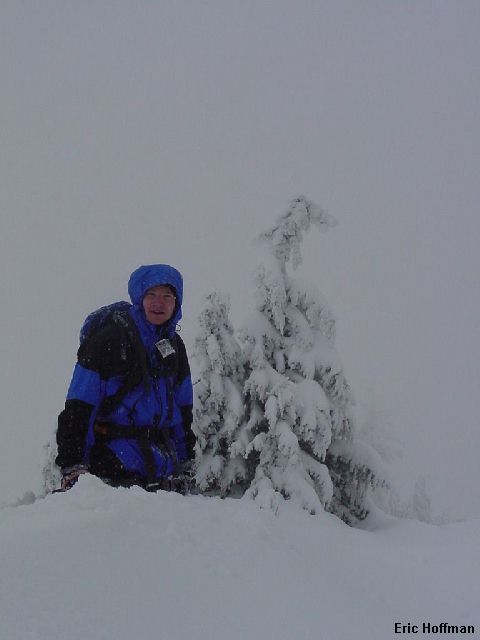 Rimed trees near the summit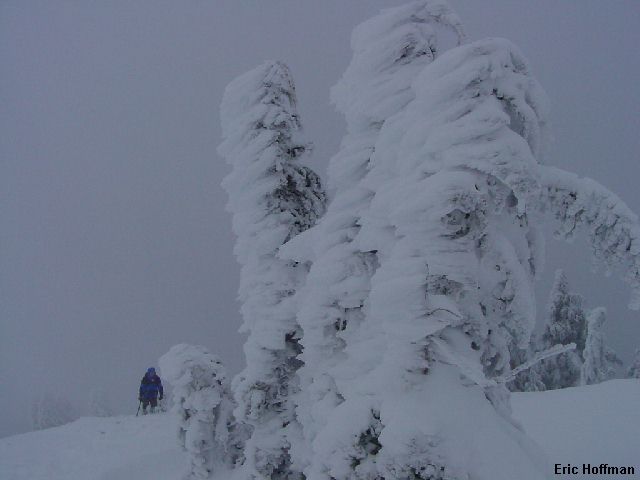 Chris on the summit of Mailbox Peak