Merchant Peak-South Route
---
Destination: Merchant Peak (6113')
Date: September 23, 2006
Starting Point: Barclay Lake Trailhead (c.2200')
High Point: Merchant Peak summit (6113')
Round Trip Distance: c.6 miles
Equipment: The ten essentials
Difficulties Route finding, class 3 rock climbing
Merchant Peak from Mount Baring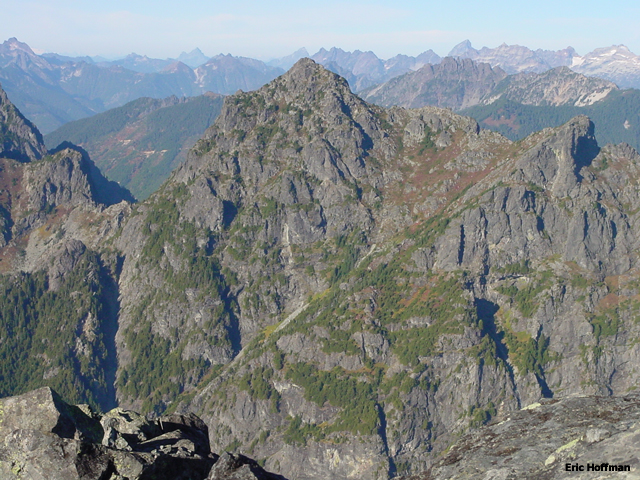 This was our second attempt to reach the summit of Merchant Peak. Chris and I had tried a couple years ago in early spring but our efforts were thwarted by a route finding blunder and weather. The primary route finding problem is locating the correct location to leave the main gully.
Departing the Barclay Creek Trailhead (c.2200') well after 10:00AM, we didn't get a particularly early start. Following the trail for a little over a mile to the bridge across Barclay Creek and continued about 300 more yards were the trail crosses a gravel wash.
Following the gravel wash it eventually turns into a deep gully. There are two significant steps in the gully. The first step is bypassed easily on a path on the left side. The second is a bit more trouble but can be bypassed on the right via a short gully (class 3) then a path. A few hundred feet of hiking and scrambling above the second step we reached the location that Beckey describes with the 20 foot tower, the waterfall branch from the right and a dirt path (c.3900'). We found no dirt path but about 50 to 75 vertical feet above the tower we could scramble to the cave like cliff base mentioned by Beckey.
Climbing in the gully above the second step
Once under the overhanging cliff we followed a path just below the cliffs (scrub trees) which reaches another gully at c.4400'. This gully can be followed upward for a couple hundred feet before is basically ends at steep rock. We went up slightly then cut right to a water course that we followed up to a small talus field. From here we continued up staying right of trees and into yet another gully just above a steep step. This gully can be followed for a couple hundred feet to the mostly open basin at c.5200'.
Scrambling below the "cave like cliff base"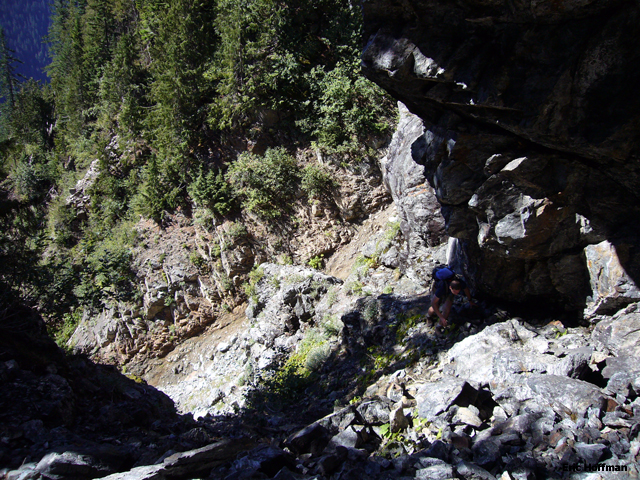 It wasn't obvious where the true summit was from here but turns out to be the left most point visible from the basin. We reached the summit ridge then made the final 200-300' ascent to the summit (easy class 3). The summit register revealed that the summit sees about 7 ascents a year on average. I must confess that while returning the register to its container I dropped the pencil! The Recovery effort was futile. Expect the descent to take nearly as long as the ascent (3.5 hours to summit, just under 7 hours round trip).
In the meadows above the gully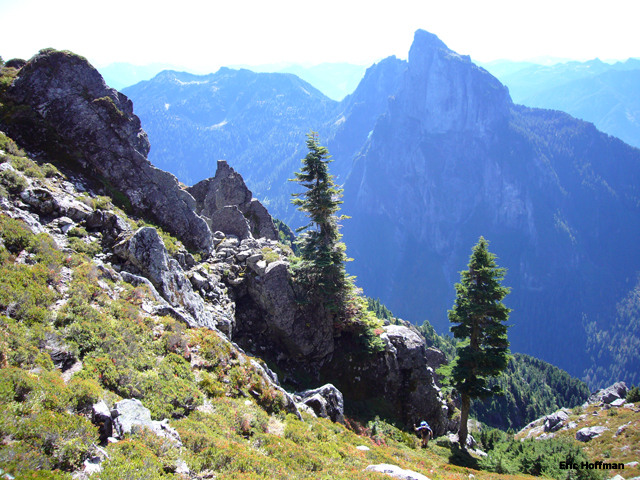 References:
Cascade Alpine Guide, Volume 2, 2nd Edition; Fred Beckey; Page 37
Climbing Washington's Mountains; Jeff Smoot; Pages 165-167