Monte Cristo Area-Poodle Dog Pass/Point 5335'
---
Destination: Point 5335'
Date: May 12, 2001
Difficulty: 4
Payoff: 5
Starting Point: Barlow Pass (c.2400')
High Point: Point 5335'
Round Trip Distance: ~15 miles
Equipment: The ten essentials, snowshoes
Mountain Skills: Route finding, avalanche assessment
---
This trip began with a hope of climbing 7136' Columbia Peak, but by the end of the day we were content calling it a spectacular sight seeing trip into the Monte Cristo area. Unless you are one of the privileged few who has a key (or a friend with a key) to the gate to the road leading to Monte Cristo, this trip begins 31 miles from Granite Falls on the the Mountain Loop Highway at Barlow Pass. For four miles of hiking or biking, the road winds it's way along the South Fork Sauk River to the "town" of Monte Cristo. This was once a mining town, but now seems to be a semi-private get away for the privileged few mentioned above. While the road does present an additional obstacle on the route to Columbia or any of the other exceptional peaks surrounding Monte Cristo, it is basically an easy stroll that took only about an hour and fifteen minutes to walk.
From the town of Monte Cristo, the route to Columbia Peak begins with a hike on trail 708 to Poodle Dog Pass (Silver Lake Trail). A sign indicated that a new trail is being built to replace the water course that is currently called the Silver Lake Trail, but no sign of this new trail that is supposed to be open in the summer of 2001 was seen. After about a mile and a half, we lost the trail in deep snow and ascended directly up avalanche debris to Poodle Dog Pass c.4400' (a Poodle Dog is a Marmot, not a yapper!). This pass is located a quarter of a mile east of Silver Lake with the impressive Silvertip Peak as a backdrop. Silver Lake would make a nice destination by itself (0.3 miles on Trail 708B), but our minds were elsewhere.
Silver Lake and Silvertip Peak From Above Poodle Dog Pass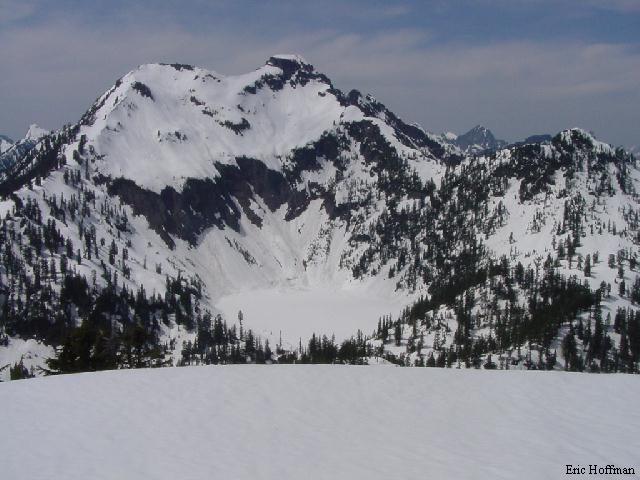 From Poodle Dog Pass, Trail 708A traverses a south facing slope then gains a divide between the Silver Creek drainage and 76 Gulch. Once on the divide the trail leads to the saddle between Twin Peaks. Having slogged through fully saturated snow and heard some significant releases, we made a decision to try to continue on the prominent crest to point 5335' then drop across the divide and back up to the saddle. It seemed reasonable at the time. Upon arriving at the point, we found that it had a spectacular view of the area, but it failed to offer a safer route. In a span of less than half an hour we watched three large sluffs break loose on the surrounding peaks including one that was very close to the Columbia Peak route we were going to attempt to climb. After watching snow plummet over a series of cliffs before coming to its final melting place 1000' feet below in 76 Gulch, we didn't feel so bad about sitting in the sun at a dead end that offered a 360 degree view of the area.
Wilmons Spires and Peaks from Point 5335'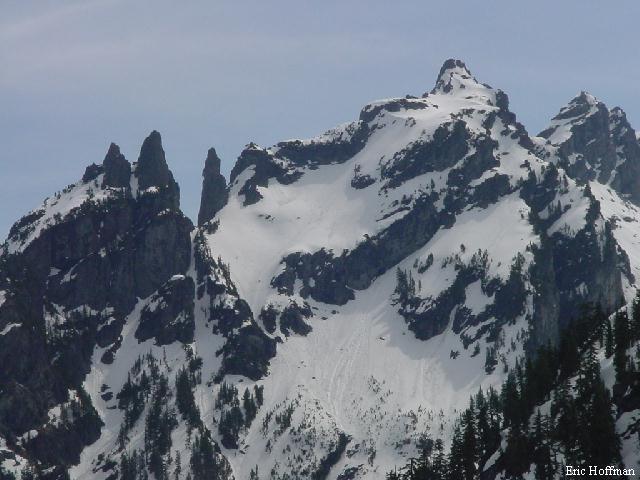 Columbia Peak From Point 5335'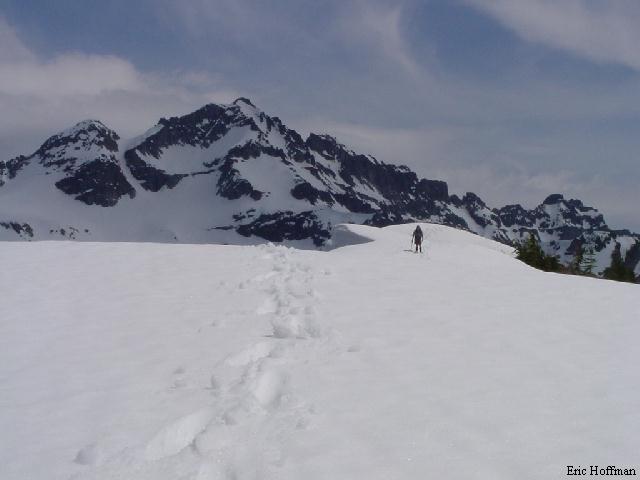 After absorbing our fair share of sunshine we headed back to Monte Cristo and the four mile trudge back to Barlow Pass. We had plenty of time to think about our failed attempt, discuss the best time for a return as we trudged down the Monte Cristo Road, and come to the conclusion that it is difficult to get mole skin to stick to wet feet..
Chris Mattson Feels the "The Agony of De Feet"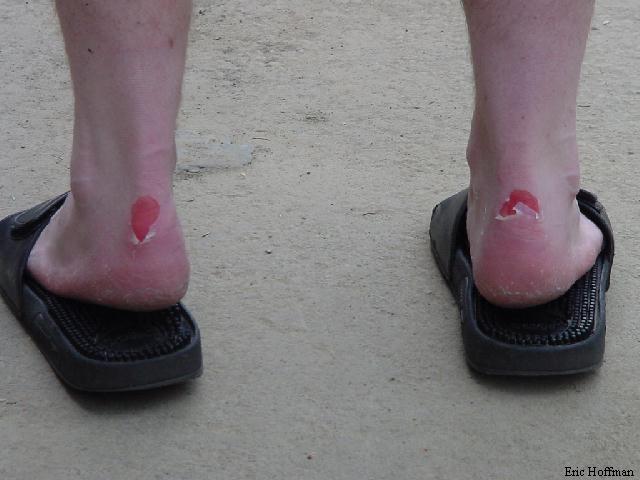 References:
Cascade Alpine Guide Volume 2, second edition; Fred Beckey; pages 67-69