Morse Creek Basin Ski Tour
---
Destination: Morse Creek Basin
Date: April 20, 2002
Difficulty: 4
Payoff: 5
Starting Point: Crystal Mountain Recreation Area (c.4400')
High Point: 6620'+ gap west of Threeway Peak
Round Trip Distance: c.7 miles
Equipment: The ten essentials, skis
Mountain Skills: Route finding, avalanche assessment
This was a nice tour on the sunny side of the crest. I have to admit that I was a bit skeptical that the tour would meet my expectations after hearing from Tom. He had cracked two ribs the day before the tour, but I was game if he was. He has been free heeling in the Crystal Mountain area for many years and our past tours had always been a blast. My skepticism was eroded when I arrived at the cabin Saturday morning and was greeted by Tom. I wasn't about to miss out on a tour with a 60+ year old doctor sporting two broken ribs and with the confidence to wear multicolored spandex tights.
We arrived at Crystal Mountain and after checking in at with the ski patrol we were on our way. The trip began with a skin up under the Quicksilver chair (when it is running you can get a $5 one ride lift ticket). From the top of the chair we followed the cat track a short distance before heading for Bear Gap (5882'). From the gap we headed to the top of the ridge to the south. The snow was good and we skied down several hundred feet, traversing under a minor buttress. From here we continued on a long traverse gaining a bit of elevation until below the first major gap in the ridge south of Bear Gap. We discussed our options as we ate our lunch.
Tom Thompson above Bear Gap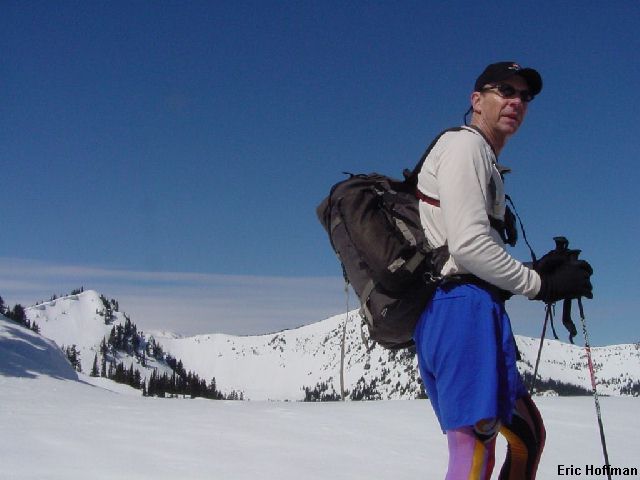 Tom below Bear Gap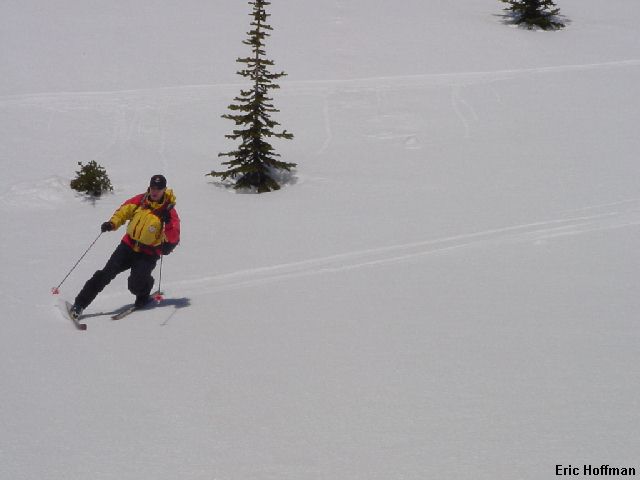 There were a couple possibilities: we could ascend to the gap above and drop back into the area east of Threeway Peak, or we could continue south to the first of two gaps that lead into the Crystal Lakes Basin and then to a gap west of Threeway Peak. It was a beautiful day so we opted to take the longer tour. We continued traversing into Morse Creek Basin until below the 6400' gap (this is the second gap past Sourdough Gap). After climbing a few hundred feet to the gap, we made a short descent then began the climb to the 6620'+ gap just west of Threeway peak. This gap offered a good view of Rainier and the Crystal Mountain Ski Area.
Morse Creek Basin from the 6400' gap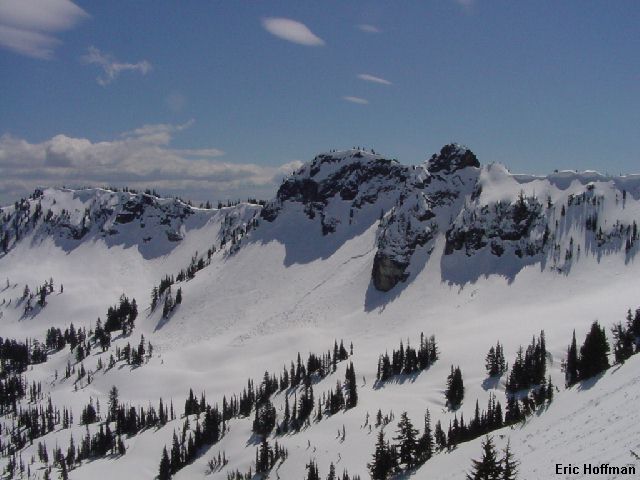 Mt. Rainier from the gap west of Threeway Peak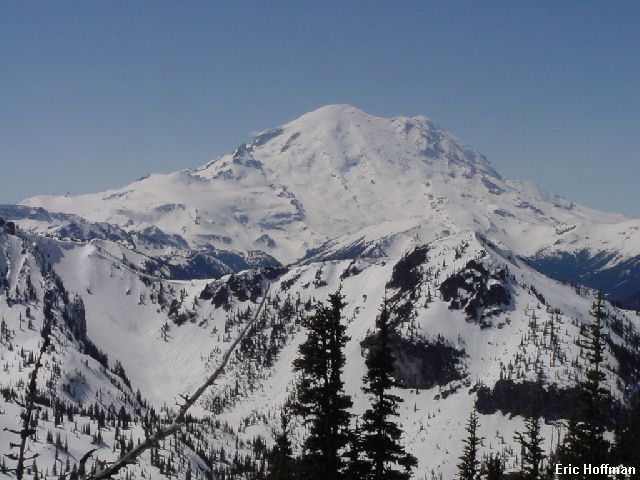 From the gap we dropped back into the south-backcountry of the Crystal Mountain ski area and made our way back to the top of the Quicksilver Chair. While we didn't do much in the way of yo-yo skiing, there are numerous opportunities in Morse Creek Basin, Crystal Lakes Basin and of course Avalanche Basin (the three basins surrounding Threeway Peak). This was a good day and I wish Tom a speedy recovery so we can go do it again. Truth be told, his injury probably won't slow him down much.