Mt. Adams-Dogged on the NW Ridge
---
Destination: Mt. Adams Summit (unsuccessful attempt)
Date: March 9-12, 2002
Difficulty: 4+
Payoff: 4 ( but potentially much higher)
Starting Point: Orr Creek Sno-Park (2965')
High Point: c.6200'
Round Trip Distance: c.29 miles
Equipment: The ten essentials, skis or snowshoes, overnight gear, Mushers (dogs and sleds optional)
Mountain Skills: Route finding, avalanche assessment (probably ice axe, crampons and steep snow and ice if you are lucky)
The Isolationists
The objective was simply to climb Mt. Adams, which offers a number of practical options when you can drive to the appropriate trailhead. However, in winter Mt Adams is isolated, a characteristic that I often find attractive and one of the reasons I presented this trip to my snow loving friend Andy Johnson. This trip was planned for a period of time that would not allow easy access, turning it into something resembling an expedition. The objective was simple, but the plan was a bit more complicated.
The original plan was for Andy and I to enter the Mt. Adams Wilderness and climb something on the north side of Mt. Adams. There were numerous options, but a ridge route seemed like our best bet. We had already climbed the North Ridge but there were also Lava, the Northwest and the West Ridges to choose from.
A Practical Application Of The Big Bang Theory
One of our co-workers who had climbed Rainier with us in 2000 and is an avid dog musher expressed some interest in the trip as a dog sledding adventure but had little interest in climbing. She was in. There was little talk of the trip until Sylvia refreshed the topic. Soon dates for the trip were being tossed around and momentum began to grow. Chuck, a dog mushing friend of Sylvia's, got wind of the trip and signed on. Chuck's wife, Amy, didn't want to be left out nor did their friend Dina. Somewhere along the way Andy's girlfriend, Rebecca, decided that she wanted to join us as well. The total count...25 warm bodies (18 dogs, 4 mushers, 2 climbers and 1 photographer). The group had gotten big quick.
One Minor Setback
Our original approach route began at the Adams Fork Campground and followed FSR 5601 to near Takhlakh Lake, which according to maps and Internet resources was a groomed Sno-Park trail. Unfortunately, rangers informed us that this was not correct and that this road had seen little if any traffic and had numerous trees blocking the way. This sounded like it would be more trouble than it was worth. Instead we would begin at Orr Creek Sno-Park which lengthened our trip by a few miles, but started higher and would allow easier travel for the dog teams.
Implications Of The Big Bang Theory
With the party size now large, logistics became more complicated. A small festival was held at Sylvia's in an attempt to work out most of the details. A number of ideas were thrown around about group gear, route choices, camp locations and the now serious concern of sanitation. The only decision that sparked no disputes was that no dogs in heat would be allowed. Most things, however, had to be debated. Personal accusation were made (I still think Andy eat more than his fair share of the Fiery Hot Habanera Salsa), but finally compromises were made and a plan evolved from the primordial ooze.
The Plan
I was to lead an initial assault on Mt Adams leaving Orr Creek Sno-park on Saturday, March 9th. The immediate task at hand was to ski more than eleven miles of Sno-Park trail to the High Camp Trailhead (FST 112), then establish a 3 to 4 mile route into the Mt Adams Wilderness to the vast Adams Glacier moraine. Once there I would locate a suitable camp site and begin preparing it for the main party that would be arriving on the 11th.
The main party would leave the Sno-Park early on the 11th and hoped to reach camp by mid to late afternoon. Once there, the mushers would be busy with the dogs that would have to be put on picket lines, fed and have huge quantities of water melted for them to drink. Meanwhile, the remaining party members would be busy setting up tents and unloading the four sleds. Our base camp tent, called the Arctic Oven, was large enough to host a circus and would serve nicely as a warm place for everyone to hang-out (on the trapeze of course).
This trip had truly become more about the journey than the summit, but Andy and I had not completely lost track of why we were there to begin with. Our final route choice was the NW Ridge. Much of the route appeared to be on a well defined crest and was only moderately steep. We also hoped that the ridge would be largely swept by the prevailing SW winds. The big questions where the rock outcrops, the steeper final slope leading to the west summit and of course the weather. We would have two days to attempt to reach the summit.
Final Preparations
While the dog mushers tested their teams on terrain resembling the steeper sections they would encounter (as far as dog sledding goes), Andy was busy with home repairs on his new house and Rebecca got on telemark skis for the first time. I kept busy on other mountains and making lists of things to do, things I would need to take with me and thing that I would need to pack for the sleds. I didn't want to forget anything.
To Do

Things to take with me

Things to pack on the sled

Go Skiing a
Climb Something(s) a
Save The Planet
Cut Toenails a

Shovel a
Skis a
Coffee a
Coffee a
Climbing Gear a
Toenail Clippers
Day One-Get There Anyway You Can
As I was driving on Highway 12 a distant mountain caught my attention in the dawn light. It was dome shaped, it was big, it could only be Mount Adams. An hour later I was at Orr Creek Sno-Park under partly sunny skies. After a brief conversation with a couple of snowmobile riders, I was skinning my way up FSR 5603. Ten minutes later one of the snowmobilers I had talked to pulled up beside me, stopped and said "Taxi?" Before Brenda could change her mind, my pack was strapped on the back of her machine and I was ready to ride. After nearly 5 miles on the groomed trail we turned right onto FSR 2329 which was anything but groomed. We arrived at the Adams Creek crossing more than 6 miles from the junction. After another brief conversation in which she told me that her and her husband had done a lot of hiking and climbing in the past, she wished us luck and we parted. I thanked her for the ride but it wasn't until I had to ski all the way out that I realized just how much time and effort she had saved me. Thanks Brenda!
Brenda the "Taxi" driver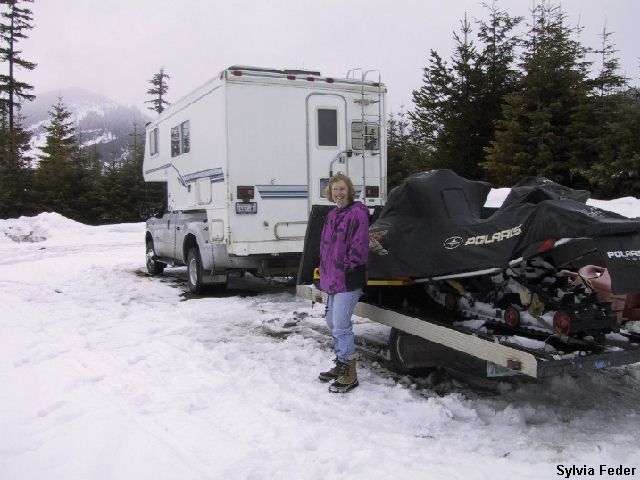 After marking my entrance point for the main party, I began ascending into the Mt. Adams Wilderness. An easy 3 mile route just east of the creek lead to a relatively safe and easy crossing via an 8 foot descent/ascent to the west side of the creek. Soon I arrived at timberline. The mountain was still visible below about 11,000 feet but I failed to get a picture immediately. I thought I would have another chance. The North Ridge was swept clean on its west side, the Adams Glacier was showing blue ice here and there but was well covered with the winter's snowfall. More importantly, the NW ridge was swept of snow and looked very promising as a safe winter route.
The wind was blowing steadily, with stronger gusts sending clouds of spindrift across the gentle open slopes. I decided to make camp at 6200 ft, about 300 feet lower than planned, to take advantage of a patch of trees that offered some protection from the wind and a good slope for excavating snow caves. I wasted no time and began digging my shelter for the night. Within an hour of arriving the view of the mountain was non-existent, the winds had picked up and it had begun to snow. By 4:30pm I was inside my snowy shelter and was settling in for the night. By 6:30pm I was asleep and dreaming of dog teams rolling onto the sunny moraine like a wagon train across the mid-west prairie.
Day Two-Another Day, Another Snow Cave
I awoke early...then went back to sleep. When I finally got around to venturing outside of my snow cave I found that little had changed. It was still windy and it was still snowing. In keeping with the plan I began digging another snow cave. This cave was larger and more extravagant than the one I had dug the day before and I moved my gear into it with the intention of expanding the first cave (oops, never happened). Later I put on my skis to take a look beyond camp. I didn't get far before turning around. By 6:00pm I was doing the only thing I could do, sleeping and dreaming of dog teams appearing at camp through the clouds of blowing snow.
Day Three-Bring On The Dogs
The dog teams estimated that they would arrive at my entry point somewhere in the early afternoon and I was planning on meeting them there to help with the last leg of their journey or at least break a trail to camp. At about 11:30am I began the ski down to the road. I had debated taking all my gear since I figured that the weather that was keeping me in my snow cave was probably slowing their progress significantly. I was beginning to lose hope. I decided to leave my gear rather than risk getting stuck somewhere without a shelter late in the day. By 1:00pm I was at the road. No sign of dogs and no answer on the radio. I made sure that they could see my trail marker and headed back up to the camp. On the way back up I heard some broken radio transmissions from the teams. I couldn't hear everything and they couldn't hear me but it was clear that they were having a difficult time. When I got to treeline I found that the snowfall had increased significantly. The 8 foot deep stream crossing was now only 6 feet. After getting to camp I ate some food, fell asleep and dreamed about drying my wet socks on a warm dog.
Day Four-The Day of the Dogged
It was Tuesday. I still had food, I still had fuel but I was out of coffee! According to the plan, if the dogs did not make it in on Monday I was heading out. By 6:00am I was ready to go. I shoveled the entrance of the snow cave for the third time in 12 hours and decided to take at least one picture as a memento of the camp on the Adams Glacier moraine. A self portrait from inside the snow cave was about the only thing worth taking a picture of.
What the trip had become-blurry images from a snow cave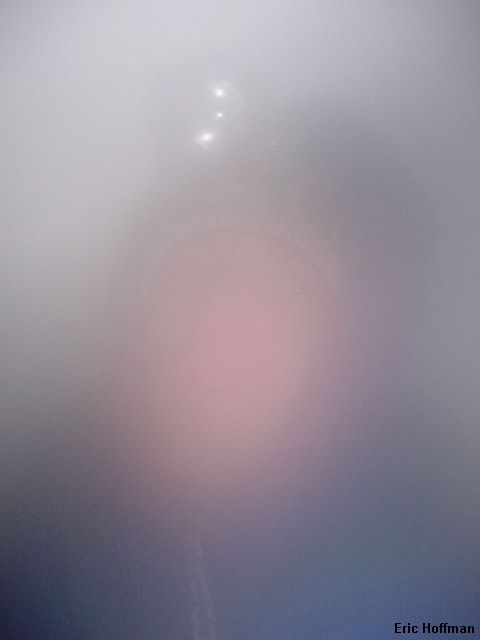 I was off. The night's snowfall combined with the wind had completely filled the 8 foot deep stream crossing. It was now just a ski across. By 9:30am I was somewhere on the road breaking trail though heavy snow and moving very slow. I kept hope that I would either run into the dog teams or hear from them on the radio. Finally, Andy's voice broke the monotony of my skis breaking through the snow. I quickly answered, "Andy, I have some good news and some bad news. The good news is that the NW ridge looks climbable and there are two snow caves at camp. The bad news is you are going to have to go by yourself." After we both tried to figure out where we were at on a road with few landmarks we both figured we were approaching Killen Creek. We were both farther from Killen Creek than we thought but we finally met up a few hundred feet east of crossing.
Andy filled me in on the details of the dog sleds. They had started out in the rain which eventually turned to heavy snow as they gained elevation. The snow had slowed the sled teams to a crawl and they eventually called it quits at Keenes Horse Camp. Andy and Rebecca stayed the night there in the Arctic Oven while the dog teams took a large portion of their loads back down. They were now on their way back up to pick up the remainder of the gear. I dropped most of my wet gear at the horse camp and continued down the road while Andy and Rebecca broke down the Arctic Oven. I was hoping to break a trail to make things easier for the dog teams but what I really wanted was to get out of there. About a mile and a half from the horse camp I ran into the dog teams.
An Eric sighting on FSR 2329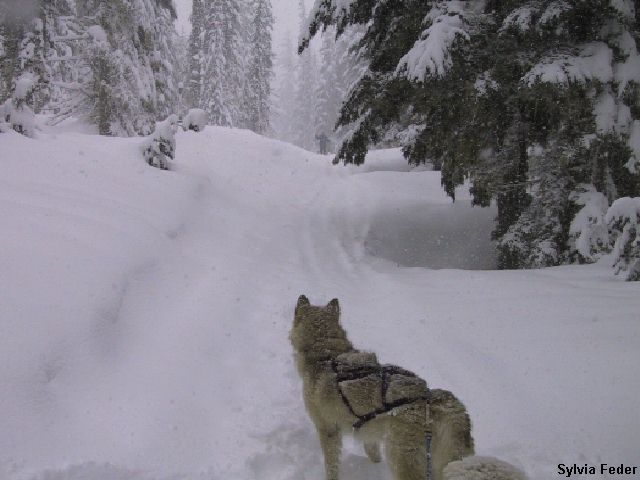 This was supposed to be a joint venture yet this was my first sighting of the teams. It was truly a joint venture nonetheless. With broken trail for all, I made my way to the main road while the teams continued on to the horse camp. I was finally able to take the skins off of my skis and glide most of the final five plus miles back to the Sno-Park. I arrived around 3:00pm. Andy, Rebecca and the dog teams arrived about an hour and a half later.
Dina, Amy and furry friends arriving at Orr Creek Sno-Park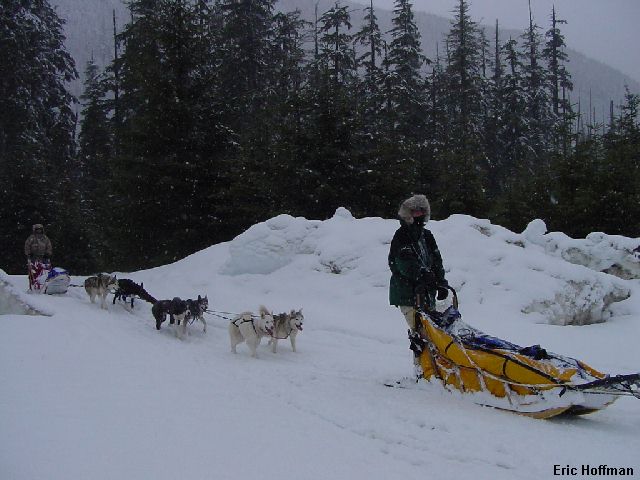 Chuck's team with Andy in tow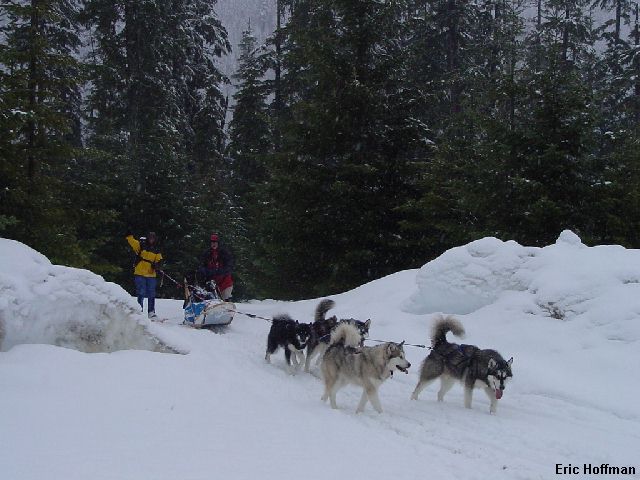 Rebecca arriving in style with Sylvia and team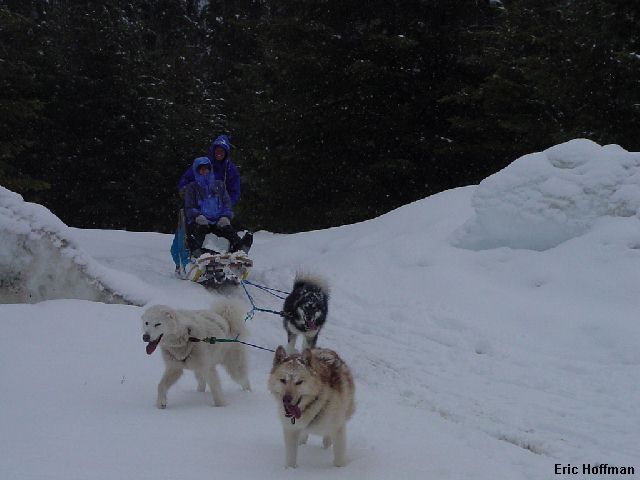 Subjective hazard - Me tormenting 130 pound Tonka with a treat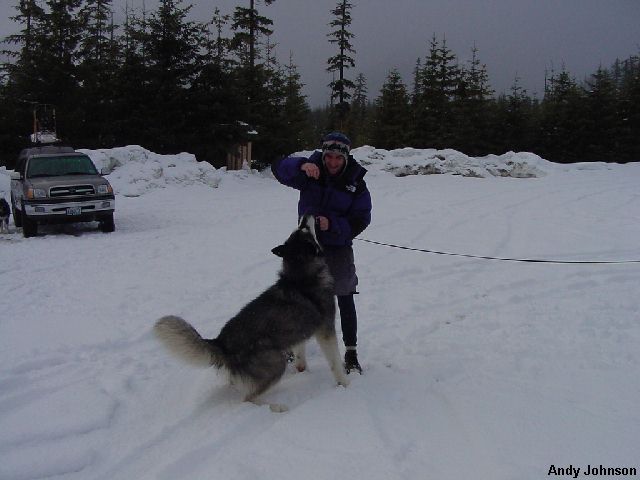 If I had it to do all over again I would change very little. The biggest problem was the weather. Unfortunately, with a trip this long and with this many people involved there is little choice but to plan the dates in advance and hope that the weather turns in your favor. Had this trip been a week earlier we would have hit a window of great weather and I think the trip could have been a success. This is the challenge of climbing Mt. Adams by any route in winter.
The Humans (left to right) Rebecca, Andy, Eric, Sylvia, Amy, Chuck and Dina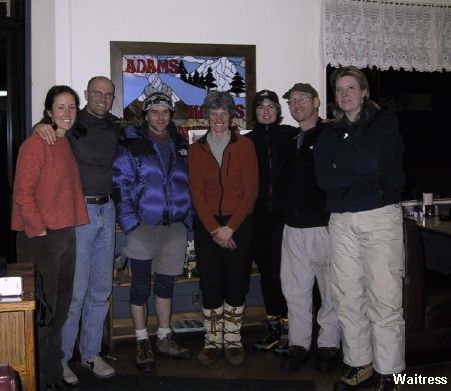 This is of course only one part of the story. For a musher's perspective of the events, see Amy Gerson's page.
References
Cascade Alpine Guide Volume 1, 2nd edition; Fred Beckey; Pages 59-61
Summit Guide to the Cascade Volcanoes; Jeff Smoot; Pages 98, 99, 100