Mount Angeles - Klahhane Ridge Approach to Mount Angeles Climbers Route, a.k.a. Route 1
---
Destination: Mount Angeles (6454')
Date: August 1, 2009
Starting Point: Hurricane Ridge Visitor Center (5242')
High Point: Mont Angeles summit (6454')
Round Trip Distance: ca.7 miles
Equipment: The ten essentials
Difficulties: Class 3 scrambling
This is a pleasant half day, or less, outing if you start at Hurricane Ridge or the Switchback Trail but you can find some ways to stretch the time line if you must. I ran into some Canadians who had started at the Heart O' the Hills Trailhead which adds considerable mileage and elevation gain to the trip. I wasn't that motivated and I had never been to Hurricane Ridge in the summer.
A grazing deer, the heart of the Oly's and a smoke plume from Hurricane Ridge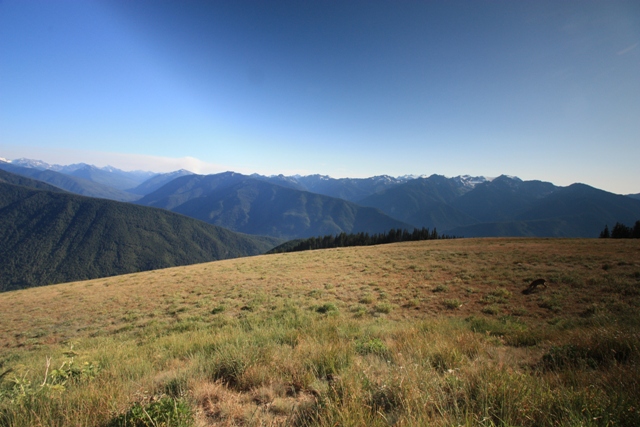 Arriving at the parking Hurricane Ridge Visitor Center parking lot I located the Klahhane Ridge Trail which begins at the first trailhead on the right. The trail wanders through meadows and forest to gain the ridge crest then more or less follows the crest skirting around the occasional ridge hump.
Mount Angeles from the Klahhane Ridge Trail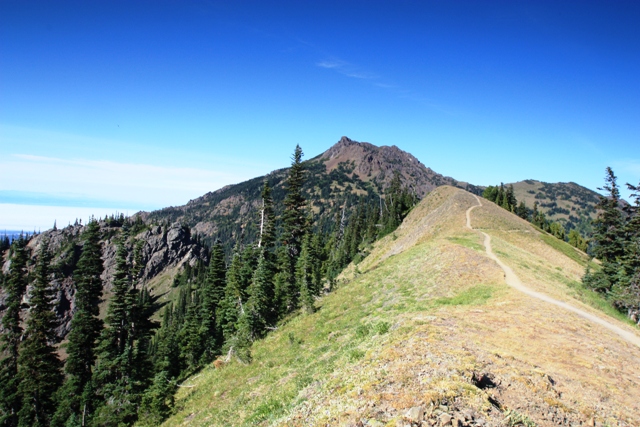 Around 2 miles from the visitor center (ca.5200') the unsigned Mount Angeles climbers trail bears left and climbs to a bench area between 5800' and '6000 feet southwest of the summit. With some hunting around you can follow the path to the base of the gulley at the final summit scramble. I didn't hunt enough and just scrambled up class 2 terrain to the base of the gully. The scramble up the gully has a class a couple of class 3 moves to get around a chock stone then the route bears right (class 2) to the summit.
Summit View: Olympus and the Bailey Range with Hurricane Ridge in the foreground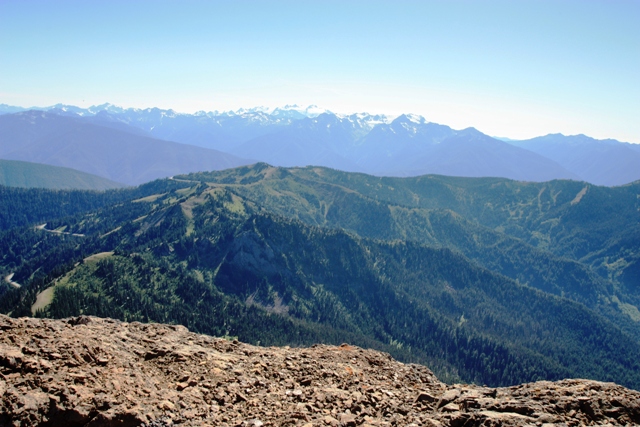 References:
Olympic Mountains: A Climbing Guide, 4th Edition; Olympic Mountain Rescue; Page 159