Mount Baker Attempt-North Ridge
---
Destination: Mount Baker Summit
Date: June 19-20, 2001
Difficulty: 7 (Grade III)
Payoff: 6
Starting Point: Heliotrope Ridge Trailhead (c.3700')
High Point: The North Ridge Ice Cliff (c.9600')
Round Trip Distance: 12 miles
Equipment: The ten essentials, glacier travel, ice screws, ice tools
Mountain Skills: Route finding, glacier travel, ice climbing to near vertical
This was a great trip even though our strategy did not pay off. Our plan was to carry-over on the North Ridge then descend by the Coleman-Deming route, but climbing the ice cliff at 9600' proved to be more difficult than we had anticipated and with the added burden of full packs an obstacle we couldn't overcome in a reasonable amount of time.
Just getting to the North Ridge is an achievement in itself. To get there, you must cross the Coleman Glacier. This can be accomplished with a low route starting near the top of Heliotrop Ridge, or higher from near the Colfax Peak-Baker Saddle. We were able to make it across the lower portion of the glacier (unfortunately two times), but several snow bridges were very questionable and negotiating this route may soon prove to be very difficult if not impossible. The upper crossing appeared to be in much better shape, but requires a significant loss of elevation.
Mount Baker And The North Ridge From The Coleman Glacier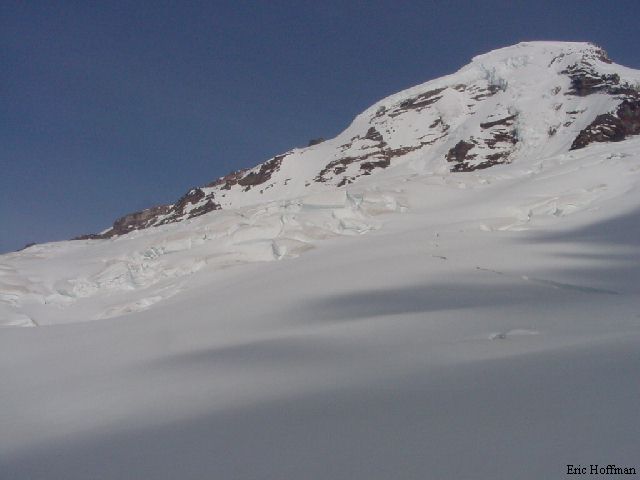 Crossing The Coleman Glacier
Once across the Coleman Glacier we ascended a 35 to 40 degree snow slope to gain the ridge at 8300'. At 8300' we dug a bivy platform and settled in for the evening and awoke to a great sunrise in the morning. Just after sunrise we began heading up the ridge which is broad and easy toward the crux of the climb.
Approaching The Ice Cliff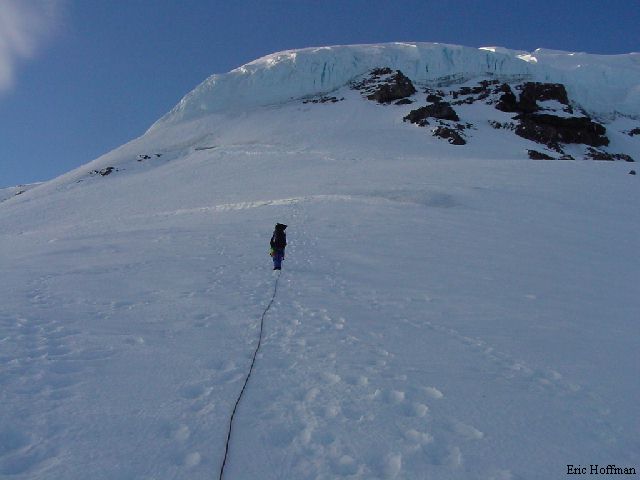 The ice cliff had appeared easiest on the east side of the ridge but actually getting to that portion of the ice cliff proved difficult. The ice shattered with nearly every swing of an ice tool.
Trying to traverse to easier ice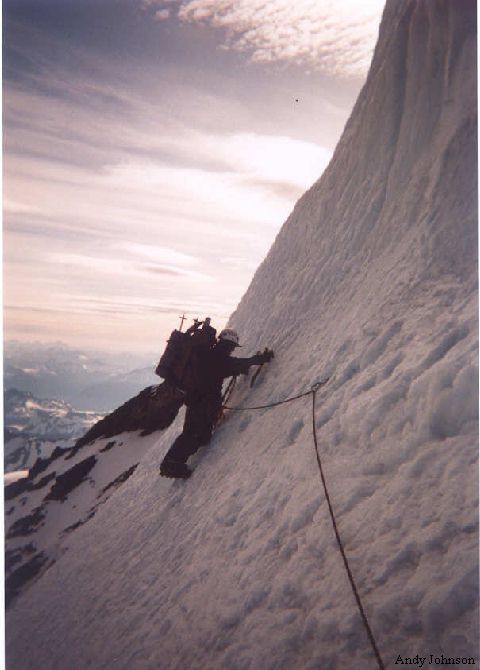 The best bet was a section that was probably 70 degrees on average with a short section that was near vertical. Andy climbed past what was probably the hardest section and we tried to set up a hauling system to bring our grossly overweight packs up. It wasn't impossible, but it was proving very time consuming and difficult. Not knowing what remained above, we made a tough decision to call it quits and quickly retreated back across the Coleman, nearly knocking out two snow bridges entirely. While our strategy for this climb did not workout, there is certainly something to be said for a high bivy in a location such as the North Ridge of Mt. Baker.
Just A Couple Of Views From Our 8300' Camp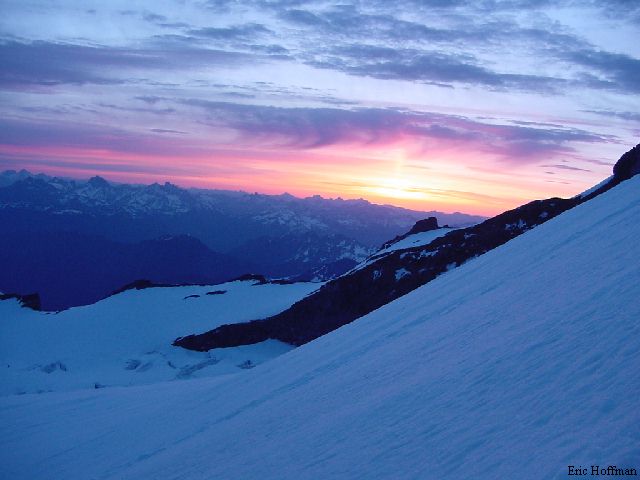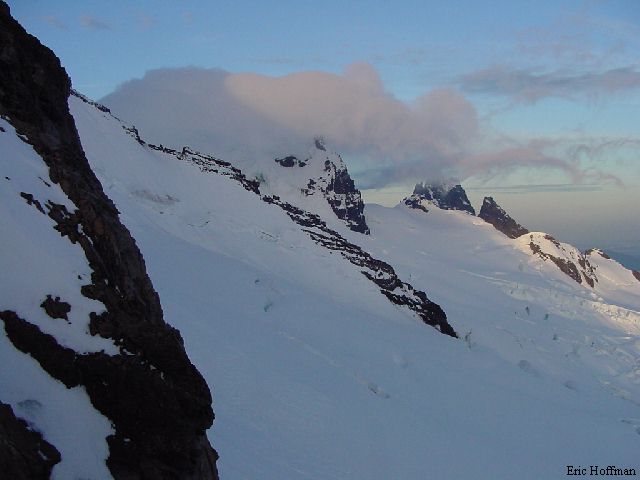 The best strategy for this climb is a fast, light ascent from a camp on the western edge of the Coleman. Two ice tools per climber recommended.
References:
Selected Climbs in the Cascades, Volume 1; Nelson, Potterfield; Pages 201-202, 204-207
Cascade Alpine Guide, Volume 3, Second Edition; Fred Beckey; Pages 26-33