Mount Harvey-SW Ridge Trail
---
Destination:

Mount Harvey (ca.1705 M)

Date:

April 27, 2009

Starting Point:

Mount Harvey/Brunswick/The Lions Trailhead (ca.220 M)

High Point:

Mount Harvey summit (ca.1705 M)

Round Trip Distance:

12.5 KM

Equipment:

The ten essential, ice axe, crampons

Difficulties:

Hiking, moderate snow
I was scheduled to be in Vancouver, BC for a conference but decided to go a day early to avoid traffic. Okay, actually I was going a day early to get some hiking in. The West Lion was of interest but the final summit scramble was likely treacherous this time of year. After looking through all of the usual resources I finally settled on Mount Harvey, a forested hump close to Vancouver sitting above Lions Bay. The hike features exercise if nothing else.
I drove to Lions Bay and took the exit where things seemed a little different than the guide described possibly due to all of the work being done on Highway 99. After exiting the highway I went right (Oceanview Drive?) then took an immediate left (Cross Creek Drive?). This took me across a bridge where I turned right on Centre Road which I followed to Bayview Road where I took a left. Bayview Road winds uphill past the elementary school to the intersection with Sunset Drive. Turning left on Sunset Drive I arrived at a gate which was open but driving beyond this point is not permitted unless you work for the Lions Bay Water District. There is limited parking at the trailhead, about half of which is reserved for residents of Lions Bay.
The trailhead is at an elevation of ca.220 Meters or 720 Feet for those from regions of the world that have not converted to the metric system. The trail reaches the Mount Harvey's summit (ca.1705 M / 5593 Ft.) so you are looking at 1500 M / 4800 Ft. of elevation gain and thus the exercise.
The trail starts out as road rather than a trail. This road is also used to access Mount Brunswick and The Lions and has signs of varying quality to help you navigate the old logging roads. The 1st fork to the left leads to the Lions Bay watershed, the 2nd left fork goes to Mount Brunswick; the 3rd left fork takes you to the North Face of Mount Harvey via Magnesia Creek. According to the sign at the 3rd left fork it is another 300 M to the beginning of the Mount Harvey Trail.
The actual trail, not exactly a highway, is steep as promised gaining elevation as it ascends the forested slopes of the indistinct lower SW Ridge. I hit hard snow around 4000 Ft. and continued up in crampons following orange trail markers nailed to trees which lead to a flattish spot in the SW Ridge at ca.4800 Ft. From here I finally got some views and the way was now very obvious. Apparently there is some class 2 scrambling below the summit where the ridge becomes steeper but it was buried under snow. I did use my ice axe on this steeper section as a fall could have serious consequences. The hike took me 5 hours round trip.
The summit of Mount Harvey from the SW Ridge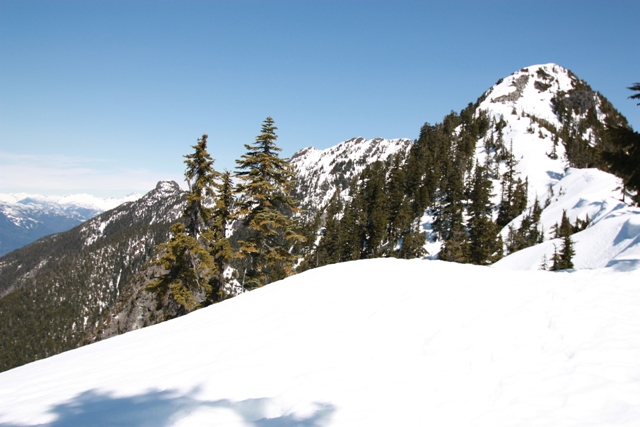 The Lions from Mount Harvey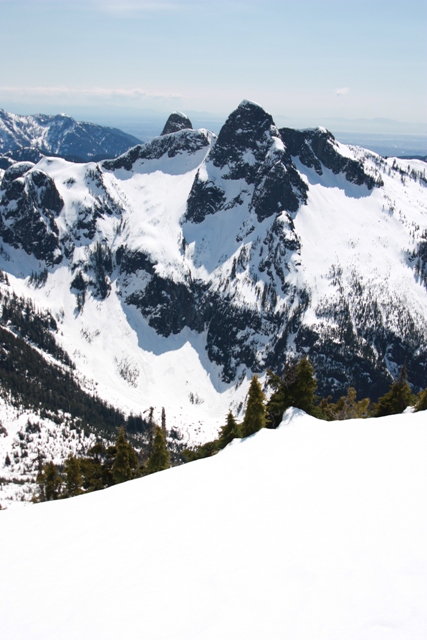 Mount Brunswick and Howe Sound from Mount Harvey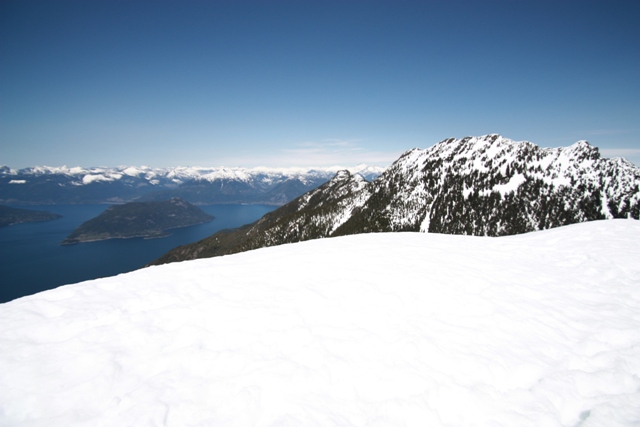 References:
103 Hikes in SW British columbia, 5th Edition; Jack Bryceland and Mary & David Macaree
A guide to Hiking and Climbing in SW British Columbia; Bruce Fairley