Mount Lady Washington, CO - The easy East Ridge but at least it's not FLAT!
---
Destination:

Mount Lady Washington (13,281')

Date:

May 17, 2009

Starting Point:

Longs Peak Trailhead (ca.9400')

High Point:

Mount Lady Washington Summit (13,281')

Round Trip Distance:

ca.9.5 Miles

Equipment:

The ten essentials (I brought a lightweight axe and crampons but did not use them)

Difficulties:

Hiking at significant atlitude with minor class 2 scambling and moderate snow
I had long ago written off the south as a place worth inhabiting but there do seem to be a few places worth visiting, especially if you are already there for work. The highest point in Louisiana is Driskill Mountain which is a long drive from New Orleans and not really worth visiting unless you have some sort of mental illness...
Driskill Mountain, Louisiana - 535' (5/10/09)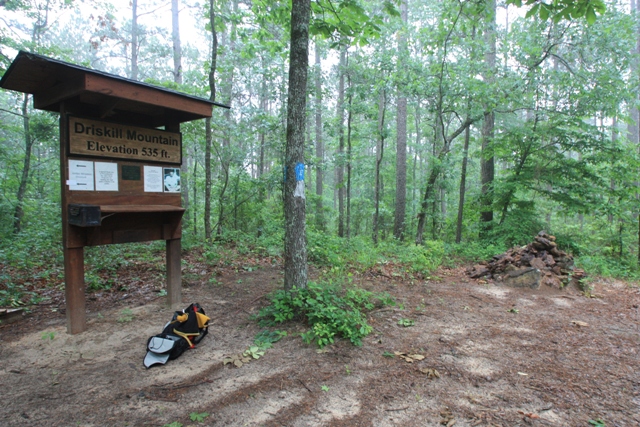 From Driskill Mountain I headed south then east to Britton Hill, the highest point in Florida but the lowest of the state highpoints. After visiting the "summit" I headed for the gulf coast where I missed the turn off to the long stretch of beach at Gulf Islands National Seashore which is probably worth visiting but instead I drove through the endless condominium complexes. Once in Alabama I took a ferry across Mobile Bay from Fort Morgan to Dauphin Island then drove back to New Orleans taking the 24 mile long Lake Pontchartrain Causeway, the longest bridge over water in the world. Only the Ba Na Expressway in Thailand is longer. In New Orleans I had a few evenings and one afternoon to explore the French Quarter where the conference was being held. There are many interesting things about New Orleans including the food. If you have never had Crawfish Etouffee at Desire on Bourbon Street, you should consider doing something about it.
Britton Hill, Florida - 345' (5/11/09)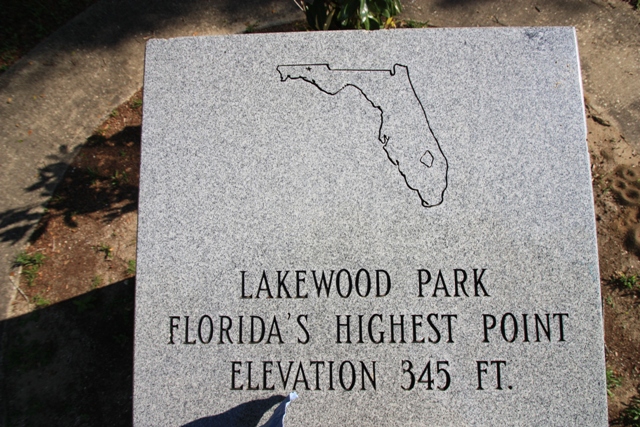 Work sometimes throws a bone my way but hadn't in a while. It seems like this spring they decided to play catch-up. I returned from New Orleans on the afternoon of May 15th only to return to the airport for a 7:00AM flight to Denver the following morning. Work was tough...
My flight arrived early in Denver and I was on the road in my rental car before the flight was even supposed to arrive. I was heading east to Kansas in search of Mount Sunflower, the highest point in Kansas which is just east of the Colorado border. Someone has at least tried to make it interesting with the decor ...an "A" for effort but it really doesn't solve the underlying problem.
Mount Sunflower, Kansas - 4,039' (5/16/09)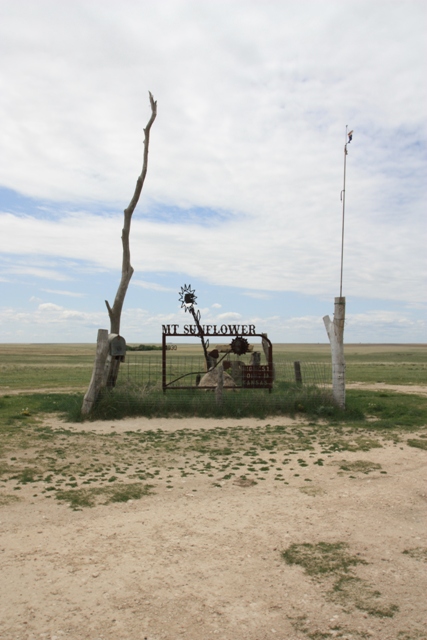 Now I was on my way to Nebraska to visit the oil fields and wind farms along with Panorama Point, the highpoint of this lonely state. A fee of $3 is required but I am not sure why. It certainly isn't used for road maintenance...
Panorama Point, Nebraska - 5,424' (5/16/09)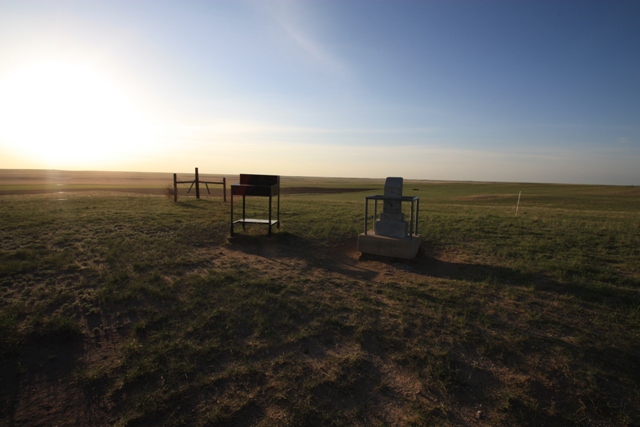 Enough already! It was time for something that actually looks like a mountain. Although not a particularly impressive summit, Mount Lady Washington would be readily accessible and offer views of Longs Peak, the highest in Rocky Mountain National Park as well as neighboring Mount Meeker.
Arial view of Mount Meeker, Longs Peak and Mount Lady Washington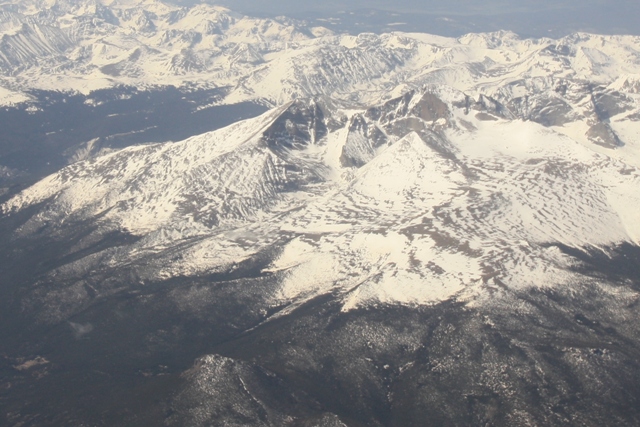 The Longs Peak Trail begins at the Longs Peak Ranger Station 9 miles south of Estes Park and about 1 mile from highway 7. Starting at an elevation of ca.9400' the Longs Peak Trail reaches Chasm Junction (11,600') in 3.7 miles then traverses to Granite Pass (12,080') in 4.2 where it traverses to the Boulderfield (12,760') at 5.9 miles where the official trail ends. From there the standard route up Longs Peak climbs to The Keyhole (13,160') then traverses the west face before ascending The Trough and traverses an exposed ledge called The Narrows to the final summit scramble known as The Homestretch.
Unfortunately, it was a little early in the season for the standard route up Longs Peak so I departed the snow covered trail at a flat spot on the east ridge of Mount Lady Washington known as Chasm Junction. A short trail descends to Chasm Lake from this location and is a commonly used approach to routes on Mount Meeker and Longs Peak. From this point the way up Mount Lady Washington is a very obvious slog up snow and talus blocks but offers great views during most of the 1700 foot ascent from the junction... it just doesn't look that far up!
Mount Lady Washington with Longs Peak looming in the background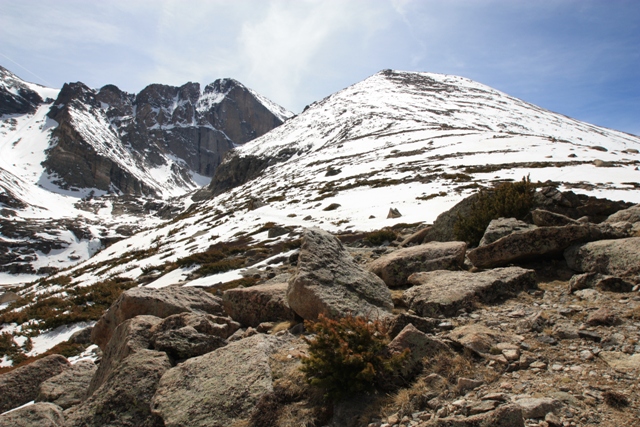 Mount Meeker and Longs Peak from the summit of Mount Lady Washington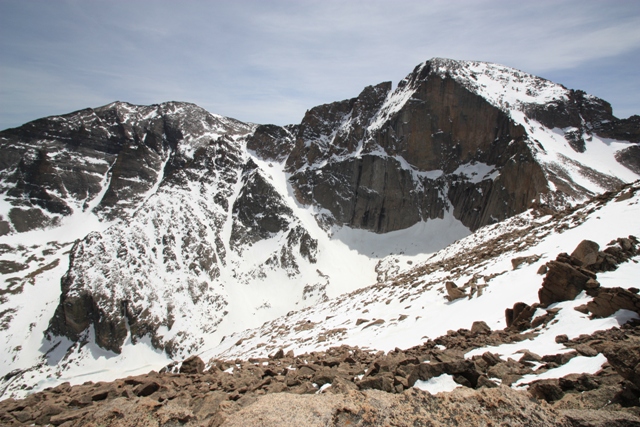 Just under 6 hours round trip ...don't underestimate the effects of altitude!
References: