Mount McLoughlin - East Ridge Trail
---
Destination: Mount McLaughlin (9495')
Date: July 3, 2009
Starting Point: Mount McLaughlin Trailhead (ca.5600')
High Point: Mount McLaughlin summit (9495')
Round Trip Distance: ca.11 Miles
Equipment: The ten essentials
Difficulties: None
Now with only two Cascade volcanoes remaining on my list I found myself driving west on Highway 140 from Klamath Falls. Not far past the turnoff to Lake of the Woods Resort I took a right on FSR 3661. At about 3 miles there is an intersection with FSR 3650 where I turned left and drove a short distance to the trailhead. It was busy and very buggy so it didn?t take long for me to get my boots on and get out of there ?but the mosquitoes weren?t giving up that easy. It was about 8:30 when I left the trailhead.
The trailhead is at ca.5600? so if you take the standard route it is 5.5 miles from the trailhead to the summit. From the trailhead you gain a little elevation to reach a junction with the PCT at ca.6120? in about 1 mile. Heading north on the PCT another junction is reached after about 0.5 Miles (ca.6360?). Both of the junctions are well signed. Still not gaining much elevation in the next mile, the trail makes its way to the East Ridge proper where you start gaining steadily. Once you reach treeline at ca.7900? the trail is not longer maintained and there is frequently no distinct trail but paths that go all over, some no doubt better options than others.
Eventually, I picked my way through the volcanic debris to reach the summit around 11:30. At a height of 9495?, Mount McLaughlin is a prominent feature in the southern Oregon Cascades. Its prominence made it a prime candidate for a fire lookout. The first lookout was built in 1917 but didn?t hold up to the harsh winds. Rebuilt in 1929 with sturdier construction, it made is a little longer but in 1955 is too was destroyed. All that remains now are several hundred feet of ground wire along the route and a bit of crumbling foundation.
Above treeline on the East Ridge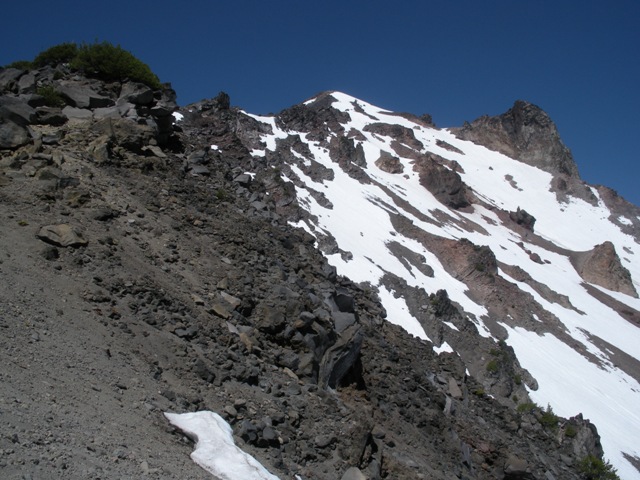 Looking down the North Face from the summit ...No objective hazards there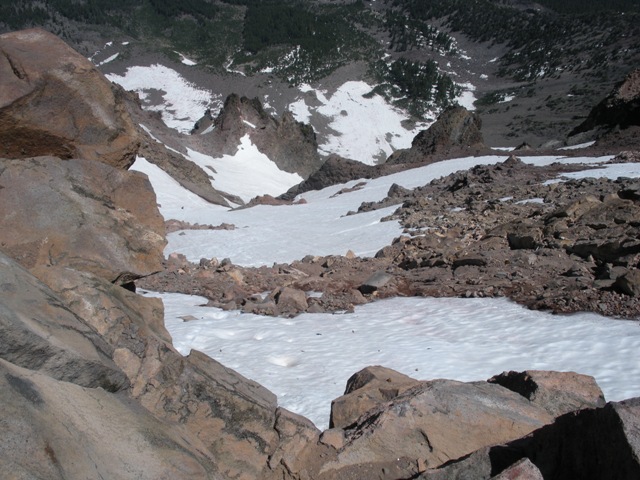 With thunderclouds building in all directions I didn?t stick around too long. Around 12:30 I heard the first sound of thunder in the distance. By 1:00 I was below treeline but still on the ridge when it began raining then hailing ?up to almost dime sized. Dime sized didn?t mean much to me after my resent experience in North Dakota but I was concerned about lightning until I reached the flat terrain. The rain continued most of the way to the car which wasn?t all bad because the mosquitoes couldn?t fly ?except the ones that were waiting in ambush under my car. It took about 5.5 hours for the hike and about 5 seconds to get in my car.
References:
Oregon High; ; Pages