Mt. Persis-West Ridge Trail
---
Destination: Mt. Persis 5464'
Date: Feb 18, 2002
Difficulty: 4
Payoff: 4+
Starting Point: FSR 6220 (gravel pit at c.1500')
High Point: A ten foot tall tree on the summit of Mt. Persis (c.5474')
Round Trip Distance: c.8 miles
Equipment: The ten essentials, ice axe, snowshoes
Mountain Skills: Route finding, ice axe, avalanche awareness
Mt. Persis along with the higher Mount Index certainly take my attention away from the road as I drive along Highway 2 near the town of Index. While my vote for the days climb was more of an obscure bushwhacking adventure, Chris [eventually] convinced me that the West Ridge Trail to the summit of Mt. Persis would be a better choice for a President's Day outing.
Mt. Persis from Highway 2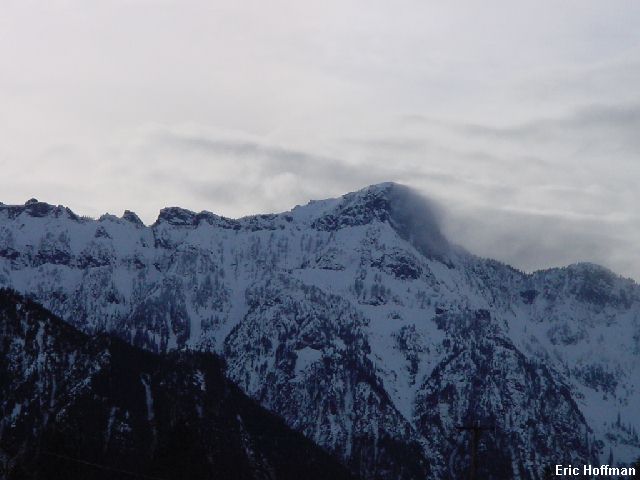 The greatest difficulty we had was locating the trail that lead up the west ridge. They all seem to make more sense now than they did when comparing the descriptions to the Index Green Trail map the night before. To get there drive, drive highway 2 to FSR 62 between the towns of Gold Bar and Index. We ended up parking at a gravel pit at c.1500' after spinning the tires of Chris's Honda Civic on the compact snow and ice. Chris commented on the smell of his burning clutch as I exited the car. From here it was 1.5 to 2 miles of road trudging and second guessing before we finally found the trail leading steeply into the replanted forest at c.2900'. The Green Trail Map does not accurately show the roads in this area and does not show the trail at all. Hopefully the map below will help those looking for the trail find it more easily than we did.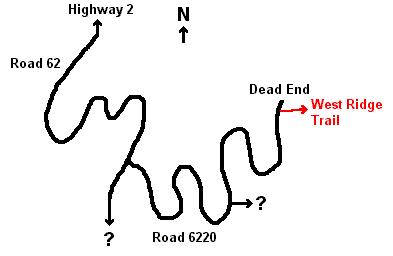 The trail quickly lead to the West Ridge of Persis and the route was obvious although a bit steep here and there. Unfortunately, most of the lower slopes on the west side of Mt. Persis have been logged and clouds obstructed views of other peaks in the area for most of the day.
A view from the West Ridge of Mt. Persis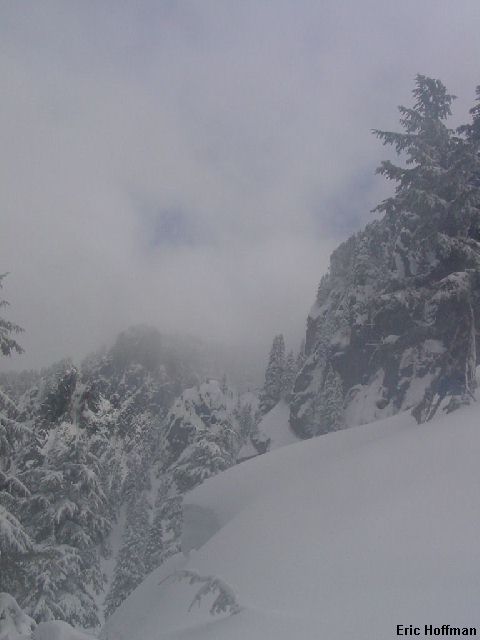 Near 4600' the ridge becomes less defined and blends into gentle forested slopes. Heading SE we made our way to the ridge crest near Pt. 4974', then dropped to a minor saddle and ascended the final 600 feet to the summit. While this was our final destination, it is possible to continue on or just south of the ridge and eventually reach the main summit of Mount Index...hmmmm.
Tree Climbing on the summit of Mt. Persis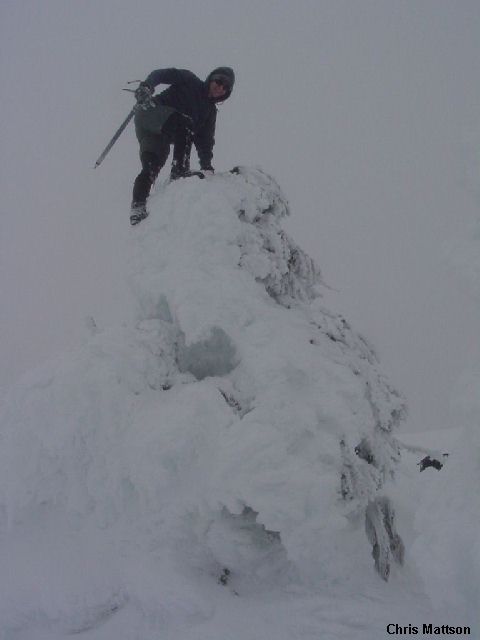 References:
Cascade Alpine Guide, Volume 1, Second Edition; Fred Beckey; Pages 203, 212
Climbing Washington's Mountains; Jeff Smoot; Pages 153-156