Pyramid Peak-Colonial Glacier Route
---
Destination: Pyramid Peak (7182')
Date: Aug 26, 2001
Difficulty: 5+
Payoff: 6+
Starting Point: Pyramid Lake Trailhead (1100')
High Point: Pyramid Peak Summit (7182')
Round Trip Distance: c.12 miles
Equipment: The ten essentials, glacier travel
Mountain Skills: Route finding, class 3 rock climbing, glacier travel
Pyramid Peak is an excellent vantage point offering close-up views of Snowfield and Colonial Peaks in addition to Jack Mountain and the Pickets. The climb itself is not difficult but getting there is a challenge. The Approach begins at the Pyramid Lake Trailhead (c.1100') on Highway 20, near Diablo Dam. Hike 2.1 miles on good trail to Pyramid Lake(c.2600'), more of a pond with little appeal.
Circle rightward around the lake and locate the climbers path where the fun begins. The path ascends steeply through the forested slopes before reaching the crest of a ridge near 4000'. Once on the ridge, the path follows near the crest passing a few small ponds then arrives at a small talus field. Look for cairns to the left and the trail climbing steep rock (class 2-3) and dirt covered with slide alder. Once over this obstacle, the path passes point 4555' then reaches another rocky area where the trail becomes difficult to follow. Traverse around the rocky area on the right side and pick-up the path once again. Continuing along near the crest the route climbs another steep rocky area (class 3) before the breaking out of the trees. At a fork, one can take either path with the left fork ascending on the ridge crest and the right fork traversing the north side. Eventually both paths fade in a rocky area that is ascended to a the base of Pyramid Peak (c.5700'). From the base of the peak make a short descent and then traverse on talus, scree and snow to past a waterfall and on to the terminal moraine and lake at the bottom of the Colonial Glacier.
Pyramid Peak from the Diablo Lake Overlook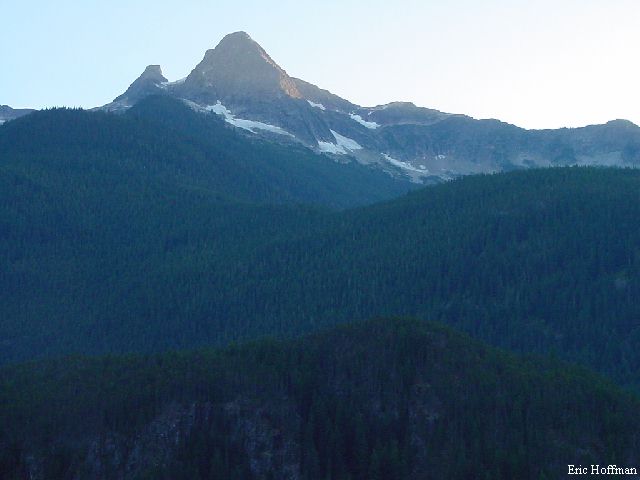 From the moraine, traverse rightward around the small lake on talus then round a rocky toe on the flat lower portion of the glacier. We ascended the glacier toward the base of Paul Bunyan's Stump then traversed below Pinnacle Peak to a minor saddle between Pinnacle and Pyramid Peaks. From here the ascend is on easy snow and rock. The glacier itself was steep and icy in places but with only a few small crevasses well off the route we took. The steep snow slope below the Pyramid-Pinnacle saddle ends at the steep east face of Pyramid, definitely not a safe run-out.
Ascending the Colonial Glacier with Colonial Peak in the background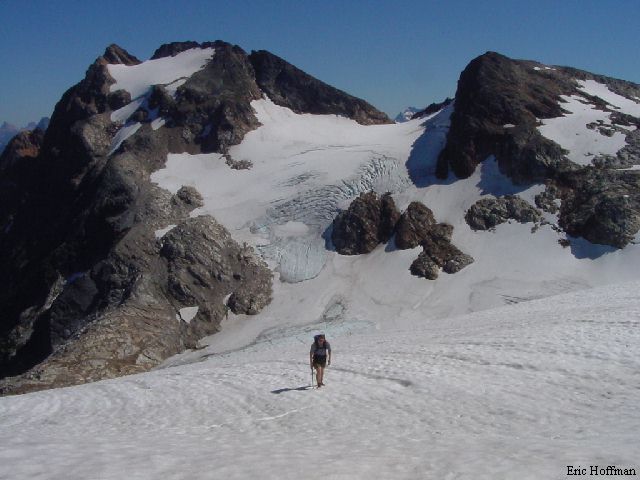 Snowfield Peak and the Neve Glacier from Pyramid Peak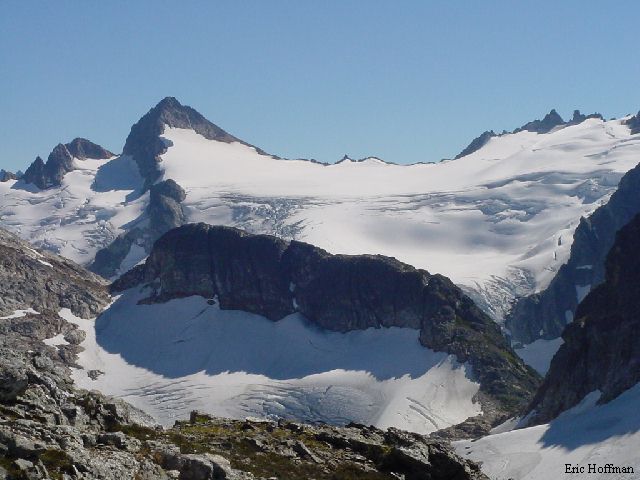 The Pickets from Pyramid Peak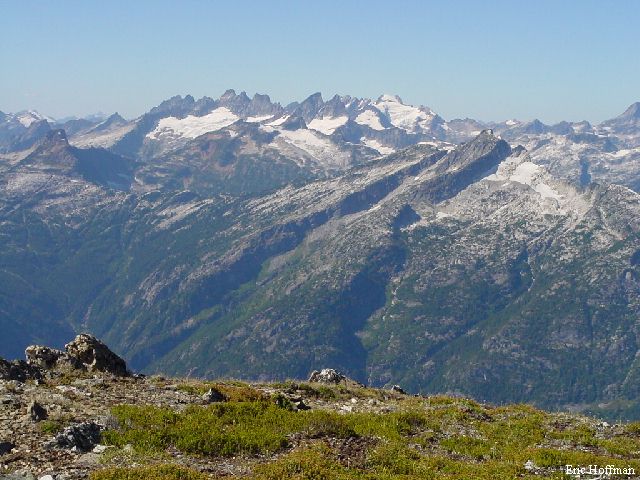 Diablo Lake, Ross Lake and Jack Mountain from Pyramid Peak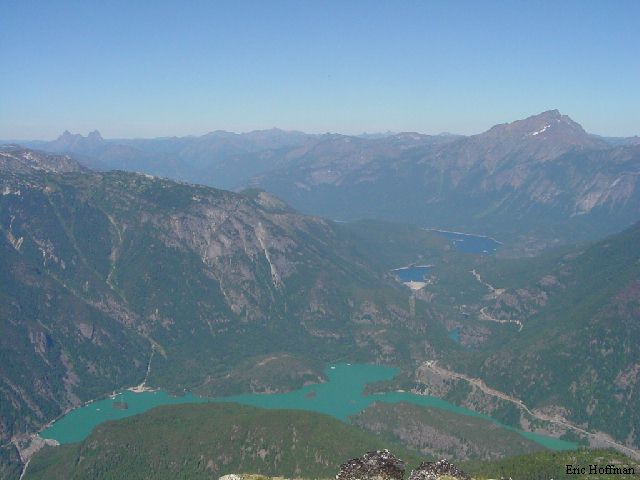 References:
Cascade Alpine Guide Volume 2, Second Edition; Fred Beckey; Pages 275-276
Selected Climbs in the Cascades, Volume 2; Nelson, Potterfield; Pages Pages 157-159 (Approach Only)