Mt. Rainier-South Side Ventures
---
Destination: Mildred Point
Date: Jan 13, 2001
Difficulty: 4
Payoff: 6
Starting Point: Van Trump Park Trailhead (2800') or Longmire (2700')
High Point: Mildred Point (c.5935')
Round Trip Distance: 10.4 miles
Equipment: The ten essentials, snowshoes, ice axe recommended
Mountain Skills: Route finding, ice axe, avalanche awareness
Mildred Point offers a great view of the SSW side on Rainier and a relatively safe and easy winter outing. One of the nice aspects of this route is that you can begin at Longmire, eliminating the question of when and if the road to Paradise will open. If the road is open, a slightly higher start can be made at the Van Trump Park Trailhead a quarter of a mile beyond the gate at Longmire.
From the trailhead a quarter of a mile beyond the gate at Longmire, the trail works its way through trees gaining 1100' in the first 1.6 miles. At 1.6 miles take the right fork in the trail just below the crest of Rampart Ridge (this could be easy to miss is the sign is buried in snow). The trail works is way first below the crest on the east side of the ridge, then on the ridge crest. After a minor ridge hump in approximately 1.5 miles from the fork, the summer trail avoids the steepest portion of Rampart Ridge by ascending on the west side of the crest, but the ridge can be ascended directly with little difficulty. However, this is the most difficult section of the route and an ice axe should be considered in icy conditions. Above this section the route emerges from the forest and enters Van Trump Park where the views really begin (it may be wise to avoid the final open slope on the east).
Mildred Point and Mt. Rainier From Van Trump Park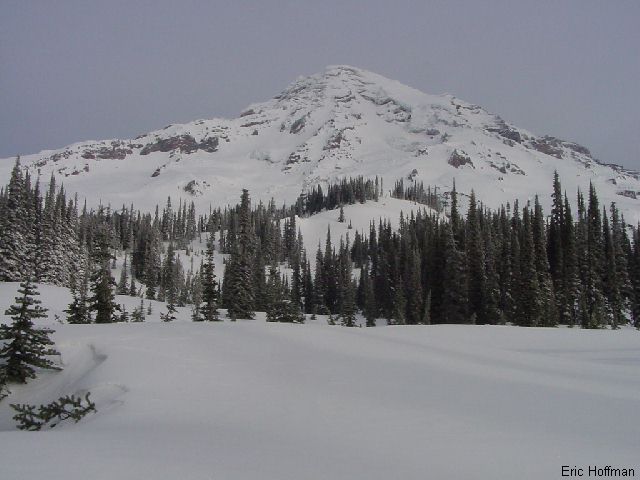 After crossing the meadows, a final 500' foot ascent leads to Mildred Point. This boasts a great view of the mountain with more that 9000 vertical feet of relief from the Kautz Creek abyss to the Point Success.
Chris Mattson at the edge of the abyss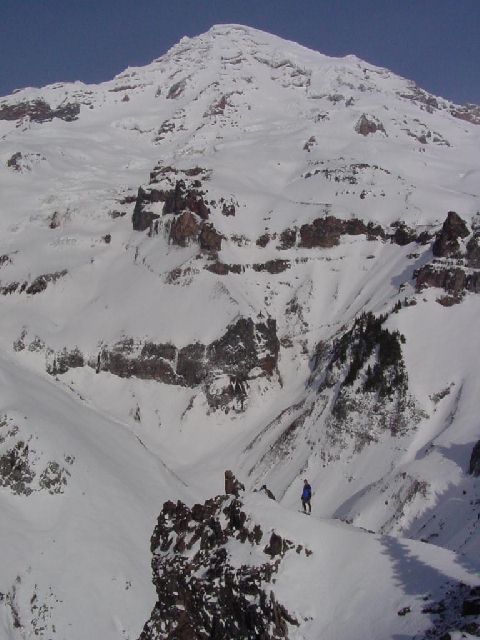 In addition to Mount Rainier, there are great views to the south including the Tatoosh Range, Mount Adams, Mount St. Helens and on a clear day Mt. Hood. It is a nice place to relax for a while and just enjoy the view.
The Tatoosh Range and Mount Adams from Mildred Point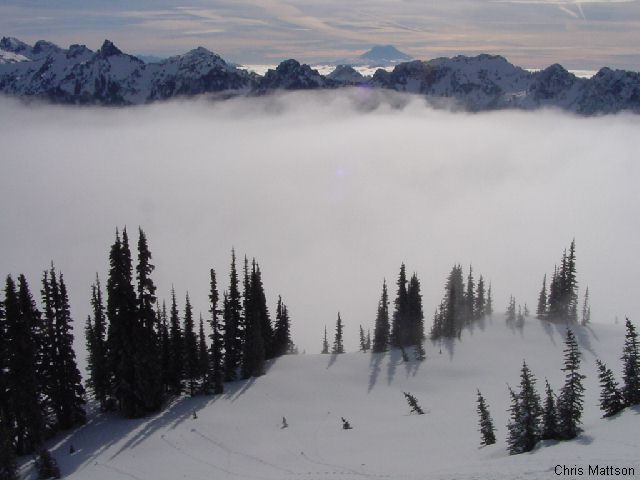 Destination: Camp Muir
Date: Jan 15, 2001
Difficulty: 4+
Payoff: 6
Starting Point: Paradise (5400')
High Point: Camp Muir (10,100')
Round Trip Distance: c.8 miles
Equipment: The ten essentials, (snowshoes or skis, ice axe and crampons may be useful or necessary)
Mountain Skills: Route finding, ice axe, avalanche awareness
This is an all too popular route with everyone from climber to tourist deceived by its easy appearance. Truthfully, the best thing it has going for it is that it offers a high destination with relatively easy access. This route should not be taken lightly however, many people have left Paradise never to return. Route finding is easy in clear weather but clear weather can quickly lead to white-out conditions making route finding more challenging. A small blunder can quickly lead one onto the Paradise or Nisqually Glaciers. There is often a will beat path or wands to show the way but are not a substitute for a map, compass and route finding skills.
The winter route leaves Paradise and passes Alta Vista on the west side before heading east toward the broad gully leading toward Panorama Point. Ascend this gully to the ridge crest just north of Panorama Point. From here follow the crest north toward McClure Rock. This section is exposed to wind from any direction. Conditions can be deep snow, hard ice, bare rock or all of the above. On this particular trip, my intent was to ski down from Camp Muir, but extremely ice conditions forced me off my skis before Panorama Point. I pressed on hoping that the Muir snowfield would be better but the sun reflecting from the snowfield was a good indication that conditions would make for some unpleasant skiing. I decided to take a minor side trip to the top of McClure Rock to try to get a better idea of the conditions above. It was a clear day as I noted Mt. Hood with a ridiculous looking lenticular cloud capping its summit like a blob of whipped cream.
A distant Mt. Hood and a not so distant fracture on the SE side of McClure Rock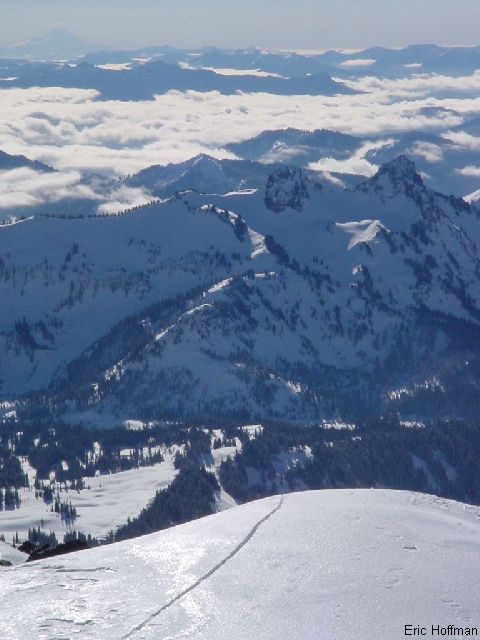 Conditions looked poor for skiing and I decided to head back to the Paradise area to take advantage of better snow. On my way down I ran into some friends of mine who where also planning on heading to Camp Muir and after some discussion, I was in some borrowed snow shoes zooming up the icy slopes with two people trying to keep up and two people working on their tans below McClure Rock. It was getting late and we had decided that 2:00 pm was our turn around time. I arrived at Camp Muir with 12 minutes to spare, wondering what conditions were like above.
Gib Rock from the Muir Snowfield...hmmm?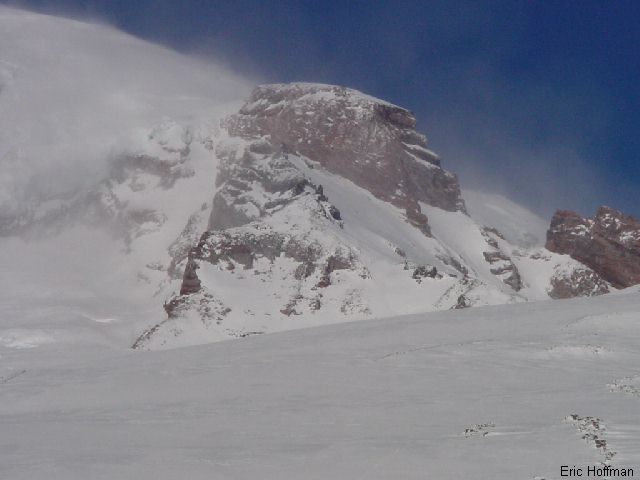 After descending below Pan Point, it was finally time to put the skis back on and return to Paradise in powdery bliss. I thought, maybe I should have continued down to ski rather than continuing to Camp Muir although it was nice to be the only person to reach Camp Muir that Tuesday. Anyway you look at it, you have to love the 4 day - 10 hour work week concept!