Mount Rainier NP- Seattle Park Ski Tour
---
Destination: Seattle Park
Date: April 18, 2002
Difficulty: 4
Payoff: 5
Starting Point: Chenuis Falls Trailhead (c.2200')
High Point: Seattle Park (c.6400')
Round Trip Distance: c.15 miles
Equipment: The ten essentials, skis or snowshoes
Mountain Skills: Route finding, avalanche assessment
This is another trip that begins at Ipsut Creek Campground on the Carbon River, at least in theory. At present, the road is closed at the Chenuis Falls trailhead, about 1.2 miles from the campground. Expect the road to be fully open in a week or two. The Wonderland Trail still has large amounts of snow given the time of year. I made the first full traverse above the Carbon River since at least the most recent snow but probably this year. The avalanche debris that bridged the Carbon has collapsed and I decided to make the traverse rather than deal what appeared to be a questionably safe crossing to the east side of the river. After completing the traverse and crossing Cataract Creek, I began up the Spray Park trail. There was more new snow than I expected and progress was less than rapid. Once past Cataract Camp, I made my way to the crest of the spur above Marmot Creek and continued to the lower reaches of Seattle Park. A narrow line of trees made a reasonably safe route out of the lower park and into more open terrain near 6000'. The weather was mostly cloudy, but occasionally I got a glimpse of the mountain through wispy clouds.
Mount Rainier from Seattle Park
I made my way to the thimble shaped outcrop in the photo above before deciding I had had enough. Visibility was not improving and the snow was turning to glop. My thoughts turned to the descent. On the Carbon Glacier tour, I had checked out a possible descent route from this area down to the Carbon Glacier. That would likely be a more pleasant descent than thrashing through the trees. The photo below shows the possible route which looks quite doable from above, below and tops maps. I decided to take advantage of the shaded (powder!) slopes I had come up...I paid the price, but it was worth it.
The Carbon Glacier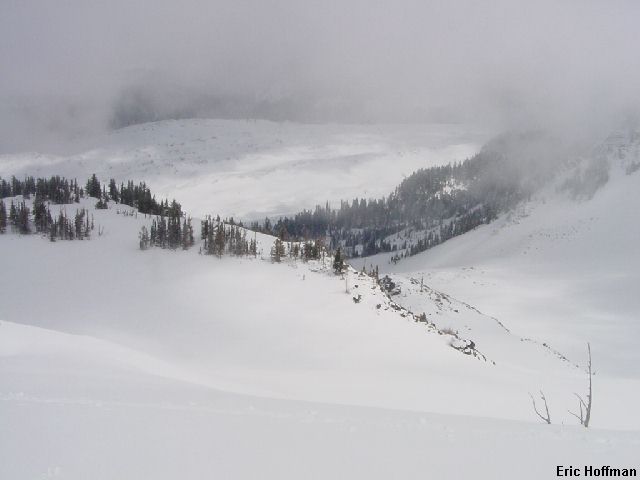 This area could be a ski paradise under good conditions. Every angle and aspect is represented and touring possibilities are endless. The problem is the long trek getting there. Having broke trail for 4000' vertical feet, I was too tired to ski much of anything. Stay tuned for more skiing in the Seattle Park area!
Seattle Park and Echo Rock from the Carbon Glacier (from 4/2/02 Carbon Glacier Trip)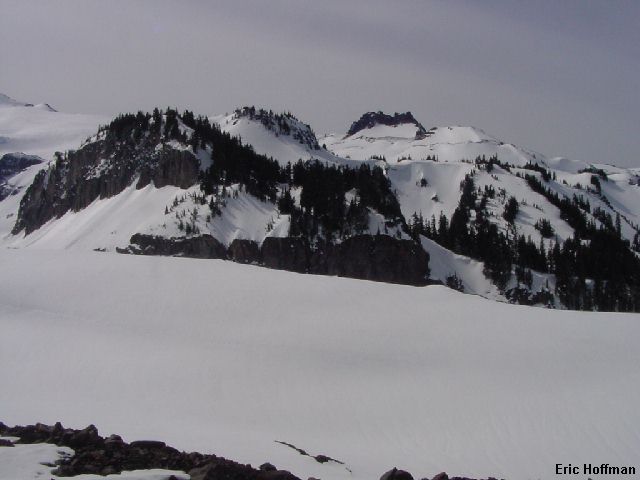 references:
Uncle Sam's Guide Service (USGS) Mowich Lake Quadrangle, 7.5' series