Sharkfin Tower-Southeast Ridge
---
Destination: Sharkfin Tower (+8120')
Date: July 15, 2006
Starting Point: Boston Basin Trailhead (c.3400')
High Point: Sharkfin Tower Summit (+8120')
Round Trip Distance: c.10 miles
Equipment: The ten essentials, rope, small rack, ice axe, crampons
Difficulties Route finding, low 5th class rock climbing
Departing Tacoma around 5:00AM, Chris Mattson and I finally reached the Boston Basin Trailhead and began hiking the overgrown road around 9:15. The trail into Boston Basin is a piece of work but gets you to the basin without much difficulty. We arrived at the camp in about an hour and a half. From the camp we could see a snow gully west of Sharkfin Tower that allows access to a wide bench below the objective.

From the camp we hiked toward the gully on slabs and easy snow. We stopped for luench just before reaching the base of the gully. Two climbers began descending the gully just about the time we were ready to get going. Not wanting to have anything knocked down on us or to knock anything down on them we decided to wait until they were down. After a long time waiting we gave up on that plan and decided to take our chances. The gully is about 40 degrees at its steepest section was melting out quickly. Without snow it should still be passable but is probably a loose pain in the butt.

Approaching the Quien Sabe Glacier and the gully (Photo by Chris Mattson)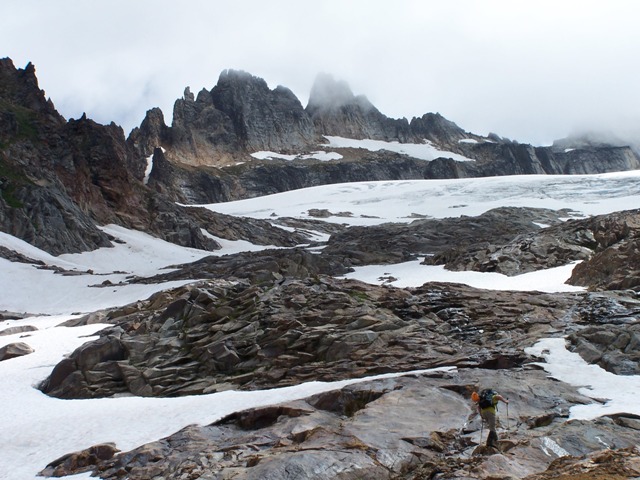 Once at the top of the gully it is easy to traverse snow and scree below the SW Face of Sharkfin Tower to a short gully leading to a notch in the SE ridge. We roped up here using two 8mm x 30m ropes. This left us with short pitches but we werenít expecting to need to belay anything longer than that.
The SW Face of Sharkfin Tower (Photo By Chris Mattson)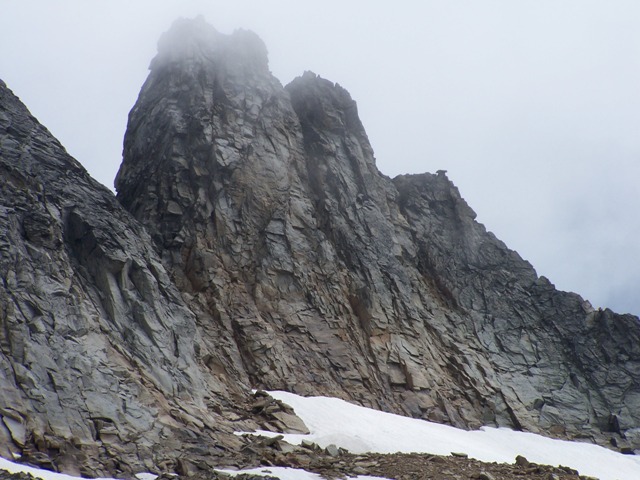 From the notch the route traverses out onto the north side of the ridge. This is exposed but fairly blocky and solid class 4. The trickiest moves are gaining the ridge crest proper. There are good opportunities for belays once on the crest.
The second pitch is on or just left of an arÍte. About halfway up this there is an awkward section. The route descriptions state this is 5.0 but my hiking boots werenít agreeing with that or maybe there was something I didnít see. We ended up traversing left for a few feet into a shallow gully then up it and back to the arÍte. The gully is not as solid as the arÍte. There was a small alcove at the top of the arÍte that was perfect for a belay.
Me climbing on the Second Pitch (Photo by Chris Mattson)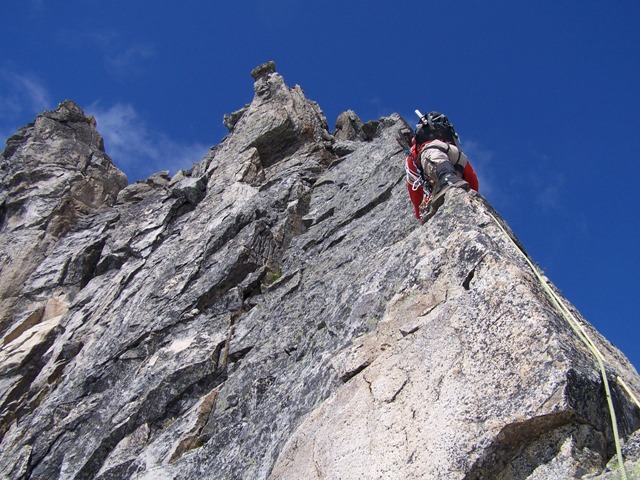 We ended up finishing with a running belay on about 50m of 3rd and 4th class. The summit register was hanging from some runners tied around the summit block Ö never seen that before. The views from the top are nice. We didnít spend too much time on the summit.
Chris on the SE Ridge with Boston Peak in the background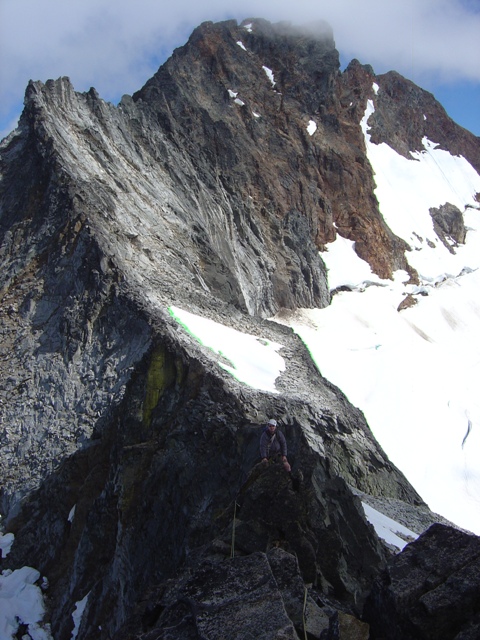 Forbidden Peak from the top of Sharkfin Tower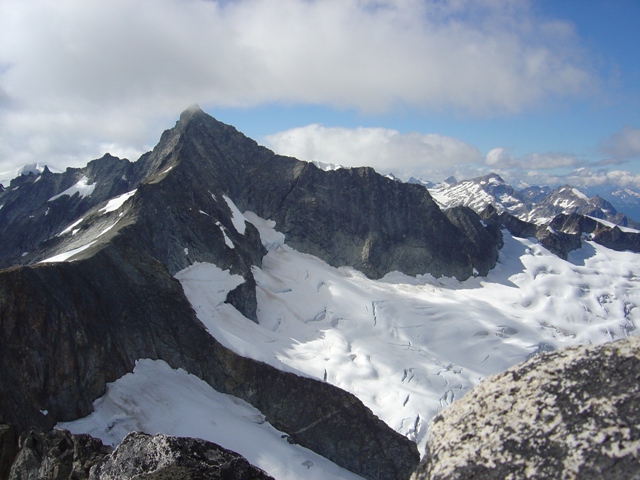 We decided to rappel down the SW face rather than the ridge. We didnít use the rappel anchor at the summit block since it was easy to down climb down the SE ridge about 20 feet to a large chock stone and rappel station. There is some loose debris at the top but it isnít bad. Initially we stopped at the next rappel station but when the rope didnít cooperate we decided to continue down to another rappel station with two pitons and some protection should we pull anything down. We were able to retrieve the rope without incident. Two more rappels got us to the snow. Less than two hours after that we were back at the car. 10.5 hours round trip.
The last view of Sharkfin Tower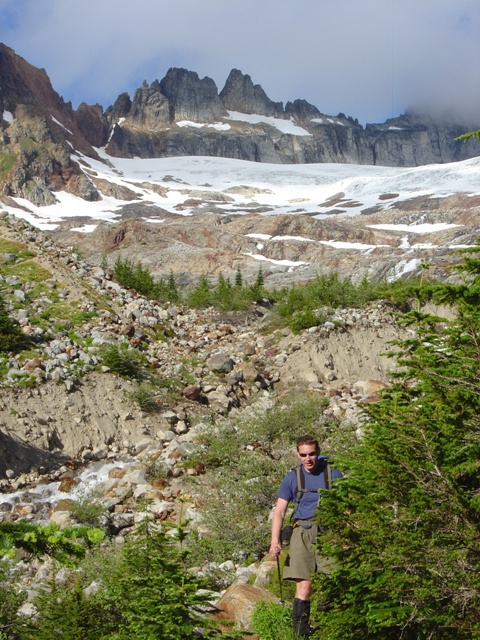 References:
Cascade Alpine Guide, Volume 2, 2nd Edition; Fred Beckey; Pages
Selected Climbs in the Cascades, Volume ; Jim Nelson and Peter Potterfield; Pages