Sloan Peak-The Corkscrew Route
---
Destination: Sloan Peak Summit
Date: August 24, 2000
Difficulty: 5+
Payoff: 7
Starting Point: Sloan Peak Trail Trailhead (~1900')
High Point: Sloan Peak Summit (7835')
Round Trip Distance: ~12 miles
Equipment: The ten essentials, glacier travel equipment
Mountain Skills: Route finding, class 3 rock climbing, glacier travel
At 7835', Sloan Peak is the highest peak in the region west of Glacier Peak. Its size and shape make it a prominent feature from many vantage points in the Central and North Cascades of Washington. With its route finding problems, river crossing, glacier travel and scrambling; the Corkscrew Route offers a little bit of everything but nothing too technical.
To get to the Sloan Peak Trail, depart the Mountain Loop Highway 7 miles north of Barlow Pass at the North Fork Sauk River Road (FSR 49). Follow FSR 49 for 4.5 miles to the Sloan Peak Trail trailhead (FST 648).
The trail follows an old logging road for about a half mile to the North Fork Sauk River where the fun begins. There are no foot bridges and a maze of trails in the area make it a somewhat challenging route finding and bushwacking experience. A pair of sandals are nice to take along for the wade across the river and its spur, but the real difficulty is figuring out where to cross. I could try to describe the correct route, but that would be difficult and would ruin all the fun. Once across the main channel, locate the trail as it climbs the river bank (marked by flag and cairn). After about 4 miles with several more stream crossings (Cougar Creek and its south fork), many downed trees and occasional bushwacking; the trail eventually reaches a basin at 4800' before ending. Another path can be found that leads to an upper basin located to the southwest.
From the upper basin, ascend a snow gully to a small saddle near 6000' on the ridge north of the Sloan Glacier. Ascend the ridge or the glacier until the glacier can be crossed to its southwest corner. After attempting a rising traverse, we found the only way to cross the glacier was to skirt its northern edge until we were above the bergschrund, then make a traverse below the East Face (rockfall hazard) to the southwest corner. This is a real glacier with many crevasses, a rope is definitely in order for the crossing.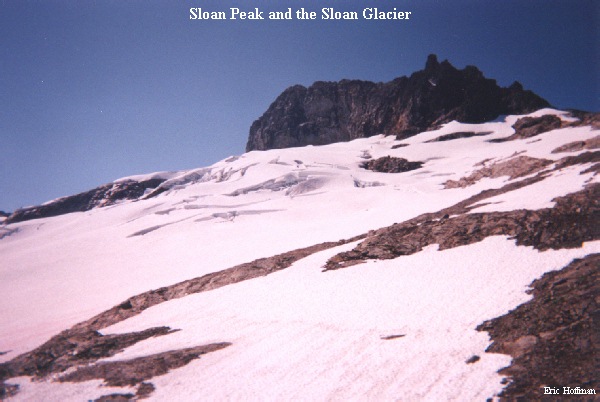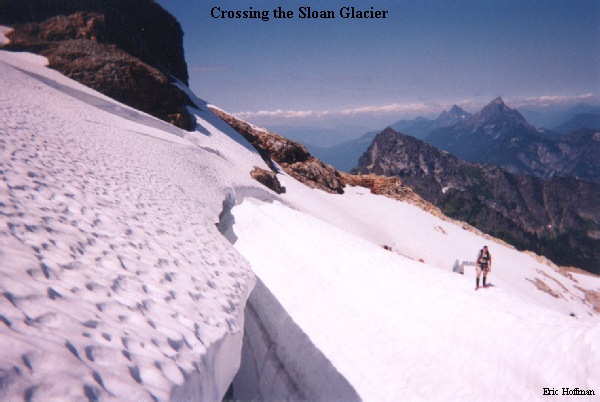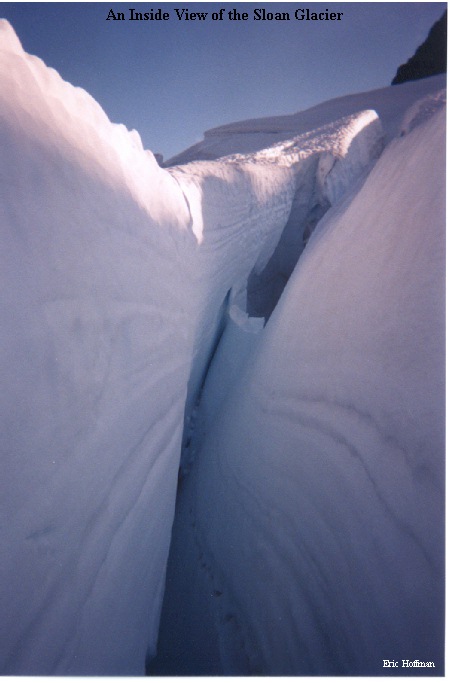 Leave the glacier and follow a path (uncertain if it is of goat or human origin) that traverses around the south side of the summit pyramid to its south west corner then ascend a gully between the main summit block and a smaller crag. From there, scramble up and traverse to a larger gully that can be ascended to the summit. As luck would have it, a large cloud saw us heading up to the summit and moved in to obstruct the magnificant view. Suprisingly, there were only 9 previous entries in the summit register this year...hmmm...almost secluded.