Snowking Mountain-Northeast and North Routes
---
Destination: Snowking Mountain (7,433')
Date: May 12, 2002
Difficulty: 4+
Payoff: 5+
Starting Point: FSR 1570 (c.2000')
High Point: Snowking Mountain Summit (7,433')
Round Trip Distance: c.14 miles
Equipment: The ten essentials, ice axe, snowshoes or skis (crampons, didn't use them but I'd bring them anyway)
Mountain Skills: Route finding, avalanche assessment, ice axe
After reading several descriptions of the Kindy Ridge Route (NE Route) on Snowking Mountain I thought I was going to be lucky to make it to the summit and back before dark. As it turned out, I reached the summit and was back at my car in about nine hours. Far less time than the two or three days suggested for the route.
From Cascade River Road turn right onto FSR 1570 (at about 14.5 miles) and let the fun begin. The road has been cleared to the new washout about a mile from the old washout and the beginning of the Kindy Ridge "Trail". Beckey refers to the trail as a route, but surprisingly the Ira Spring/Harvey Manning guide call it a trail and even go so far as to call it FST 765. The lack of a forest service sign stating that a NW Forest Pass is required seems to suggests that the Forest Service accepts no responsibility for the trail. Whatever the case, the trail begins at c.2300' on the west side of a clearcut. It may be possible to cut the switchback in the road, but it is probably worth mentioning the word clearcut again.
The trail ascends rather steeply for the first 1500' feet or so but then moderates as it follows the crest of Kindy Ridge. I lost the trail in the snow somewhere around 3500 feet and should have done a better job of noting where it gained the ridge crest. At about 4700 feet the route traverses around the east side of a minor ridge hump then reaches a 4760'+ foot saddle NW of point 5791'. A descent to Found Lake begins here if you choose to go there, but to get to Snowking Mountain, continue on the ridge nearly to the top of point 5791' then traverse its west side at about 5600'.
Snowking Mountain from Kindy Ridge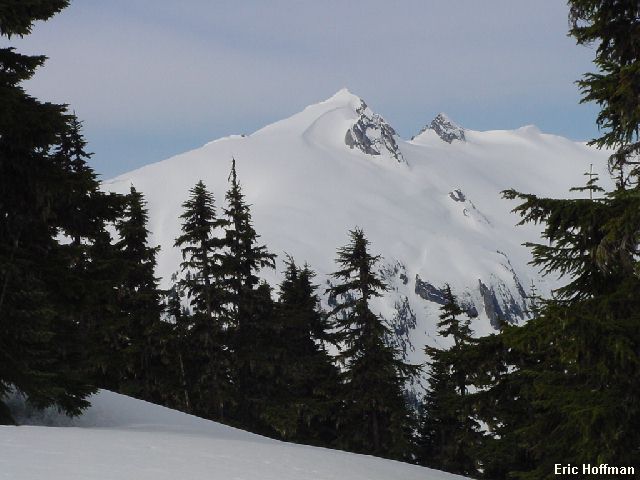 The route basically follows the ridge crest to Cyclone Lake where a traverse can be made just above the lake on its east side to avoid yet another ridge hump. Continue up the ridge which is never really steep. I was able to climb directly to the summit but most descriptions seem to suggest that the glacier may force the final ascent to be made on the SSE ridge.
Relaxing at Club Snowking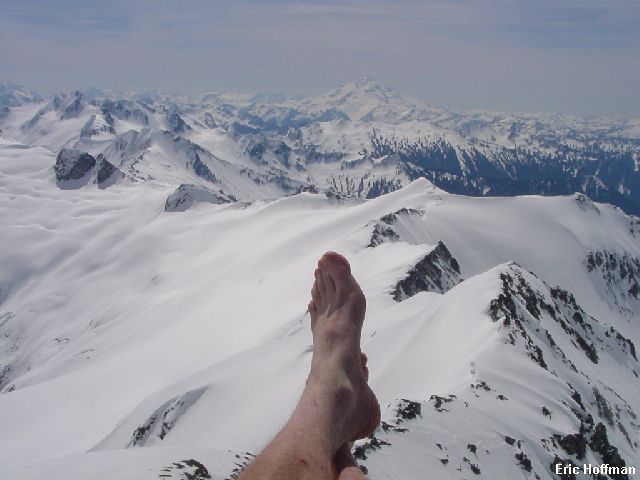 Hmmm...What's next part I (View to the SE)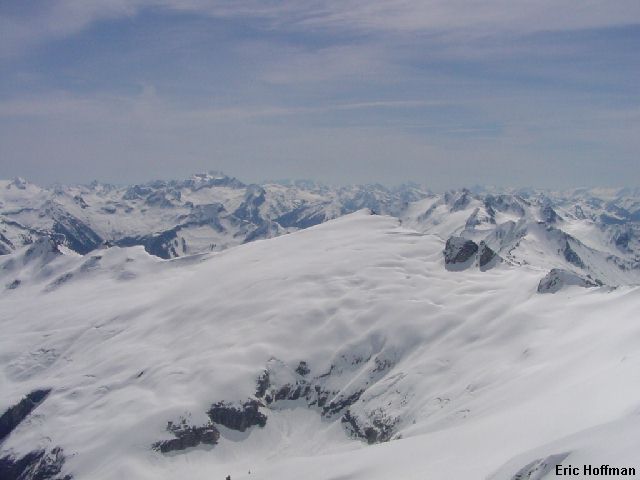 Hmmm...What's next part II (Mount Chaval to the SW)
Rather than descending the ridge, I descended what is basically the North Route described in the Cascade Alpine Guide but descended directly to the outlet of Cyclone Lake. This made the descent a fair amount shorter but may be more difficult if the glacier breaks up or when the lake melts.
Snowking Mountain from Cyclone Lake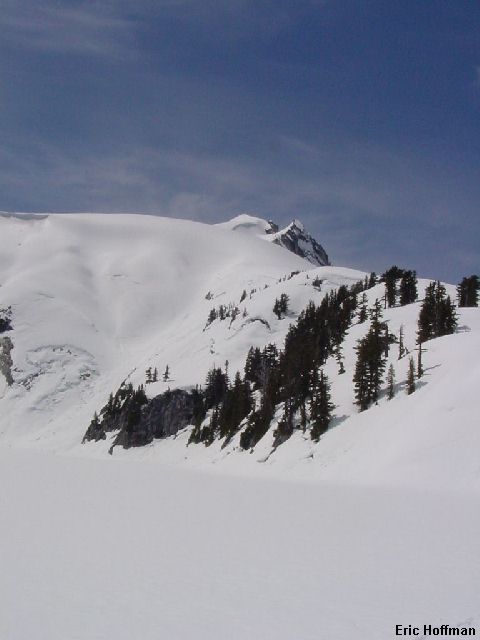 It is definitely worth keeping track of your elevation as you descend from the 4760+ saddle. Dropping too low makes things more difficult...you can take my word for it.
References:
Cascade Alpine Guide, Volume 2, Second Edition; Fred Beckey; Pages 265-269, 358
Climbing Washington's Mountains; Jeff Smoot; Pages 65-69
100 Classic Backcountry Ski and Snowboard Routes in Washington; Rainer Burgdorfer; Pages 74-76
100 Classic Hikes in Washington; Ira Spring and Harvey Manning; Pages 90-91 (Kindy Ridge to Found Lake description)