Mount St. Helens-Swift Route (ski ascent/descent)
---
Destination: Mt. St. Helens Crater Rim (c.8150')
Date: March 31, 2002
Difficulty: 4+
Payoff: 6
Starting Point: Marble Mountain. Sno-Park (c.2640')
High Point: c.8100' (true summit 8365')
Round Trip Distance: c.8 miles
Equipment: The ten essentials (skis, snowshoes, ice axe or crampons may be needed/desired)
Mountain Skills: Route finding, avalanche assessment
Mount Saint Helens is a mountain than needs no introduction. Prior to the 1980 eruption there where numerous summit routes (see Cascade Alpine Guide Volume 1, first edition if you can get a hold of it), but the post eruption era has produced few popular routes. Although there are only a few popular routes it could probably be climbed just about anywhere except from the crater itself. The standard route in summer is the Monitor Ridge route, a class 2 scramble and a lot of pumice are the norm for a summer ascent of Monitor Ridge. I had climbed St. Helens twice before in summer but had not yet made a winter ascent. It is a relatively easy ski climb taking me just under four and a half hours to reach the crater rim from Marble Mountain Sno-Park. This trip was more about the ski descent which took less than one hour to return to the Sno-Park.
To reach Marble Mountain Sno-Park, drive I-5 to Woodland then take highway 503 east to Cougar. A permit must be obtained at Jack's Cafe to travel above 4800'. Go to http://www.fs.fed.us/gpnf/mshnvm/climbing/ for information on permits (March 31st was the last day for free permits). Once you permit has been obtained, continue on highway 503 (becomes FSR 90) to FSR 83. Turn left and continue 9 miles to the Marble Mountain Sno-Park.
The route to tree line is a well marked ski trail (FST 244). Generally keep right at trail forks unless it is a snowmobile only trail. Once at tree line...go up. There are a few corniced gullies above tree line to avoid (less obvious on the descent) and a minor rockfall hazard. The snow on this particular trip was very stabile (not corn but on its way to being) and would have required a major eruption to avalanche but much of the route is avalanche prone . Be prepared to evaluate the stability of the snow and avoid the obvious terrain traps. The Mount St. Helens Green Trails map (number 364) shows the route well.
The crater rim offers views of a number of other cascade volcanoes including Rainier, Adams, Hood and Jefferson. The true summit is about 200 feet higher than where the route reaches the crater rim. Whether or not it is worth going to is another question. Located on the SW side of the rim a large cornice at the true summit requires stopping short.
The view of Mt. Adams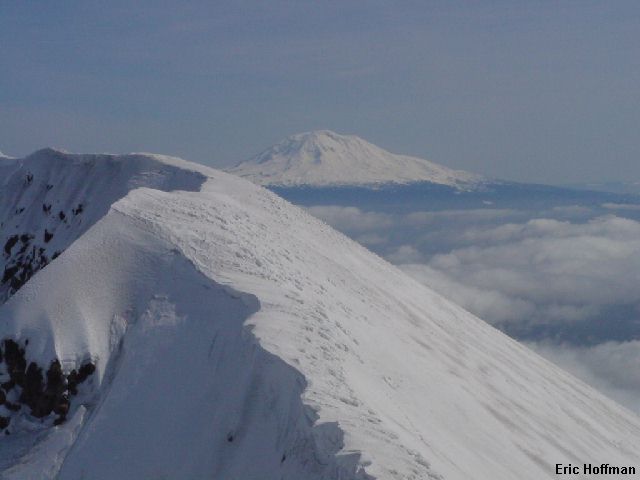 Mt. Rainier from the crater rim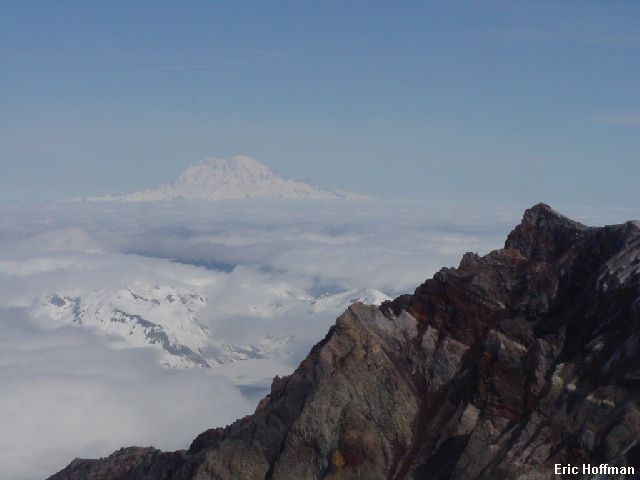 The lava dome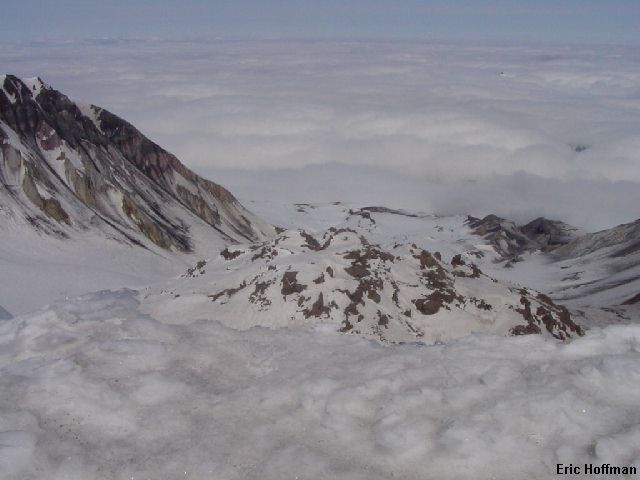 The true summit of Mount Saint Helens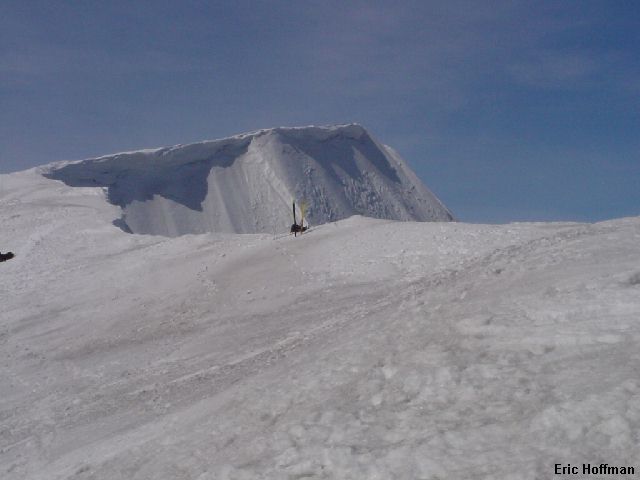 References
100 Classic Backcountry Ski and Snowboard Routes in Washington; Rainer Burgdorfer; Pages 217-218
Climbing Washington's Mountains; Jeff Smoot; Pages 339-343
Cascade Alpine Guide, Volume 2, Second Edition; Fred Beckey; Pages 39-51 (see newer editions for better route description)