Mount St. Helens On Skis
---
Destination:Mount St. Helens (8365')
Date:April 2, 2004
Starting Point:Marble Mtn. Sno-Park (c.2700')
High Point:Mount St. Helens Crater Rim (c.8200')
Round Trip Distance: c.8 miles
Difficulties:Routefinding, Avalanche Hazard, Intermediate/Advanced Skiing Ability
Equipment: The ten essentials, Skis
This was my second ski ascent/descent of Mount St. Helens. Having been to the top twice in summer via Monitor Ridge and now twice on skis via the Swift Route, I think I can safely say that the ascent and descent are far more enjoyable when the mountain is snow covered. The route is typically refered to as "The Worm Flow Route", the Worm Flow being the ridge that melts out fast and no one seems to actually go up. Typically, parties ascend the Swift Creek Drainage. It is best to go when the Marble Mountain Sno-Park is still open, as this garantees parking ($8 for a one day permit). Additional climbing fees ($15 per person) take effect on April 1st...probably wise on weekends.
Time being a valuable commodity, Chris Mattson and I decided to do the drive to and from and the ascent in one day from the Federal Way area. I picked up Chris and his rented AT skis at 4:00am, yes, early. We arrived in Centralia at 10 minutes to 5 happy to find the door unlock and a highly motivated staff at Starbucks. Now energized, we reached the Marble Mountain Sno-Park a little before 7:00. We departed the Sno-Park about 15 minutes later, finding continuous snow at the lower elevations.
Mount St. Helens from near Treeline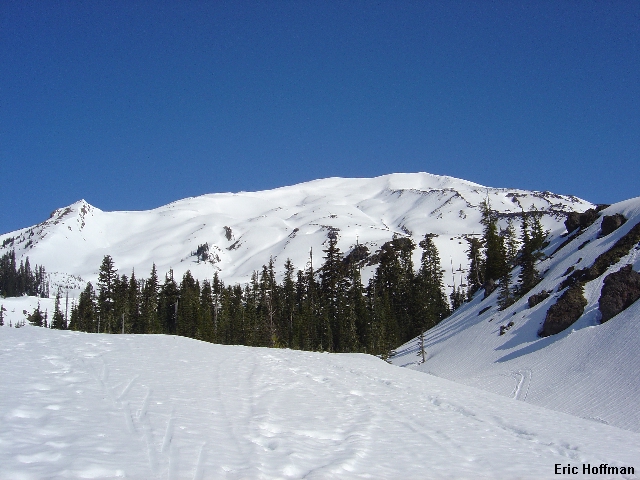 Chris on the way up with Hood in the Background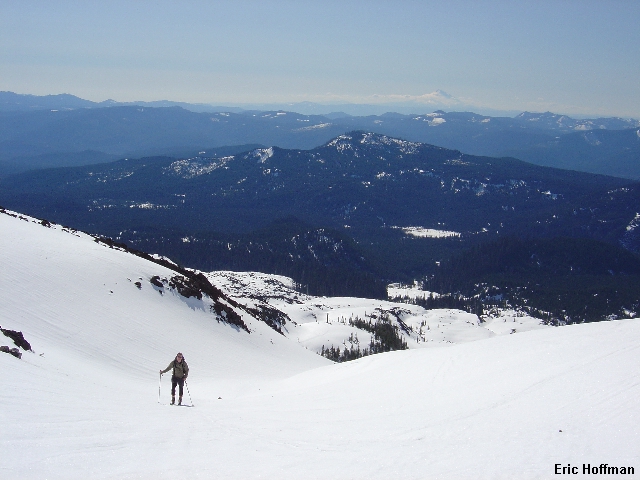 The route follows the Swift Ski trail then the Wormflow Route to treeline where we made our way to the right side of Swift Creek. There are a number of ways to ascend, but keeping right of the creek (still fully snow covered) seems to be the best. Somewhere around noon I reached the crater rim. It was sunny but windy. The only thing that kept me warm while I waited for Chris to arrive was the thought of skiing back down. About a half hour later Chris reached the crater rim. This was only his second time on AT skis and it was his first time up Mount St. Helens, so I tried to be understanding. I had to give him credit for staying in his skis almost all of the 5500' climb to the crater rim.
Chris with the Crater, Spirit Lake and Mt Rainier in the Background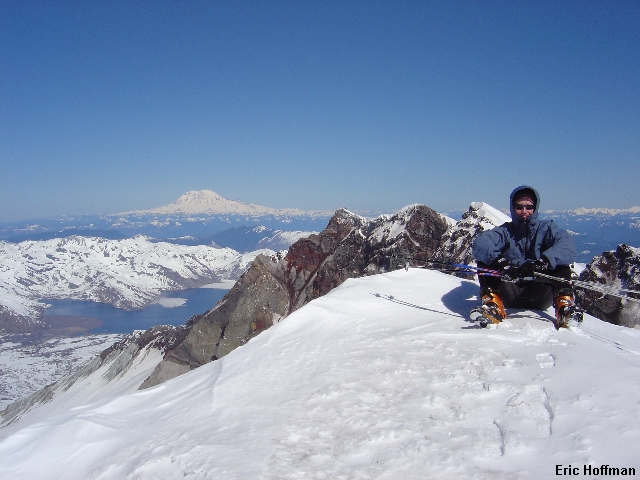 It's All Downhill from Here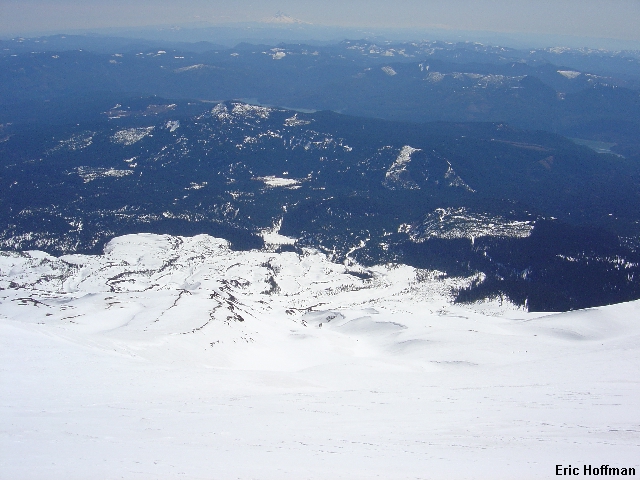 The most natural line on descent is in the Swift Creek gully that is more than wide enough to make turns but is not all that challengin skiing. The First 500 to 1000 feet are the steepest. If skiing the gully be aware of possible falling rock and cornices, though these hazards are not limited to the gully. We were able to ski all the way back to the Sno-park. Total descent time was 1 hour 10 minutes.
Skiing Near The Bottom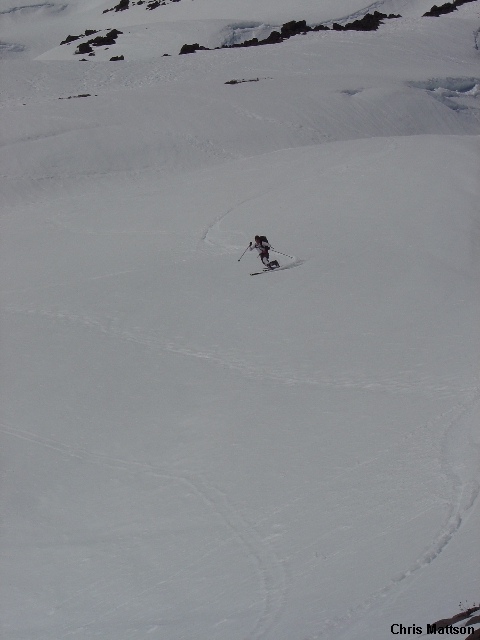 References:
100 Classic Backcountry Ski and Snowboard Routes in Washington; Rainer Burgdorfer; Pages 217-218