Steamboat Prow-Inter Glacier and Ruth Ridge Routes
---
Destination: Steamboat Prow
Date: June 25, 2001
Difficulty: 5
Payoff: 5
Starting Point: White River Campground (c.4300')
High Point: Steamboat Prow (9702')
Round Trip Distance: c.12 miles
Equipment: The ten essentials, ice axe, glacier travel
Mountain Skills: Route finding, glacier travel
Steamboat Prow remains one of my favorite destinations on Mt. Rainier. It is a great vantage point to view the Emmons-Winthrop route from and an excellent place to hang-out with a friend. This winters light snowpack is resulting in an earlier than usual break-up of the Inter Glacier, the route most used to reach the top of the Prow or Camp Schurman. A few inches of fresh snow had fallen, somewhat hiding some of the crevasses. At this time of the year it is generally safe to ascend the glacier unroped, but this year may be a different story. We managed to ascend to the top without breaking the number one rule of glacier travel: no one fell into a crevasse. For a description of the route see the 2000 Steamboat Prow report.
Mia Wadleigh Near the Top of the Inter Glacier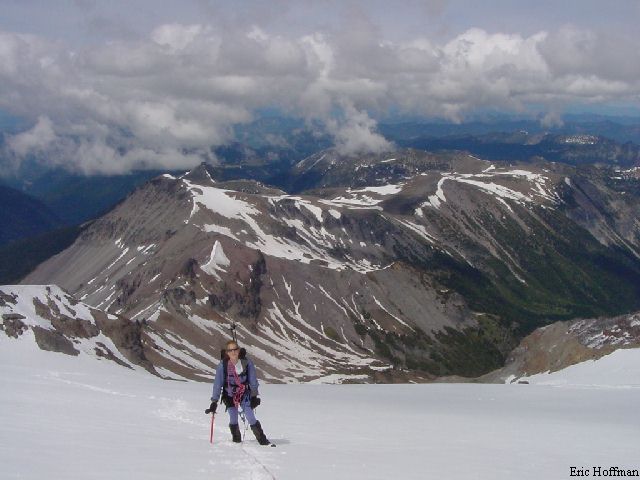 The Emmons and Winthrop Glaciers from Steamboat Prow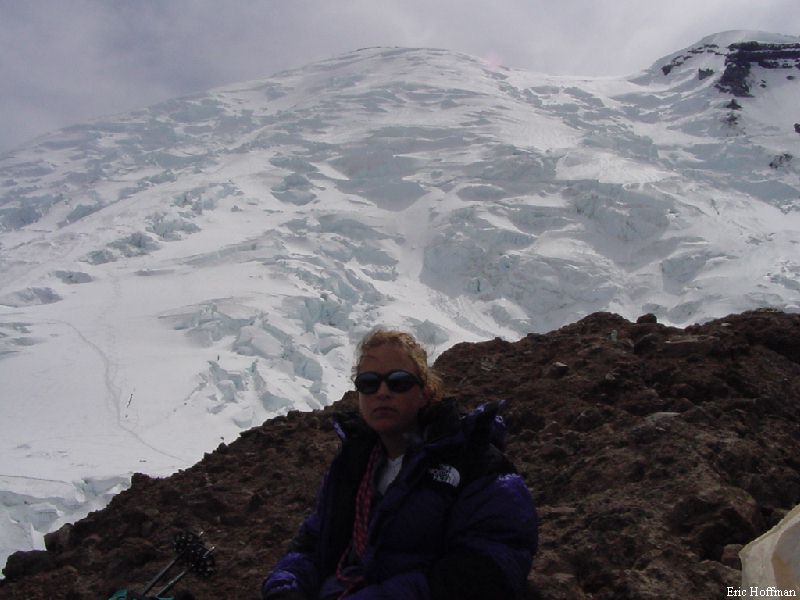 Little Tahoma, Lightly Frosted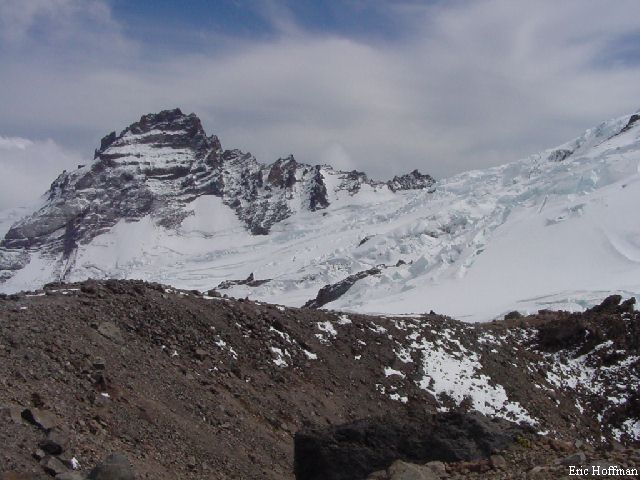 The Asolo Spires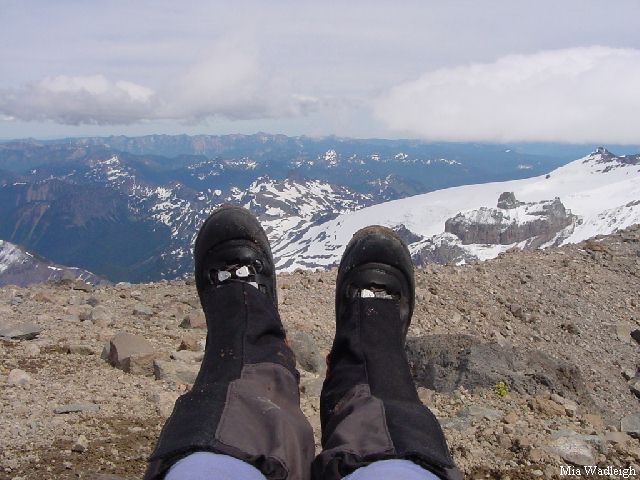 The alternate route to reach the top of Steamboat Prow is the Ruth Ridge Route. Since the condition of the snow on the Inter Glacier was fresh powder with an icy wind blown crust, it was not suitable for the customary glissade and we decided to descend via Ruth Ridge. This can be a pain when melted out but enough snow was remaining to make it as quick a descent as the Inter Glacier. This route follows the ridge that separates the Inter Glacier from the Emmons. One easy scramble at a crumbly step just beyond the low point between the summit of Mount Ruth and Steamboat prow is really the only difficulty. Once beyond this a traverse around the summit of Mt. Ruth leads to snow and glissading opportunities nearly to glacier basin. Crossing the Inter Fork of the White River can be a minor problem if the water is high, but no one got wet on this trip.
References:
Cascade Alpine Guide, Volume 1, Second Edition; Fred Beckey; Pages 118-119
Mount Rainier, A Climbing Guide; Mike Gauthier; Pages 173-174, 177, 178