Steamboat Prow-Skiing the Inter Glacier
---
Destination: Steamboat Prow (9702')
Date: June 22, 2002
Difficulty: 4+
Payoff: 6
Starting Point: White River Campground (c.4300')
High Point: Steamboat Prow (9702')
Round Trip Distance: c.12 miles
Equipment: The ten essentials
Mountain Skills: Route finding, glacier travel
Oh, the Inter Glacier. I had been up it many times but had never skied it. It has always been worth the trip just for the view. I had to go ski it since Andy Johnson was just telling me that he was kicking himself for not taking his snowboard with him on a trip to the top of the prow a couple of days before. I arrived at White River Campground a little before 7:00am. and started up the trail which was mostly melted out for about the first two miles where there are a few downed trees from avalanches off of the Burroughs Mountains. The normal route in spring is to follow the Inter Fork of the White River all the way to Glacier Basin. I followed the river even though it looked like the majority of the traffic was taking the snow covered trail. The way in along the river was almost entirely on snow and there was still a solid bridge around when I needed one. I stopped briefly at the foot of the Inter Glacier before starting up. There where a few climbers going up, a few going down, and more just standing around. A bit more traffic than I was expecting but the snow was looking good and so was the boot pack. Aside from watching out for the crevasses that melt out earliest, this was the fastest lift operating in Washington on this brilliant morning. As I passed a couple of bivy platforms on the glacier I noticed that Camp Curtis appeared to be at maximum occupancy. Four more tents were perched just below the top of the prow. I reached Steamboat Prow a few minutes before 10:00am and counted more than 20 climbers on the Emmons Glacier. Most where coming down, a few where going up and some seemed to be just standing around. There was a tent pitched above Emmons Flat where the route gains the corridor. There were a lot of climbers on the mountain.
Ascending the escalator to heaven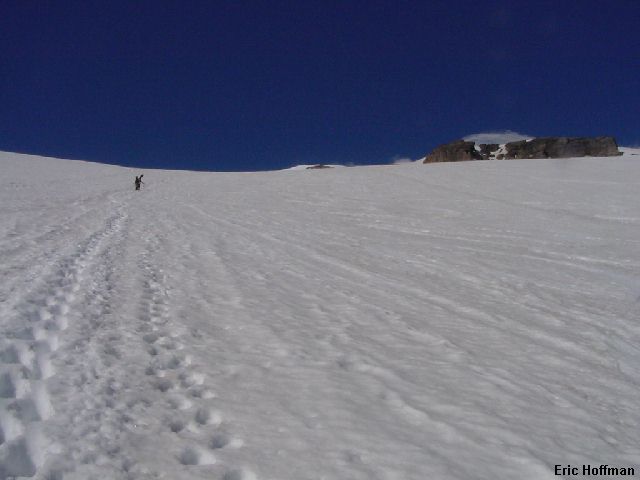 Banshee Peak and the Cowlitz Chimneys from Steamboat Prow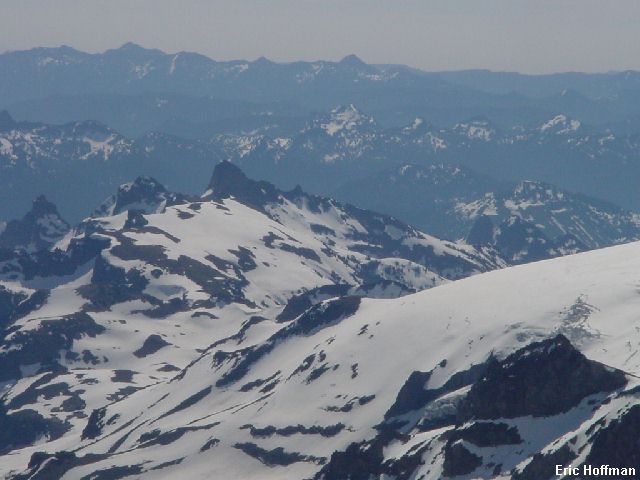 Welcome to Camp "Anywhere You Can"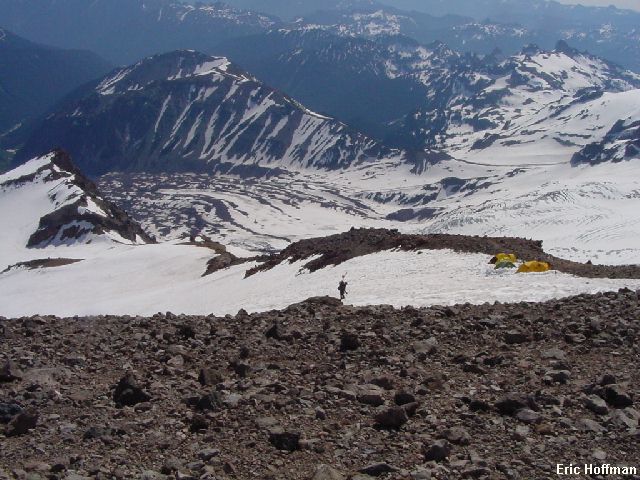 More of Camp "Anywhere you Can" and a view of the Emmons Route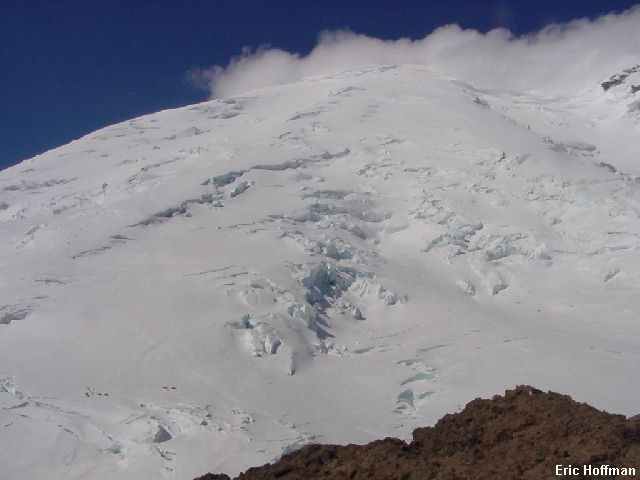 Meanwhile, the snow was heating up. I wished I had gotten there a bit earlier but it was near perfect for the first 2,000 feet of the descent. There were two crevasses melting out but they were still easily avoided. By the time I reached Glacier Basin, the snow was like mashed potatoes, but it sure beat walking. A minor stream crossing with no bridge prompted the end of my ride just before the Inter Fork route joins the main trail.
Mount Rainier and the Inter Glacier from the Glacier Basin Trail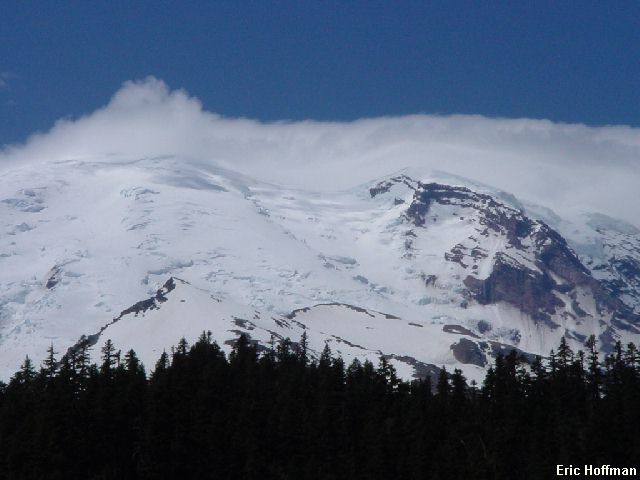 2000 Steamboat Prow Trip Report 2001 Trip Steamboat Prow Trip Report
References:
100 Classic Backcountry Ski and Snowboard Routes in Washington; Rainer Bergdorfer; Pages 189-190
Cascade Alpine Guide, Volume 1, Second Edition; Fred Beckey; Pages 118-119
Mount Rainier, A Climbing Guide; Mike Gauthier; Pages 173-174, 177, 178