Emerald Ridge / Puyallup Cleaver
---
Emerald Ridge
Destination: Emerald Ridge High Point
Date: June 24, 2000
Difficulty: 3
Payoff: 4
Starting Point: West Side Road Barricade (2800')
High Point: Emerald Ridge Crest (5600')
Round Trip Distance: 12 miles
Equipment: The ten essentials
Mountain Skills: None
We did this hike as an approach to the Tahoma Glacier climbing route. The attemp that was unsuccessful, but it was a fantastic opportunity to visit this area of Mt. Rainier National Park. On our return, we took a different route that followed the Puyallup Cleaver to its origins in St. Andrews Park.
This is an easy hike into the isolated west side of Mt. Rainier National Park. From the barricades on the West Side Road, hike for about one mile to the Tahoma Creek Trail (no sign). The trail follows Tahoma Creek for about three miles before it connects with the Wonderland Trail at 4300'. You MUST check out the suspension bridge that crosses Tahoma Creek. Unlike the suspension bridge across the Carbon River, this one is truly justified.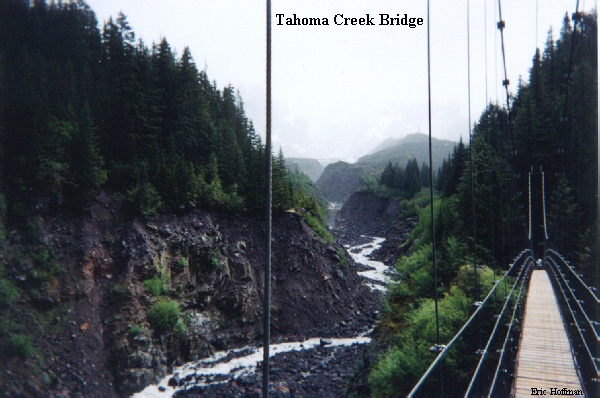 Follow the Wonderland Trail from the junction for 1.6 miles to Emerald Ridge (signs). The snow started at about 5000', but was well consolidated. The view of Mt. Rainier from this area is spectacular. The large rock formation that stands stranded in the moraine of the Tahoma and South Tahoma Glaciers is known as Glacier Island because in the early 1900's, Glacier Island was completely surrounded by the two glaciers, a reminder that the mountain is forever changing.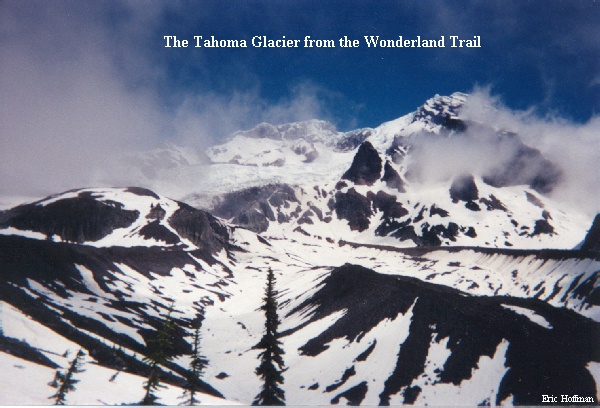 From near the crest of the ridge, you can follow the lateral moraine on its north side to a high point (6000'+) that is nearly surrounded by the Tahoma Glacier(moraine and high point on the left in the photo above). We saw four mountain goats climbing around on the glacier, but you should use a rope beyond the high point