Return to Unicorn Peak
---
Destination: Unicorn Peak (6917')
Date: September 20, 2003
Difficulty: 4
Payoff: 5
Starting Point: Slow Lake Trailhead (c.4500')
High Point: Unicorn Peak Summit (6917')
Round Trip Distance: c.5 miles
Equipment: The ten essentials, 30m rope, harness, rappel device
Mountain Skills: Route finding (minimal), class 4/5 rock climbing
This was the one summit I failed to reach last fall on a traverse from Stevens Peak to Pinnacle Peak (See The Tatoosh Traverse Part I). I was close...too close. The climb is not terribly difficult but the summit horn features about 30 feet of rock climbing described as class 4 to 5.0. I brought a 30 meter rope, a harness, a rappel device, water and not much else. Well into summer an ice axe and crampons may be helpful if not necessary.
The easiest access is via the Snow Lake Trail which begins on Stevens Canyon Road at an elevation of c.4500 feet. In about a mile the trail reaches Snow Lake (c.4600'). At 1.2 miles the maintained trail ends. A path continues along a tree covered hump then disappears in talus. The idea is to climb up and right toward an obvious gully. The top of the gully isn't visible until directly below and ends up being easier than it appeared from the lake. Near the top of the talus/dirt gully a path can be located on a heather bench. I followed this as much as possible until in the basin below Unicorn Peak and the small and stagnant Unicorn Glacier.
Unicorn Peak and the Unicorn "Glacier" from the basin above Snow Lake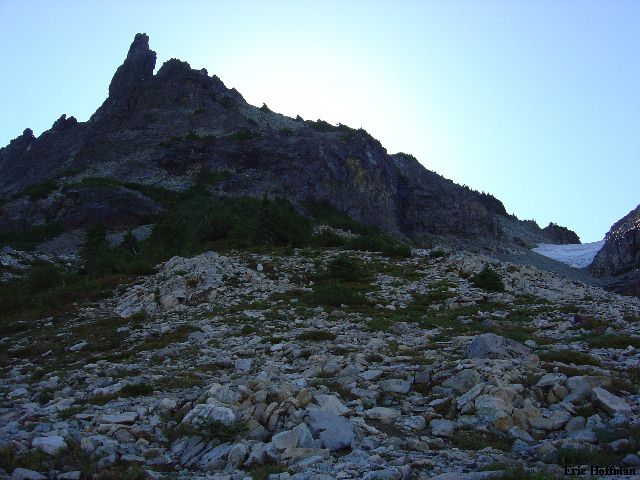 From the basin I headed up the moraine on the left side of the snow patch known as the Unicorn Glacier. Just below the final scrub trees, at the bottom of the cliffs of the objective, a path traverses below the cliffs offering easier travel than the surrounding loose scree and talus. Once at the glacier I began scrambling up and left (loose class 3) towards a small notch just left of the saddle between the the SW peak and the summit of Unicorn. From the notch a path leads to the summit area. The true summit is the northern most point.
The Summit Horn of Unicorn Peak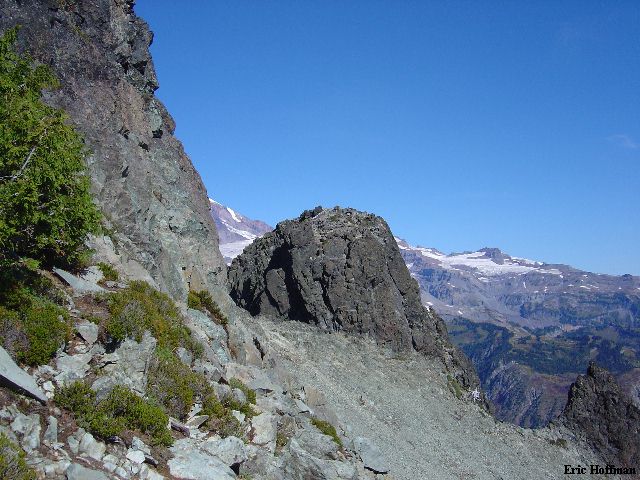 I traversed around to the right side of the summit horn and scrambled up a few feet of class 3. I climbed up then left a move of two then continued up to the summit area. The rock is generally solid with good holds. On the summit, views awaited...they were pretty much the same views I had from either of the false summits.
The Tatoosh Range from the Summit of Unicorn Peak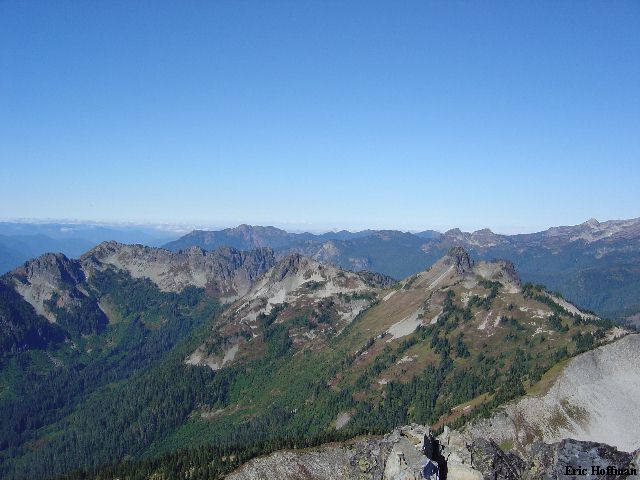 There are two rappel stations. One drops to the notch on the south side of the summit. My 30 meter rope appeared to fall short. The second station allows a rappel down the ascent route. My rope got me to the top of the class 3 rock from where I could easily downclimb. I descended back to the notch where one can rappel the class 3 above the glacier. Having only a 30 meter rope it didn't appear that is was going to save me any trouble. Four hours round trip.
References:
Cascade Alpine Guide, Volume 1, 2nd Edition; Fred Beckey; Pages 122-123
Climbing Washington's Mountains; Jeff Smoot; Pages 314-316 (note that the elevation gain is incorrect...it should be c.2400ft)