Vesper Peak - The "Dog" Route
---
Destination: Vesper Peak (6214')
Date: September 29, 2008
Starting Point: Sunrise Mine Trailhead (ca.2200')
High Point: Vesper Peak summit (6214')
Round Trip Distance: ca.8 miles
Equipment:
The ten essentials
Difficulties: Routefinding (very minimal), class 2 scrambling
Vesper Peak has been on my radar for years but I always seemed to get distracted by something else. Finally, the time had arrived. With a forecast for sun on a weekday Chris Mattson and I decided to skip work and get outside. Chris also wanted to take his dog so the standard route up Vesper Peak was a good option.
The trailhead is located at the end of FSR4065, 2.3 miles from the Mountain Loop Highway at an elevation of ca.2200'. The Sunrise Mine Trail (FST 707) crosses the South Fork Stillaguamish River about a 1/2 mile from the trailhead then continues on through forest crossing several smaller streams before finally opening up in the rocky basin below Headlee Pass. Headlee Pass is a small notch at ca.4600' and is not obvious until you are just below it. The final 300' or so to the pass is steep.
The trail continues through the pass descending a bit before making a rising traverse to Vesper Lake, sometimes referred to as Lake Elan, at an elevation of ca.4950'. We were a little surprised that the lake was still frozen. The route up the east side of the Vesper Peak is fairly obvious from the lake's outlet.
Vesper Lake (a.k.a. Lake Elan)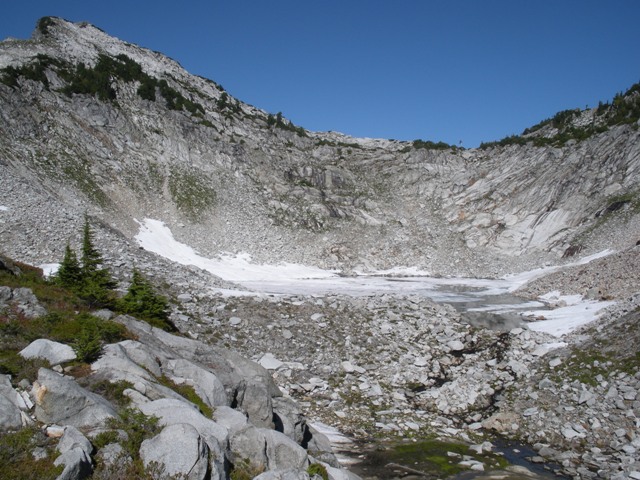 The view towards Big 4. Why couldn't it have been granite too?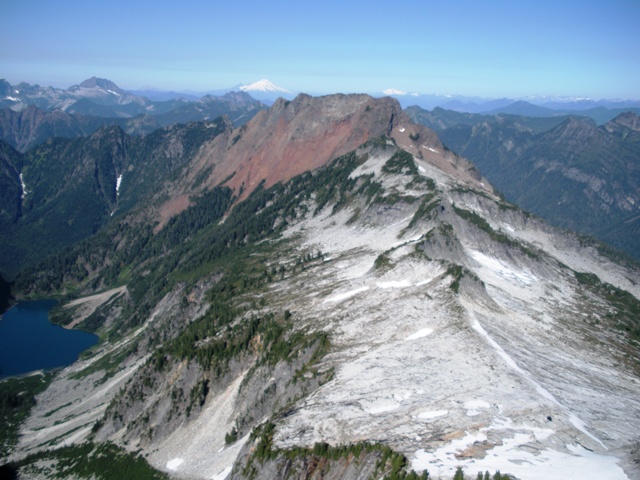 We crossed the outlet and followed paths up a heather slope to the granite slabs on the east slope of the peak. Occasional class 2 reached the East Ridge a couple hundred feet below the summit. The summit block itself requires a short scramble which Chris's dog, Sam, was not able to climb.
Chris and Sam near the summit of Vesper Peak with Sperry Peak in the background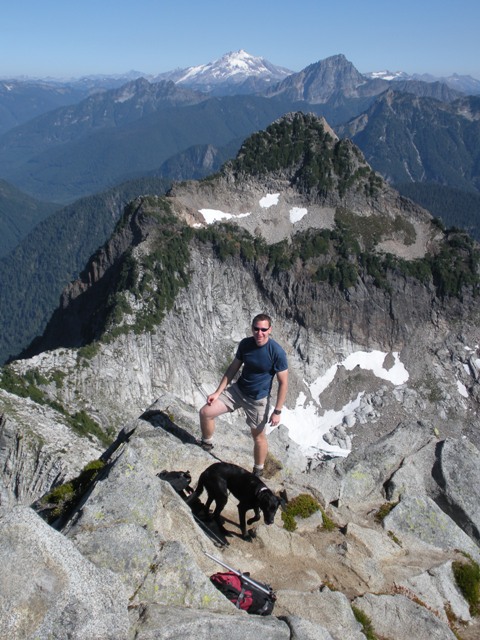 References:
Cascade Alpine Guide, Volume 2, 2nd Edition; Fred Beckey; Pages 48-49