Date: January 13-14, 2007

The winter had started great and was still going strong by the first of the year. I was getting out skiing every weekend and though I might even break the 50 day mark for the season. However, on January 13th I broke my 33 year streak of not being admitted to an Emergency Room among other things. I was 3 the last time I was admitted and all I remember about the incident is induced vomitting, something cold going into my butt and that the ER was a place to be avoided.

While skiing down from East Peak on the first run of the day in some of the lightest snow ever seen on the west slopes of the cascades, my left ski hit something in the snow pack. I was a little disappointed later when I discovered I had broken my leg without even having a spectacular crash... I never even fell over, somehow ending up standing on both skis perpendicular to the fall line. It was immediately obvious too me that this was not a minor injury, but okay, I'll see if I can ski out on it. I felt my knee buckle in sideways. I won't bore you with all of the details of my extraction from Bullion Basin but litters made out of skis don't work as well as cell phones, especially when traversing deep powder. Seven hours later I was at St. Francis sitting in a wheel chair in a line of people holding various parts of thier bodies. Seven hours after that I finally got an X-ray... and pain meds.

Completing the traverse, I finally reach an Exam Room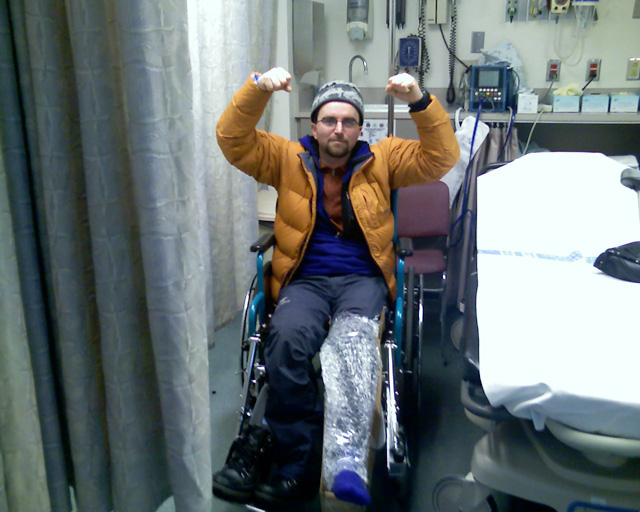 My injury was a fracture of the tibial platuea, the bone that forms the bottom of the knee joint. It had one large wedge shaped piece that had broken off and pushed down and a smaller chuck that was partially fractured but of concern because the ACL attaches there. I was told it would probably be a year to recover, and it wouldn't necessarily be a full recovery. On January 17th, I had surgury to correct the "internal derangement," apparently, that is a medical term. After a plate, 8 screws and 7 more weeks on crutches, I started walking on it using a telescopic ski pole or, occassionally, a long ice axe as a cain. Two weeks later my doctor told me he was going to have my physical terrorist start having me put weight on it with two crutches, then one crutch, then a cain... It wasn't pretty but I walked into my next thereapy without crutches or a cain.
Front view MRI of my left Knee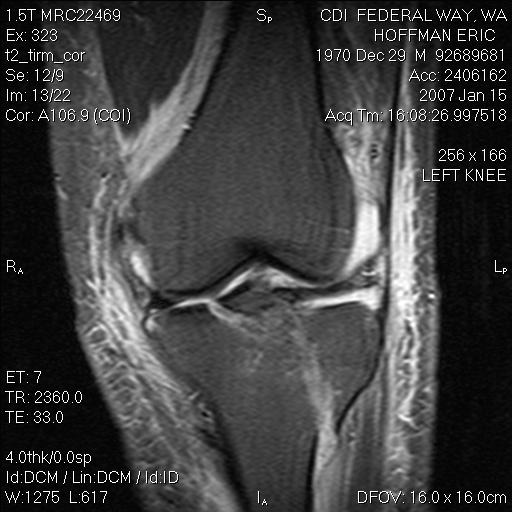 Top view MRI of my left knee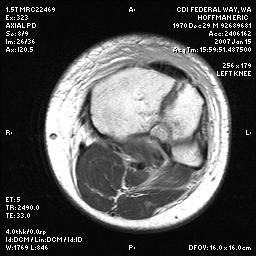 Destinations:Windy Peak (8334')
Date: May 26, 2007
Starting Point: Windy Creek Trailhead (c.5600')
High Point: Windy Peak Summit (8334')
Round Trip Distance: c.15 miles
Equipment: The ten essentials
Difficulties None
Still with limited mobility and some pain I decided to take advantage of a dry forcast in the NE corner of the Pasayten Wilderness. I have never confessed to be a top 100 peak bagger (I'm still not) but I figured this was one I might ascend when I was 70. Even though Windy Peak is the easiest top 100 peak there was a possibility I might be pushing it. A lot had happened since I had last hiked 15 miles.
Windy Peak from Toats Coulee Road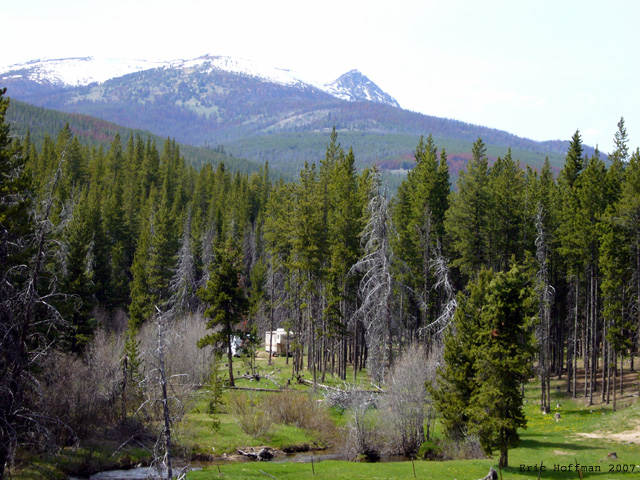 Windy Peak once was the site of a fire lookout and you certainly would have seen last fire season's 175,184 Acre Tripod Complex wildfire which burned all aspects of Windy Peak. About half of the hike is through burned areas while the other half was untouched. I took the Windy Peak Trail (FST432) but there are other options (Windy Creek or Clutch Creek) which don't seem to have any significant advantages or disadvantages. The advantage of the Windy Peak Trail for me was I camped at Long Swamp Campground where the Windy Peak Trail Starts and the trail would be a long but moderate route to the summit.
NASA view of the Tripod Complex at less than 70,000 Acres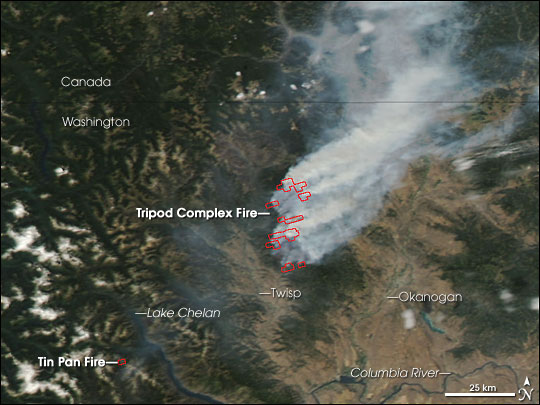 There really isn't much to say about the route since it is all on trail, albeit a bit hard to follow in the burned areas. From the trailhead the trail ascends through burned forest to "Hickory Hump" then more or less follows a long ridge with some up and down. At about 6 miles there is a junction with the Clutch Creek trail near "Two Bears Camp." This area was hit particularly hard by the fire. From here the trail ascends into a basin and eventually crosses the south ridge of Windy Peak about a quarter mile from the summit. Being early in the season I did take an ice axe and crampons and actually used them for about 50 feet a hard snow at the ridge crossing (my knee hurt when I tried to kick steps).
Two Bears Camp... or what remains of it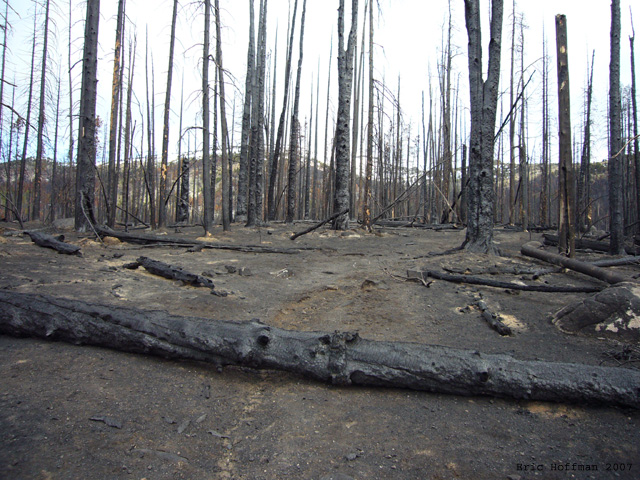 I reached the summit, which offers good views, in just under 4 hours. I spent an hour on the summit trying to figure out what peaks I was actually looking at. The isolation and location of Windy Peak make it a unique vantage point. The return took me nearly 3 hours... longer than I expected but I wasn't complaining. It was great to be back in the mountains.
The summit of Windy Peak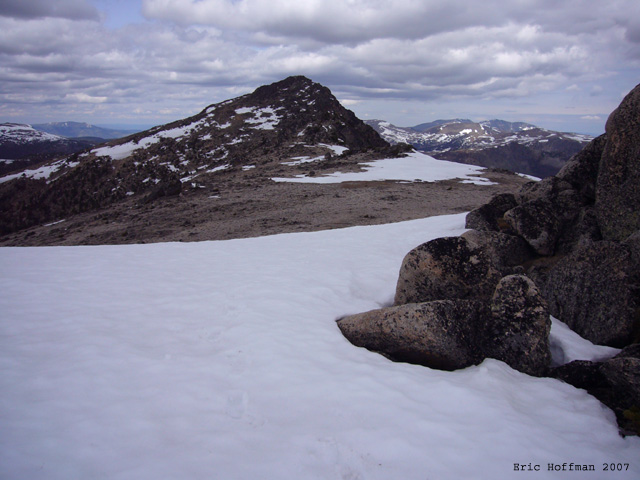 The view to the West from the summit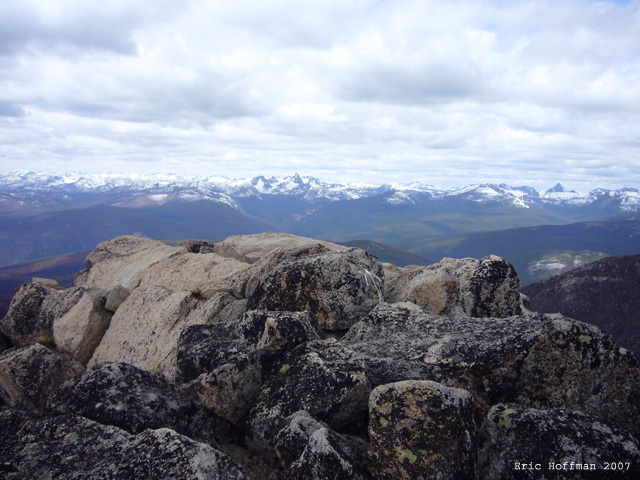 References:
Cascade Alpine Guide, Volume 3, 2nd Edition; Fred Beckey; Pages 221-222