Mt. Baker-Coleman/Upper Deming Route
---
Coleman Glacier Moraine
Destination: Coleman Glacier Moraine
Date: July 28-29, 2000
Difficulty: 3+
Payoff: 5
Starting Point: Trail 677 Trailhead (3700')
High Point: Coleman Glacier Lateral Moraine
Round Trip Distance: 6-8 miles
Equipment: The ten essentials,
Mountain Skills: None
After a ten car pile-up that closed I-5, a poorly (if at all) marked detour, constant rain, and several illegal U-turns in Bellingham; I wasn't really sure we had made the right choice of climbs for the weekend, but the approach to the Coleman Glacier made the answer clear.
After driving Highway 542 to Glacier Creek Road and Glacier Creek Road for another seven miles, we finally arrived at the trailhead for Trail 677 which was conveniently located in a cloud. After about a mile and a half of hiking we arrived at Kulshan Creek and discovered that it was raging as a result of all the rain and that there was no foot bridge. We managed to get across without getting wet and continued hiking to a fork in the trail in another half mile. A sign that read "climbing route" indicated that we should take the right fork which quickly lead to the base of a wonderfully flowered spur. The clouds had begun to clear and the lower reaches of the Coleman Glacier became visible to the east (note: the following two photos where taken on the way down. No clouds!). The trail ascends steeply up the spur to the Coleman glacier but is worth every step.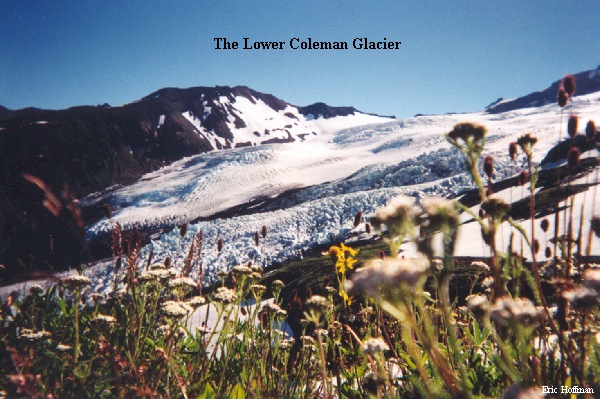 The left fork of the trail, signed "Glacier View", leads east toward the lower Coleman Glacier. We explored this area on the way down from the summit and found that it provided a great up-close look at the glacier. Be advised that there are MANY streams (mostly small) to cross before reaching the glacier. This is a great area to explore.