Broken Top-West Slope/Upper NW Ridge
---
Destination: Broken Top (9,175')
Date: March 20, 2004
Starting Point: Mount Bachelor Ski Area (c.6,400')
High Point: Broken Top Summit (9,175')
Round Trip Distance: c.16 miles
Difficulties:Routefinding, Avalanche hazards, steep snow and ice (class 4 in summer)
Equipment: The ten essentials, crampons, ice axe, 3rd tool, skis
Well, if it isn't obvious by now, I am working my way through the list of Cascade Volcanoes. Some of them I have climbed more than once. First there was Saint Helens, then Adams and Rainier. Then came the birth of "Eric's Base Camp" and the summits of Little Tahoma, Baker and Glacier Peak. That would do it for Washington. I hit Garibaldi in BC with Chris Mattson. All that was left then was Oregon and California. Soloed Cooper Spur on Hood, then lobbied support from AJ for a second attempt at Jefferson. We made it. After that, John Mefford and I tried to do a Three Sisters Marathon but only got the North and Middle Sisters. I returned the following spring to make a grueling day trip to the summit of South Sister from Bachelor Ski Area. Andy and I tried to ski Shasta not long after, and while I didn't stand atop the summit, I was close enough to be blown over and off of it (in other words I am calling it a summit but must return to ski it all). The fall of 2003 took me to the summits of Thielsen and Mount Scott, a peak not generally recognized as a Cascade Volcano, but I was already in the area, it sure seems like a volcano, and I had never been to Crater Lake. That brings me to this trip up Broken Top, which I had considered attempting last spring when I settled for South Sister. Enough background...
The forecast for the Washington Cascades was for two days of snow with accumulations expected to be from 1 to 2 feet then a sharp rise in the freezing level from 2000 to 7500 feet. That didn't sound like a good combination to me. I headed for Bend, Oregon where they expected much less snow and where they had received virtually no new snow for two weeks. They claimed they got an inch at Bachelor, but I think they were exaggerating. It had been sunny and warm in Bend. The drive took 4.5 hours from the Chehalis area, where I happened to be working that day (see the South Sister report for driving info). I camped at a cheap motel with painted brick interior walls...nice touch. The price was right though.
In the morning I headed for the Mount Bachelor Ski Area. I parked there to dodge paying for a Sno-Park permit and because this makes the trip the shortest. I recommend getting there before the Alpine and Nordic Areas open (8:00am on weekends at this time of the year).
At around 7:00am I headed north on a short trail that leaves the Nordic Lodge skinning past a sign stating that a Nordic Trail Pass was required at all times on groomed trails. In a quarter mile the trail reaches the Cascade Lakes Scenic Byway (groomed but not in the Bachelor Nordic Area). I headed west for about a mile, losing about 200 feet of elevation, to reach Todd Lake Road. I went right for a quarter mile on the groomed road (again not in the Nordic Area) to an ungroomed ski trail to Todd Lake. Once at the lake, I skinned to the fairly open and moderate slope at the north end of the lake. Once at the top of this slope I continued north and west trying to avoid too much up and down through the more or less flat area south of Broken Top.
Mount Bachelor from Todd Lake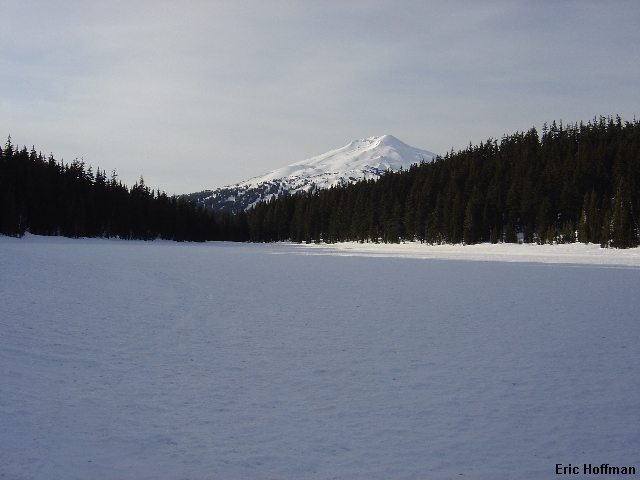 Broken Top from the South Sister(3/29/03)
I headed for a SW trending spur descending from point 8107' (SW spur in the photo above). I reached it near 7800' feet where one can readily descend onto the SW slope of Broken Top. I descended a bit then made a traverse to a SW trending spur heading down from point 9094', the South Summit of Broken Top (somewhat erroneously labeled the west spur in the photo above).
Now tired of trying to hold an edge in the still frozen snow surface, I decide to leave my skis here (7600'). I put on my crampons and began a long traverse across the west slope until nearly at the NW Ridge (falling debris danger). Rather than gaining the NW ridge here, I continued up until about 8800' before gaining the crest. The ridge was easy but is exposed on the north side. I arrived at what I assumed to be the short rock step (reported class 4 or easy 5th in the guide). The rock step was easily climbed via a short 15 foot section of 50 degree snow. I was now on the ledge system with a overhanging wall of rime ice above.
The Summit Area of Broken Top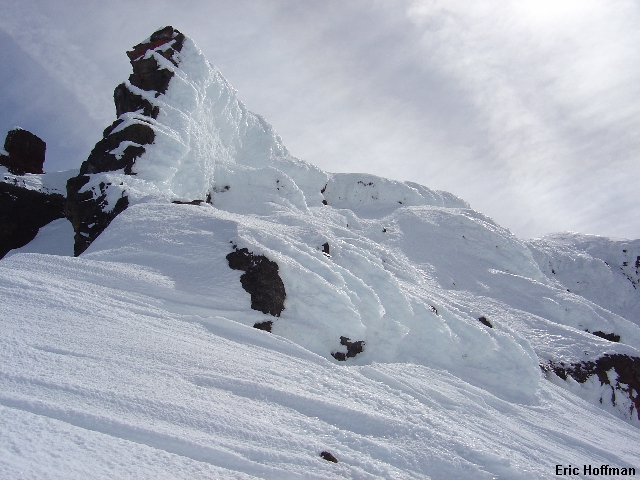 I have to admit I was nervous the last 100 feet or so to the summit. The climbing was not all that difficult but a fall would have consequences. I worked my way to a very narrow, snow and ice covered ledge that traversed right to finally gain the summit ridge at a small notch with a cornice and a bit of exposed rock. The ridge traverse is short but very exposed on the east side. Concerned about my crampons balling up I did a, always elegant, butt scoot across a sharp section of the ridge with soft snow before I felt comfortable enough to stand up and walk to the final short step leading to the summit. This was a mix of exposed rock and snow about 8 feet high. The views from the summit are good. I could see from Adams in the north to McLoughlin in the south. I was happy to be on top but would be happier when I got back to the NW Ridge.
Middle Sister to Jefferson from the Summit of Broken Top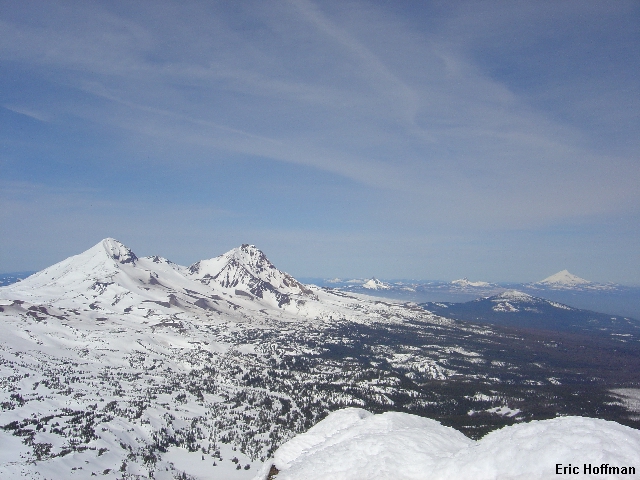 Mount Bachelor from Broken Top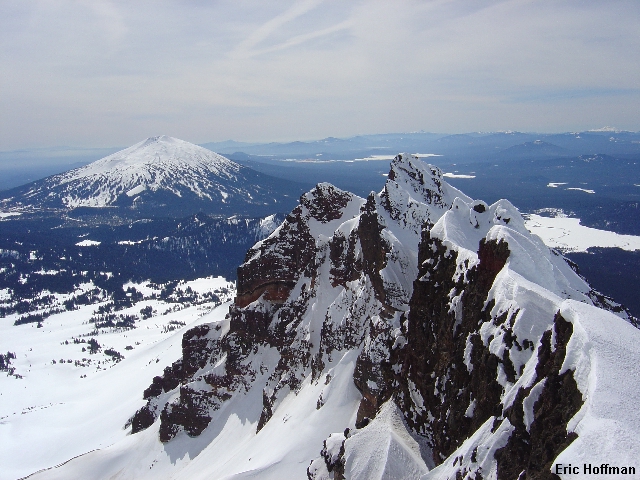 I began descending at about noon and reached my skis in about 45 minutes. Somehow, I had convinced myself that it would be better to ski down to Sparks Lake (5428') then skin the 4 miles back to the ski area (c.6400') rather than returning via Todd Lake. I arrived back at the ski area at 4:30pm, not at all convinced I had made the right decision. Five volcanoes left, three have trails to the top.

THE CASCADE VOLCANO LIST I AM AKNOWLEDGING (North to South)
Mount Garibaldi, BC (8,787')
Mount Baker, WA (10, 778')
Glacier Peak, WA (10, 541')
Mount Rainier, WA (14,410')
Little Tahoma Peak, WA (11,138')
Mount Saint Helens, WA (8,365')
Mount Adams, WA (12,276')
Mount Hood (11,239')
Mount Jefferson, OR (10,497')
Three Fingered Jack, OR (7,841')
Mount Washington, OR (7,794')
North Sister, OR (10,085')
Middle Sister, OR (10,047')
South Sister, OR (10,358')
Broken Top, OR (9,175')
Mount Bachelor, OR (9,065')
Mount Thielsen, OR (9,182')
Mount McLoughlin, OR (9,495')
Mount Shasta, CA (14,162')
Mount Lassen, CA (10,457')
There are, of course, many other interesting volcanic landmarks in the cascades.

References:
Climbers Guide to the Cascade Volcanoes; Jeff Smoot; Pages 148-153
Geo-Graphics Three Sisters Wilderness Map; Al Cardwell